Hi, we're going to review Freetrade to help you find out whether Freetrade is the right investment platform for you!
We recommend Freetrade if you are an investor looking to build a long-term portfolio of stocks and ETFs with low fees. Freetrade is a commission-free UK stockbroker founded in 2016. It is the UK equivalent to Robinhood, the famous US free-trading broker, and it is a great choice for beginners to benefit from the stock market.
Although Freetrade is still only available for UK residents, the company plans to finally expand to Europe (you can follow the all-new developments here).
That's Freetrade in a nutshell. If you want a more detailed review about the company keep on reading, here's what we'll cover:
"The stock market doesn't have to be prohibitively expensive or complicated"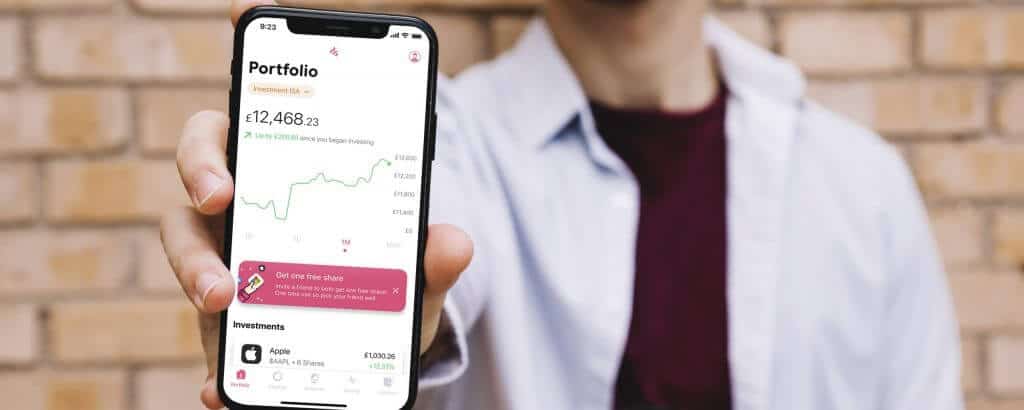 Freetrade lets you invest in more than 6,000 stocks, including ones from the US, UK, and other European countries, +200 ETFs, +150 investment trusts, +200 SPACs, and +160 REITs commission-free!
They operate under a freemium (free+premium) business model. You get a General Investment account for free where you can buy stocks. As you go up the pricing plans (£9.90 a month is the most expensive), users get extra features, such as ISA, and SIPP, 3% interest on cash, up to a max deposit of £4,000, limit orders, the ability to set stop loss, analyst ratings and priority customer service.
Freetrade launched a feature called Trading Breaks, which is an attempt to incentive users to invest responsibly to increase the likelihood of growing their money over the long term. In practice, it lets customers take a 24-hour break from trading by putting a block on the ability to buy shares.
Freetrade recently raised £3,7M (379% of goal) on Crowdcube – an equity crowdfunding platform where you can invest in startups that are not listed in the stock market or publicly traded. This was also Crowdcube's record for the fastest time ever to raise £1M (77 seconds).
2. Freetrade Pros and Cons
No minimum deposit
GIA, ISA, and SIPP
No inactivity, account, or withdrawal fees
Free stock and ETF trading
Great community (forum) – where users share ideas and learn about investing
Nice and user-friendly app
You get a free share of up to £200 if you invite a friend with your code, and so does he.
Limited asset classes (only stocks, ETFs, REITs, and investment trusts)
Limited research and education
Graphs and portfolio tracking still need some development
No web or desktop platform yet (Beta version in Plus)
No phone support – however, live chat support is very fast and efficient
No 24/7 support
3. Freetrade Instruments and Markets
Freetrade has over 6,000 of some of the most popular Stocks and ETFs from UK and US exchanges, plus hundreds of German, Finnish and Dutch stocks, including airline giant Finnair, lift maker Kone and brewing powerhouse Heineken. You can check their full product listing in this spreadsheet link. They are updating it all the time, and you can even request new products through their forum or see what's next through their roadmap.
Besides, it gives you access to +150 investment trusts (similar to closed-end funds in the US). These are financial products managed by professional investors that help you benefit from diversification across geographical areas and market sectors. Freetrade includes the most famous ones, including the Smithson Investment Trust plc or the Baillie Gifford US Growth Trust.
It is also possible to get some exposure to the real estate market through over 160 REITs (Retail, Mortgage, Equity, HealthCare, Office,…). The idea is to expose you to an asset class that otherwise would be difficult to get into due to high costs and the right expertise. In other words, Freetrade lets you invest in residential or commercial real estate without the hassle of buying and managing the properties yourself.
Although we do not consider it a "typical" asset class, it is worth mentioning that you can invest in over 200 SPACs through Freetrade. A SPAC is characterised as being created in "thin air", meaning that its sole purpose is to raise money and acquire an existing business. That's why they are known as "blank check" companies.
While these are great for beginners, more advanced investors may prefer a broker that offers a complete product portfolio. It lacks other asset classes, like mutual funds, bonds, options or cryptocurrencies.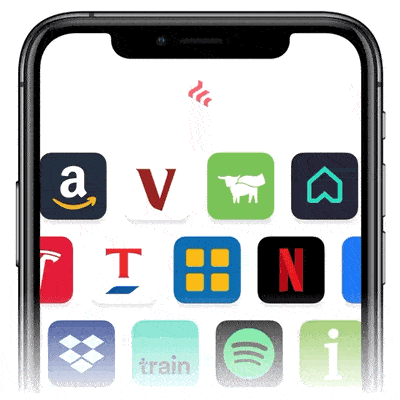 4. Freetrade Fees Snapshot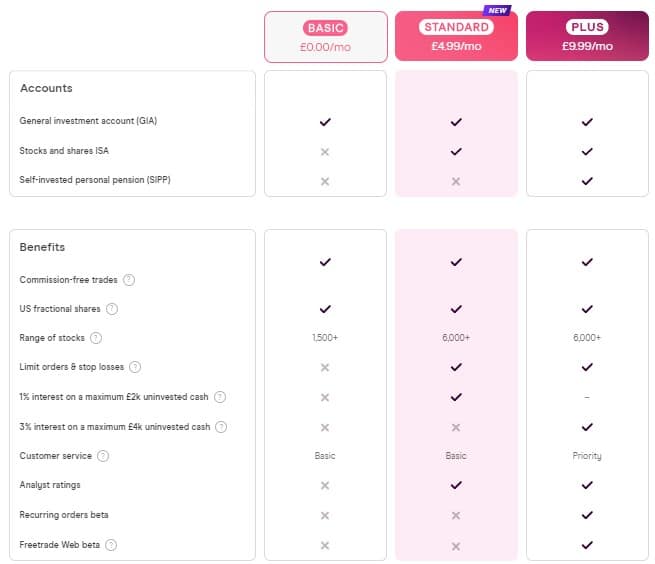 The Basic plan gives you access to the most relevant features, such as access to stocks and commission-free trading. Nonetheless, as a UK resident, you are most likely to open at least an ISA, and you will be charged a minimum of £4.99 per month. For now, what the highest paying tier (£9.99) distinguishes from the previous price plan is that it gives a 3% (vs 1%) interest on a maximum of £4,000 (vs £2,000) uninvested cash.
Finally, a 0.45% fee over the spot rate for currency exchange fees also applies. So, when trading stocks quoted in a price other than your home currency, you will pay the 0.45% markup when buying and, again, when selling.

5. Freetrade Account Types
Freetrade offers three account types:
General Investment Account (GIA): basic account for stock and ETF trading. You can manage your portfolio of stocks and shares outside the tax-efficient wrappers like ISAs and SIPPs. There's no limit to how much you can invest.
Stocks and Shares – Individual Savings Account (ISA): tax-efficient savings account for UK residents, essentially the UK equivalent of an IRA in the US). You can access this account type through the Standard (£4.99) and the Plus (£9.99) pricing plans.
Self-Invested Personal Pension (SIPP): tax-efficient pension savings that let you invest up to £40,000 yearly. Any money you put in gets topped up according to which tax band your income falls into. The drawback is that you can only access it after age 55.
6. Freetrade Safety and Regulation
Freetrade is regulated by the FCA in the UK (with license number 09797821), a top-tier regulator, and offers investor protection up to £85,000 by the FCSC. It is also audited annually by PWC. Despite being a recent company, these are good signs of safety.
7. Freetrade Supported Countries
Freetrade is currently only available in the United Kingdom. However, they have plans to expand to Europe over the next year: you can follow their updates and country expansion plans here.
8. Freetrade Users Feedback
To assess and rate Freetrade in terms of users feedbacks, we use its Trustscore from Trustpilot. A broker's TrustScore is a measure of customer satisfaction based on service reviews collected on Trustpilot. It's not just a simple average of its reviews (to know more about how it is calculated, click here).
Based on 50+ Trustscore measures from 50+ well-known online brokers, we've calculated that the average broker's Trustscore is 3.6 out of 5.
At the time of writing this, Freetrade was rated 4.2 out of 5 based on +2,800 reviews on Trustpilot. To read the full reviews made by its users, click here.
What do you think of Freetrade? Let us know in the comments below.