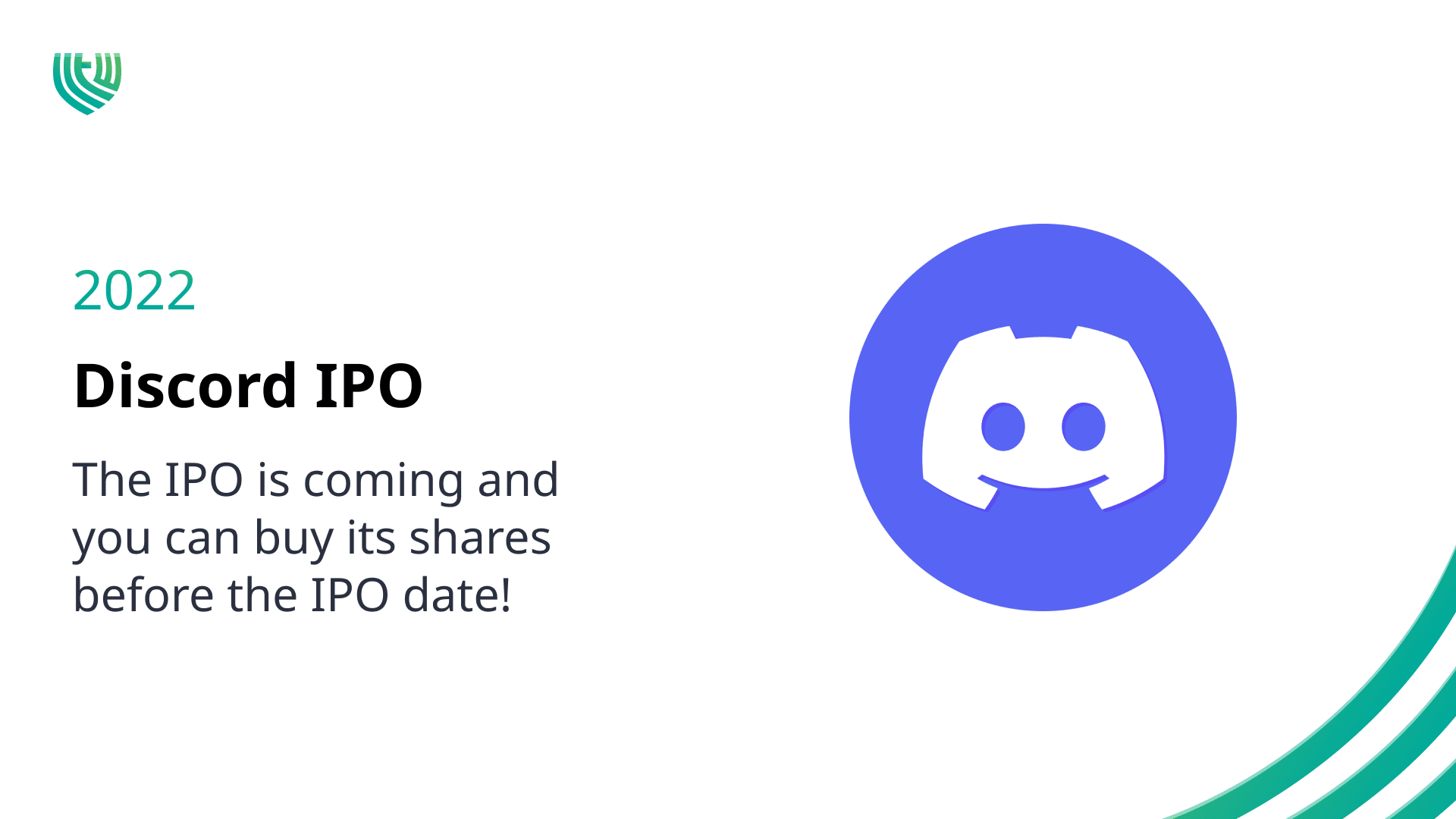 An official date for the Discord IPO remains to be announced, yet it's expected for 2022 or 2023. Likely it will list on the New York Stock Exchange (NYSE) or Nasdaq exchange. The latter exchange in particular, caters to technology-focused investors who may want to invest in Discord's IPO. 
In this article, we will help clarify all the information about the Discord IPO: its date, how to buy Discord's IPO, and the stock itself. 
As a popular San Francisco-based software company, Discord manages an instant messaging platform and mobile app where users interact over video, audio, and text. You can think of Discord as loosely similar to Meta's Whatsapp, Pavel Durov's Telegram, or Amazon's Twitch. 
It's popular within the gaming community, with Fortnite making the largest Discord server (chat room) at over 571,000 members and Minecraft at over 569,000 members. We fully expect these numbers to increase. 
As of the end of 2021, Discord touted 13.5 million active servers, a 101% increase over 2020. Similarly, it noted a 40% increase over 2020 to over 140 million monthly active users. In 2017, this number was 10 million only!
Not all of its servers remain dedicated to gaming. It's also popular with community clubs, study groups, and international chat rooms. Further, it's compatible with Windows, iOS, and Android. It's able to sync ("integrate") its data with other apps such as YouTube, Twitch, and so on.
When Is Discord's IPO Date?
Initially, Discord's IPO date was expected for 2022. Yet due to market conditions, it's more likely to occur in 2023. This estimation could change pursuant to the status of S&P 500's current bear market. IPOs are unlikely to occur during a bear market. 
As of the end of 2021, Discord's valuation stood at an impressive 15 billion USD, a 114% increase over 2020. This is in line with the doubling monthly active servers and a so far successful push to non-gaming sectors. 
Given that Discord rejected a 12 billion USD takeover offer from Microsoft, we expect the platform to remain independent and use any IPO proceeds to expand its service offering. 
It uniquely has the position to attract non-gamers (i.e., WhatsApp) and gamers (i.e., Twitch) alike. Thus its market share should continue to expand as the global gaming market grows approximately 9% per annum to 315 billion USD by 2027. 
How to Order Discord Stock Before the IPO
Yes, you can order Discord shares before the IPO. This is known as a "pre-placement."
With Freedom24, the process feels incredibly straightforward:
Open an account with a minimum of 2,000 USD (the minimum for an IPO request);

Submit a request for the available IPO stocks before their respective IPO dates;

Freedom24 automatically credits your account with those shares purchased by them on your behalf ("oversubscribed" IPOs may make it difficult for your orders to be filled completely);

Sell your stocks after the 93-day lock-up period or purchase a forward sale contract through Freedom24 to lock your gains before the 93 days period.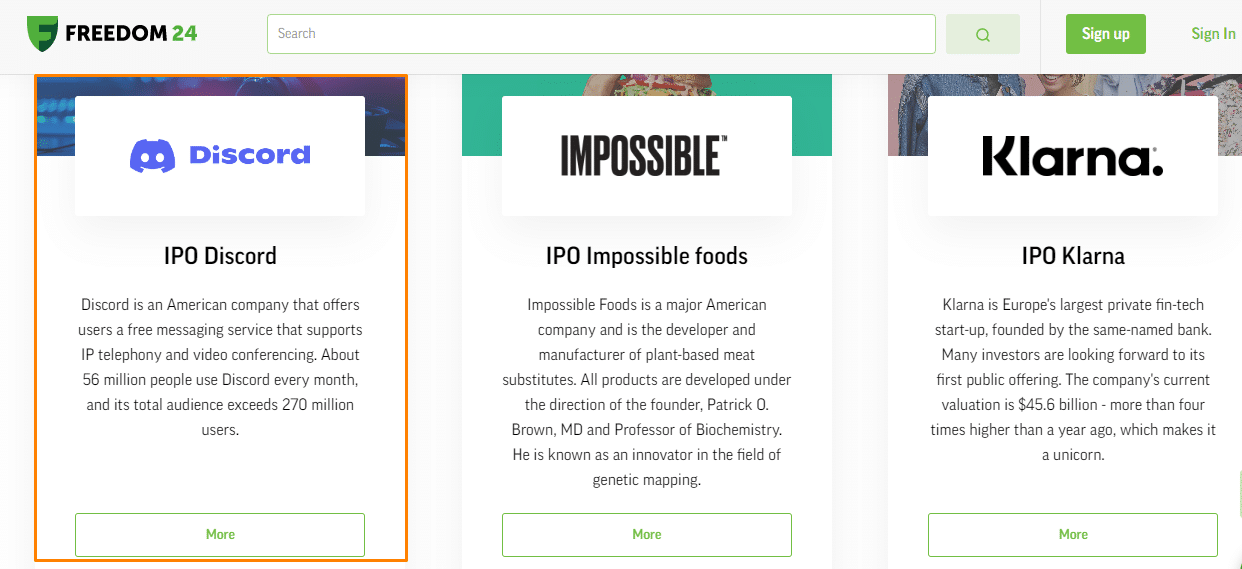 To invest in Discord's IPO, you will technically become a Freedom Finance client. Nothing to worry about here, that's simply the name of the broker running the platform Freedom24. 
Is Investing in IPOs Profitable?
While this often boils down to knowledge and investing experience, Yes, you can earn a profit through investing in IPOs. 
Freedom24 has so far provided 265 companies, in stocks of which approved clients have been able to invest at IPO prices. On average, they earned a 53% return by the end of the stock's lock-up period.

We strongly suggest entering your email (no strings attached!) to receive the latest statistics from Freedom24.
Is Discord's IPO a Good Investment?
Generally, investing in an IPO is riskier than investing in a stock already known to the public market, either through an American exchange like the NYSE or a European exchange like the LSE. 
However, there remain a few essential items to have on your analytical checklist no matter the stock or sector. 
Gross revenue ("top line");

The revenue drivers, such as active user or member growth;

Profit margins, often EBITDA as a percentage of top line; EBITDA means "earnings before interest, tax, depreciation, and amortization;

Its private valuation growth, earned whenever a private capital raising with major investors, hedge funds, or banks occurs;

Cumulative funding and current (pre-IPO) investors;

The management team;

Its competitors.
If an "IPO Filing" has already occurred, a great place to start is taking the time to read through any stock's original prospectus available on SEC. This helps cut through the noise and hype typically surrounding an IPO. Finding such information prior to an IPO filing remains difficult, yet reputable trade journals such as Forbes, WSJ, Crunchbase, or TechCrunch provide meaningful estimates. 
With respect to Discord's IPO, please see below, noting data is in USD and from the end of 2021 unless otherwise stated:
2020 revenue count: 130 million, a 188% year-over-year (yoy) increase;

Monthly active user count: 140 million, a 40% yoy increase;

Active server count: 13.5 million, a 101% yoy increase;

Private valuation: 15 billion, a 114% yoy increase;

Total cumulative funding: 995 million, with well-known names such as Franklin Templeton, Baillie Gifford, Sony, and Dragoneer part of the current investor group;

Management: Discord's CEO is Jason Citron, who alongside his former colleague Danielle Cassley already sold mobile game platform OpenFeint for

104 million

in 2011; it had 100 million users at the time;

While Discord's closest parallel is TeamSpeak, a primary competitor we do have info on is Twitch, which has also

grown exponentially.
And there you have a quick snapshot of Discord. It's important to remember that you want to see consistent growth over several years (at least three) without any breaks in momentum. 
Further, we suggest to estimate the possible money-generating activities post-IPO. Will they rely upon advertising? How will that affect the average user experience? Will they opt for paid or "premium" memberships?
We're excited about Discord's IPO, and we're not even gamers. We don't need to be–Discord has successfully started expanding into non-gaming sectors. 
However, they tapped into an incredibly expanding market, lifting several competitors at once: gaming. The boost provided to online gaming from coronavirus remains what analysts call "sticky." 
Discord might provide the +50% return you're looking for, but we suggest you conduct your own research or sit down with a professional advisor. Why not take a look at all of Freedom24's upcoming IPOs and make a list? Be sure to check out our in-depth review covering all of Freedom24's features, fees, and more.
What is an IPO, and how does it work?
An "IPO" is an initial public offering. As it sounds, it marks a stock's first trading day on a relevant and public exchange. Most IPOs are crowded, or "oversubscribed," making it almost impossible to receive the actual initial price unless you opt for a pre-order through a platform like Freedom24.
Is Discord a public company?
Discord is currently a private company. It's uninvestable to the general public until its IPO.
How Does Discord make money?
Please see our more detailed review of Discord's IPO above. Currently, Discord earns the majority of its revenue through premium subscription packages.
How can I find Discord's IPO prospectus?
After an IPO filing occurs, the prospectus is available to the public through the US SEC for stocks trading on an American exchange. 
When will the Discord IPO happen?
While this remains the decision of Discord, we expect the IPO to occur in the first half of 2023 so long as the current S&P 500 bear market recovers. 
Can you invest in Discord's IPO?
Yes, Freedom24 is a great platform for doing just that.