Hello, Robo-investor! 😉 In this article, we will give you our honest review of Birdee, a Socially Responsible Robo-Advisor.
Trusted by +10,000 clients, Birdee sets aside from most Robo-Advisors due to its focus on sustainability. It was created to combine your investment expectations with your desire for a better world.
Birdee states that "Your portfolio will consist of, at least, 82.5% of sustainable and socially responsible investments", which, in reality, may not be so straightforward (more details on "Overview").
You will have access to five strategic allocations (defensive, stable, moderate, protector, dynamic) with a bond and equity ETFs structure and three investment themes where you may allocate your capital to real estate and other alternative strategies.
Unfortunately, it does not display the ETFs used for each strategy in the "Key information document". You need to dig deeper to find out, so there is some lack of transparency on that side. Also, the document itself is written in French, which might not be so handy for knowing more details about each strategy. It charges an annual fee of 1%, which is quite high compared to its peers (Robo-Advisors).
Regarding security, Birdee is supervised by two Luxembourg financial authorities: the Commission de Surveillance du Secteur Financier (CSSF) and Commissariat aux Assurances (CAA), which means each client benefits from investment protection up to €20,000 (cash + assets).
That's Birdee in a nutshell. Find out what our research team has to say after carefully analyzing Birdee. We hope you find it useful! Let's get into it:
1. Birdee Overview
Based in Luxembourg and founded in 2015, Birdee is a Robo-Advisor keen on making investments with a positive impact. Their objective is to merge your needs as an investor while doing something good for society. As previously mentioned, their portfolios may consist of at least 82.5% of investment products that help create a better world. However, that's not quite the case for the majority of options available: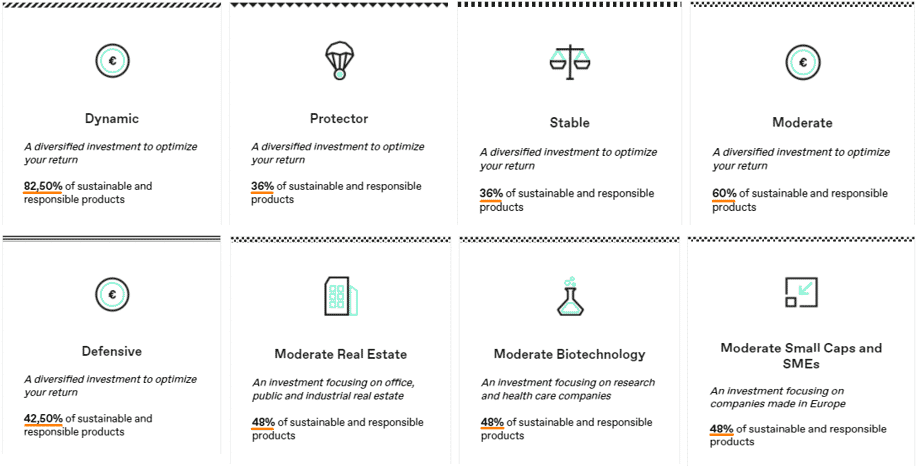 Source: birdee.co | All the investment portfolios
Birdee Highlights
| | |
| --- | --- |
| 🗺️ Supported Countries | 25 European countries including Belgium, France, Germany and the UK |
| 💰 Fees | 1% (per year) |
| 🎮 Demo Account | No |
| 📈 Portfolio Rebalancing | Yes |
| 💵 Minimum Deposit | €50 |
| 📍 Investment Instruments | ETFs |
Users can specify their financial goals and go through a risk profile evaluation, after which Birdee's software will suggest an investment plan based on eight investment portfolios (including themes) adaptable to any risk tolerance. The theme portfolios cover investments in sectors like biotechnology, real estate, other sustainable business lines through stocks and bonds. Birdee excludes certain sectors such as tobacco, coal, and arms trade.
The investment approach is also based on the premise that passive investment, the vast majority of the time, will give you better results than active management (well documented by the SPIVA reports – check it out here).
To open an account, you will only spend roughly 10 minutes, and you can start investing with as little as €50. It "only" charges 1.00% as a yearly management fee with no hidden costs (no rebalancing fees or reporting fees). It is quite high for a Robo-Advisor but still below what other financial institutions charge you to do a similar job. They will send you all the information you need for your tax return at the end of each year.
Within its ownership structure, BNP Paribas Asset Management is a shareholder of Birdee. Its main function "is the management and marketing of investment funds and ETFs on the market through distributors". Given that, it raises the question: "How biased is Birdee in the choice of ETFs?". It states that the investment committee acts completely independently, but the conflict of interest is still there.
Nonetheless, Birdee is very transparent regarding this issue and addresses it very clearly on this page. From the 46 ETFs used in all strategies, 12 are from BNP Paribas… In our view, it is not a "shocking" number, but you should keep a close eye to make sure you are not paying more than you should.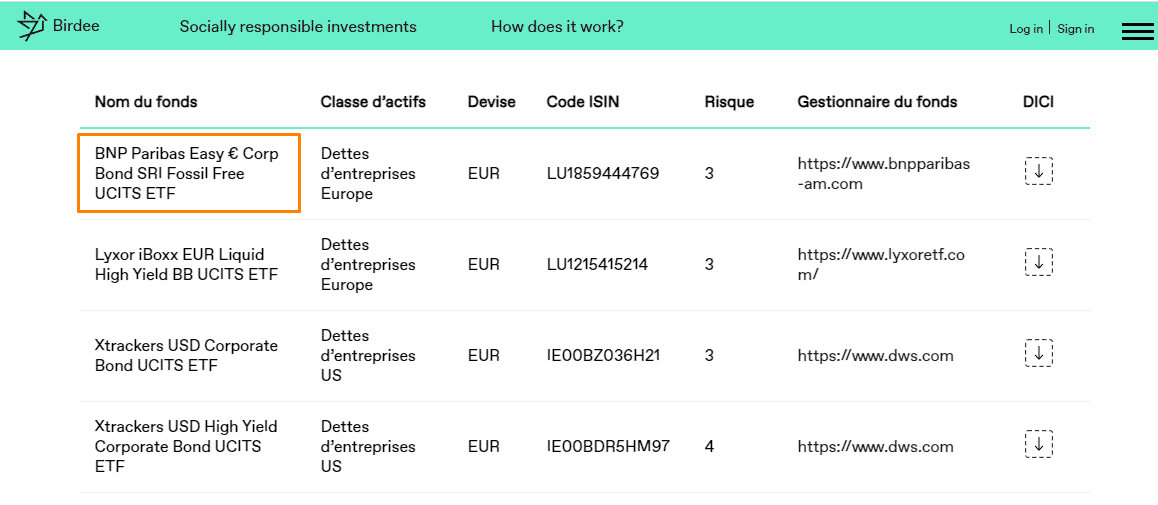 Source: birdee.co | A small sample of ETFs
Each Birdee strategy has its own "Key information document" (KID), but it is written in a not-so-familiar language for most people: French. As an example, here is an excerpt of the KID of "Protector" investment profile: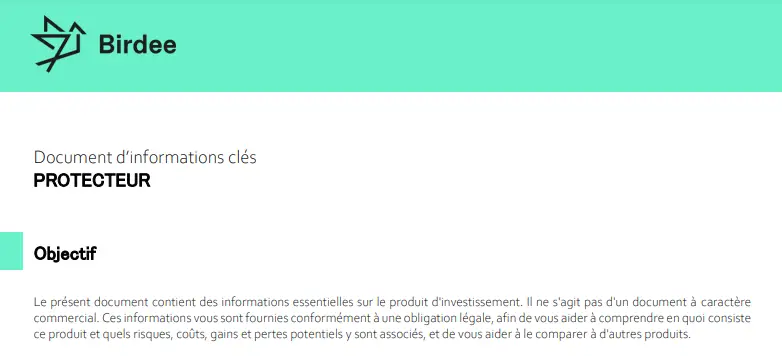 Also, the customer support is quite nice! The Birdee team provides you with assistance 24 hours a day and answers all your questions by chat, e-mail, Facebook, or phone.
Finally, the FAQ of Birdee is quite handy! We even came across a not-so-discussed topic: "What happens if I die?". Yeah, Birdee leaves you peace of mind in that area too.
2. How does it work?
Initiating an investment journey in Birdee is easy and will not take too much of your time. Just follow these steps:
Register in the platform;
Answer 5 questions to help Birdee access your risk tolerance;
Select your investment portfolio;
Submit legal documents (ID and proof of residency);
Deposit an amount of at least €50;
You are ready to go!
Simplicity within its mobile app
Socially responsible investments
High transparency regarding the fees charged and the services provided
Annual consolidated summary activity for tax purposes
24/7 customer support
No account opening, inactivity, or withdrawal fee
Limited options to customize your investing goals (we consider this as an advantage, as this way investors don't have to choose among thousands of alternatives)
Automated rebalancing
Minimum investment of €50
An annual fee of 1% is above the industry average
Conflict of interest (some ETFs are from BNP Paribas AM)
KID in French and not easily searchable
No Financial Advice (it is only a discretionary management service)
No reference to Tax Loss Harvesting
4. Birdee's Portfolios Expected Returns
The finance theory shows that a higher risk should mean a higher expected return. Historically, this relationship has persisted, and it is expected to keep it that way.
Given that, Birdee performs several simulations to guide you on what you might look forward to having in the future according to your pre-selected portfolio. These simulations are based on past performance, but please remember that past performance is not an indication of future performance.

Birdee estimates that in 10 years, your expected final value will be €1272, starting from €1000. It translates to an annualized return of 2.44%. In the worst-case scenario, you will likely end up with €1141 (annualized return of 1.33%).

Birdee estimates that in 10 years, your expected final value will be €1670, starting from €1000. It translates to an annualized return of 5.26%. In the worst-case scenario, you will likely end up with €1164 (annualized return of 1.53%).

Birdee estimates that in 10 years, your expected final value will be €1715, starting from €1000. It translates to an annualized return of 5.54%. In the worst-case scenario, you will likely end up with €1151 (annualized return of 1.42%).

Birdee estimates that in 10 years, your expected final value will be €1769, starting from €1000. It translates to an annualized return of 5.87%. In the worst-case scenario, you will likely end up with €1188 (annualized return of 1.74%).
Birdee estimates that in 10 years, your expected final value will be €2053, starting from €1000. It translates to an annualized return of 7.43%. In the worst-case scenario, you will likely end up with €1057 (annualized return of 0.56%).
5. Fees
As you may be aware by now, ETFs have their own costs, called the Total Expense Ratio (TER). These costs are not a source of revenues to Birdee, so, in theory, they should try to find the cheapest options available. In practice, that may not occur due to the Birdee's relationship with its shareholder BNP Paribas AM… It is up to you to be conscient of this fact and analyze if it will materially impact your investment journey.
The only fee you will pay directly to Birdee is an annual fee of 1.00% on your portfolio's total value, which is deducted from the deposits you make into your account quarterly. And it already includes typical costs associated with investments such as custody (where your assets are secured) and brokerage (the activity of buying/selling ETFs).
In your account, the fee details can be easily found on the "activity reports" and "management reports", you need to follow these steps, as shown on Birdee's website:
Log in to your customer area
Click on your user tab in the upper right corner
Choose the option "My reports"
Click the "Activities" tab to view the activity reports or the "Documents" tab to view your management reports.
6. Safety and Reliability
In terms of safety, Birdee is supervised and authorized by the Luxembourg supervisory authority of the financial sector, CSSF ('Commission de Surveillance du Secteur Financier), and the Luxembourg authority competent for the supervision of the insurance sector, CAA ('Commissariat aux Assurances').
All clients are covered up to €20,000 by the Luxembourg Investor Compensation System (SIIL). In other words, the SIIL protects against the loss of cash and securities in the unlikely event of Birdee going bust.
Birdee is not a bank but an investment firm with the status of Fortune Manager, meaning that it has no lending activity (lower business risk).
Please note that in addition to the legal protection and their business structure, you have the guarantee of separation of the assets of Birdee from those of its clients. Indeed, all of its clients' assets are shown in the accounts as off-balance sheet items. The same applies to its custodian bank (Sutor Bank). Birdee does not keep the money you deposit into your Birdee account. It is held by their partner bank, Sutor Bank, in an account reserved for you. This is also where the assets (ETFs) that make up your portfolios are deposited.
This means that you can recover them whenever you like – even if Sutor bank or Birdee goes bankrupt.
Despite all of this, like most other Robo-advisors, this company is still recent in the market. Having been founded in 2015, the company's track record of resisting periods of crisis is still limited. So, it is still unclear how their operations would be affected in the event of a major financial crisis.
7. Countries Accepted
At first sight, Birdee seems only to be directed to Belgium and France. However, it is also available in other 20+ countries: Austria, Belgium, Croatia, Czech Republic, Denmark, Estonia, Finland, Germany, Greece, Hungary, Ireland, Italy, Lithuania, Luxembourg, Norway, Poland, Portugal, Slovakia, Slovenia, Spain, Sweden, Switzerland, the Netherlands, and the United Kingdom.
Did we answer ALL your doubts? Did it help you make your decision regarding opening an account in Birdee? Let us know your feedback!