Hello there! In this article, we will bring you our honest review of Untapped Global, an impact investing platform that lets you invest in frontier and emerging markets.
Untapped Global is designed for investors who make a positive impact on the development of companies from emerging markets while getting positive returns in the process.
The investment platform is quite intuitive and hassle-free, and has a minimum deposit is $300. Notably, you can get up to 10% interest per year. On the downside, there is a lack of supervision from regulatory entities, which adds counterparty risk to your investments.
That's Untapped Global in a nutshell. If you want to find out what our research team has to say after carefully analyzing Untapped Global, keep reading. Here's what we'll cover:
1. Untapped Global Overview
In a nutshell, Untapped Global is a platform that allows you to invest in a diversified fund of high-growth companies in untapped markets. For as little as $300, you can invest in startups from developing countries.
Founded in 2013 and based in San Francisco (US), Untapped Global presents itself as "reshaping profitable investing".
The business started as a non-profit water distribution company in Haiti. However, they quickly realized that capital access was unreliable since they were heavily dependent on donations. As such, recurrent fundraising and future scalability were compromised. Additionally, getting financing through the most common source, bank loans, was out of the question for most businesses as they were considered under the high-risk classification (no collateral, no stream of cash flows).
The company decided to create an online platform where local entrepreneurs and global investors could connect and collaborate. To further cultivate the community, Untapped Global started hosting a monthly event series, both in-person and online, called Nest.
Their business model is based on revenue sharing. Untapped takes a percentage of the revenues that the businesses make and uses this money to pay back the investors.
Finally, their positive impact on the local communities is measured by the revenues earned by the entrepreneur operating the asset. Every dollar earned is spent on goods and services within their domestic economy.
2. Untapped Global Pros and Cons
Access to fast-growing markets

Impact investment

Interest rates of up to 10% per year

Real-time data on your investments

Low defaults rates (less than 5%)

No fees

Diversification: you cannot invest in individual projects, but in the whole fund instead.
Lack of regulatory oversight;

No secondary market;


While the 10% return advertised might seem very appealing, there is the risk of company bankruptcy, the risk of projects defaulting, and the fact that US interest rates are beginning to normalize (opportunity cost).
As soon as you invest your money, the capital is allocated to the chosen projects for six months, paying 5-6% annual interest or 18-month notes bearing 7-9% of annual interest rates (you choose). After the maturity dates, investors can withdraw their money or reinvest it.
As stated earlier, Untapped earns money by taking a percentage of generated revenues of the businesses invested. This arrangement lasts between 12 and 24 months. Since most assets (motorbikes, cars…) have a much longer lifespan than that, the financing may be offered as a "lease to own" option in some cases.
Generally, there is no equity position in the companies invested. In that regard, Untapped Global is set apart from the strictest form of Equity Crowdfunding ("selling a stake in your business to several investors in return for investment").
Untapped Invest's online platform (which is currently in beta as of writing) allows you to access all the information related to your investments. The dashboard includes your balance account, impact on each business and the Untapped portfolio breakdown.
In the "my portfolio" tab, you will be able to track the usage and revenue of assets used by the local entrepreneurs in real-time. You also have a "my community" section on a separate tab to see who else invested with you from the people you invited.
As a plus, you can refer a friend and earn a $50 ($10 reward to use on your next investment, and when they invest, you'll both get another $40).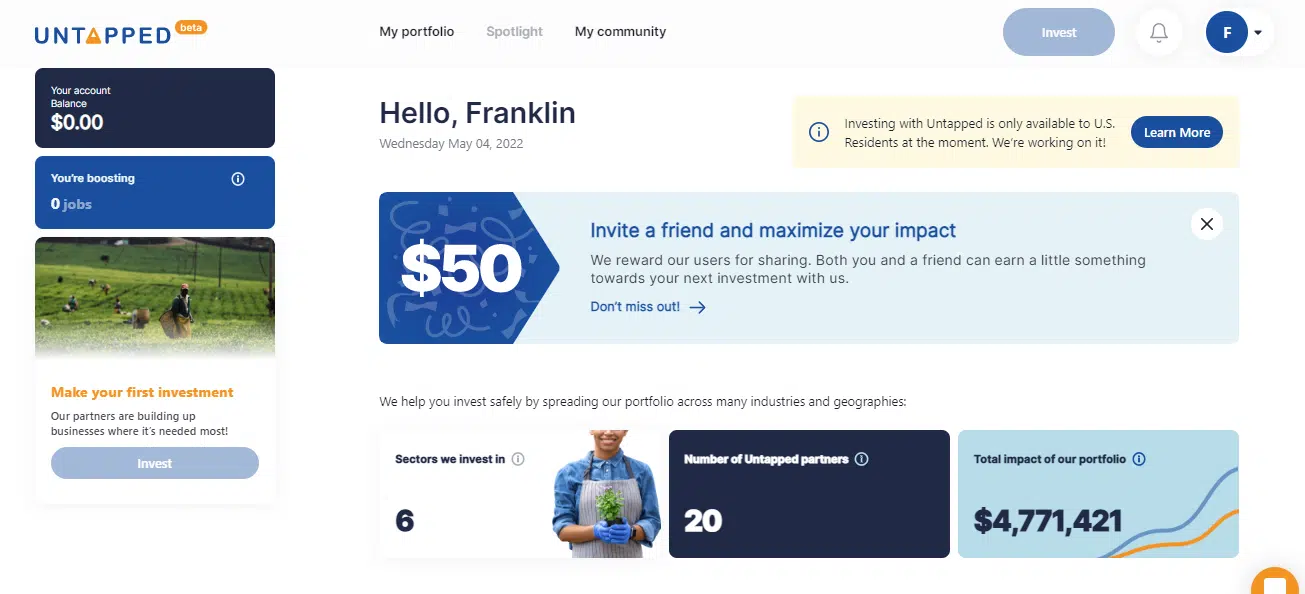 The Untapped portfolio is split between different companies, in different countries and sectors: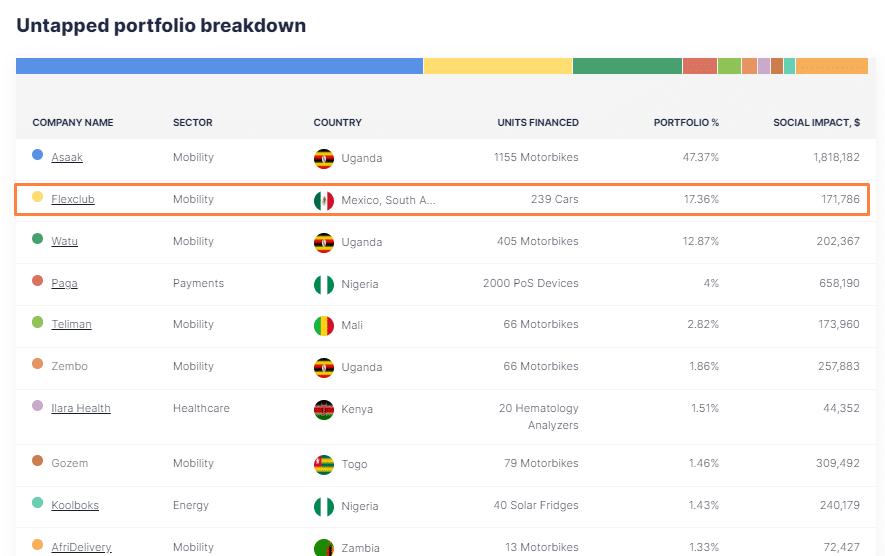 5. What's the Default Rate?
The default rates are very low due to the nature of the agreements. If an entrepreneur "defaults", the asset gets passed along or is reassigned to another operator. According to the Untapped data, 95% of entrepreneurs continue to monetize their assets and successfully share their revenue.
The remaining 5% of the asset may not be used for a certain period, so no income is generated. Essentially, the real default rate is close to 0%.
As you have read from the "Pros and Cons" section, Untapped charges no fees to its users, so you may be wondering "How do they make money then?". Their revenues come from the spread, the difference between what they get and the fixed interest rate they pay you.
For example, if you make a loan for six months at an annual interest rate of 5% and the business where your money is invested generates a higher Return on Investment (ROI) of 9%, Untapped pockets the 4% difference.
We believe that this is a good approach since everyone is aligned: Untapped has an incentive to generate good returns. If investors don't make money, Untapped Global also does not make money.
The regulation in this area is still limited. In the case of Untapped Global, there is no official regulatory body that regulates and supervises the company meaning that Investor Protection Schemes like the Financial Services Compensation Scheme (FSCS) in the UK do not apply.
In essence, you are trusting the company will fulfill its duties to you.
At present, the Untapped Global platform is optimised for US residents (people with a US bank account and who meet the criteria for accredited investors).
As a non-US investor, you are still able to invest. All you need to do is follow a manual process: contact Untapped Global at invest@untapped-global.com, their team will get in touch, process the Know-Your-Customer (KYC) and wire transfer manually if you qualify as an accredited investor.
We suggest that you keep an eye on this platform because Untapped Global's roadmap plans to gradually expand to every retail investor in the world. There is no set date for this expansion yet, but we will closely monitor the platform as it develops.
To sum it up, Untapped Global offers a simple way to invest in developing countries, with the potential of making profit while helping these communities.
We hope you have found this review quite helpful and valuable! Do you have any feedback on what we have written? Feel free to let us know down in the comments section.