Hello, fellow investor! We will review Plus500 Futures to help you determine whether it is the right investment platform for you!
We recommend Plus500 Futures for people looking to invest in Futures contracts with a low fee structure. On the downside, it is only available to US residents. Please keep in mind that it is a subsidiary of Plus500 Ltd, a listed company on the FTSE 250 index. We also have a review on the Plus 500 CFD/Invest platform.
Want to know more about Plus500 Futures? Here's what we'll cover:
Plus500 Futures Review
1. Overview
Plus500 Futures markets platform is 100% focused on Futures trading. The range of available products is wide, so you quickly access several asset classes.
To get used to the platform, you can open a demo account with $50,000 as play money. It is an excellent way to get used to the platform since it mimics what you would experience in a real-life scenario (with real money). The prices are the same, and even the trading fees are applied when you place an order, as you can see in our simulated trading on the Micro E-mini Nasdaq-100:
When you feel comfortable and decide to open a real money account, you will realise that you only need $100 since it is the minimum deposit required.
Besides, you can access a Futures Trading Academy, which gives you educational videos (everything about Futures Trading, including trading strategies) and articles. We have enjoyed the videos in particular since they are engaging and explain the concepts in straightforward terms.
As a side note, it also offers institutional and IBs Financial Solutions (just in case a representative of a financial institution reads this review)
Plus500 Futures Review
2. Pros and Cons
Demo Account

No market data fees

Minimum deposit of $100

24/7 customer support

Education articles and videos (Futures Academy)
The funds you deposit are not protected by the Securities Investor Protection Corporation (SIPC)

Only available in the US

Auto-liquidation fee per contract of $10 (in case you do not close your contract prior to contract expiration)
Plus500 Futures Review
3. Account Opening
Opening an account with Plus500 Futures is quite simple. You need to sign-up at the top-right corner by clicking "Start Trading" and choose what account type you want to open ("DEMO MODE" or "REAL MONEY"):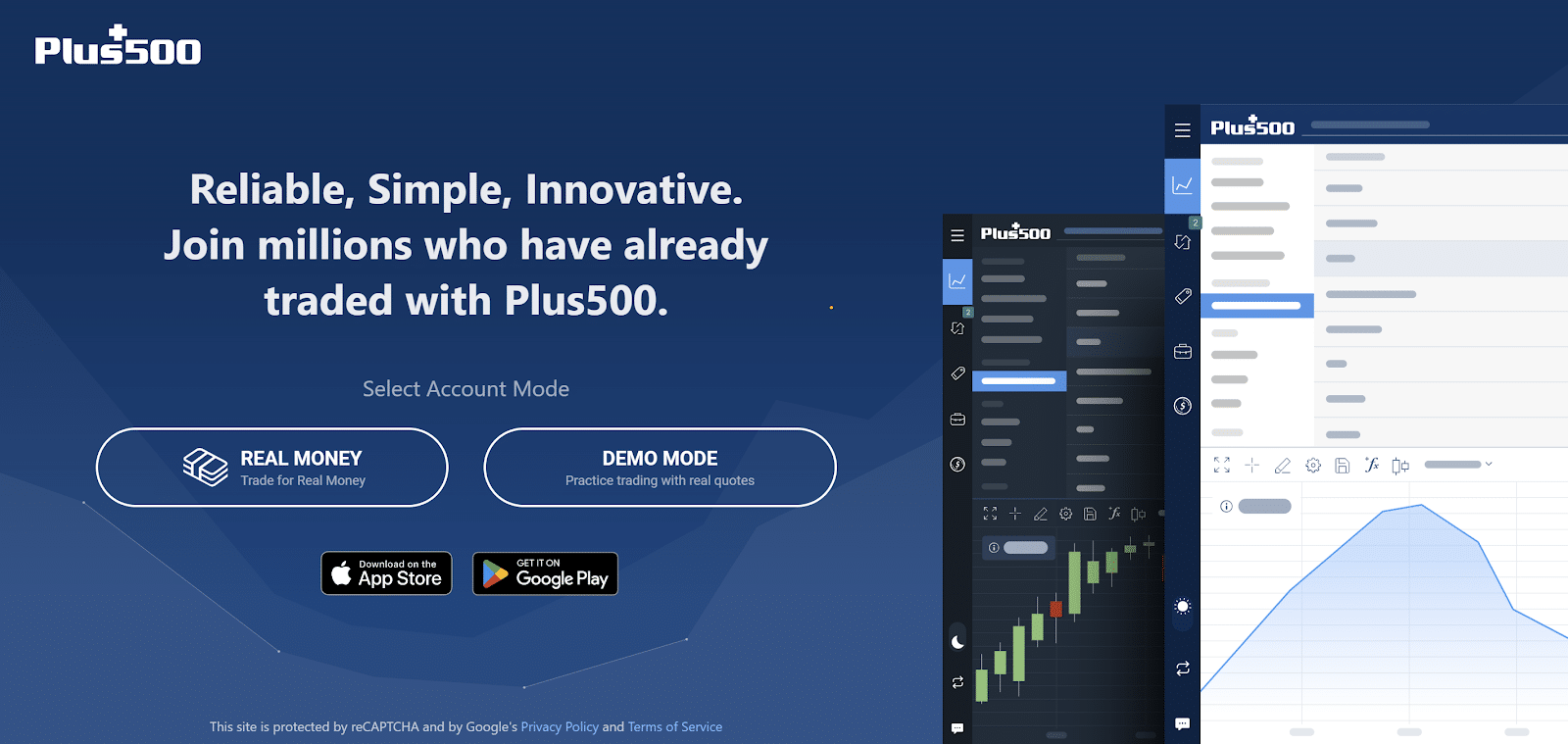 For our purpose, we will select "DEMO MODE." You will need to register using an e-mail and agree to the End-User License Agreement: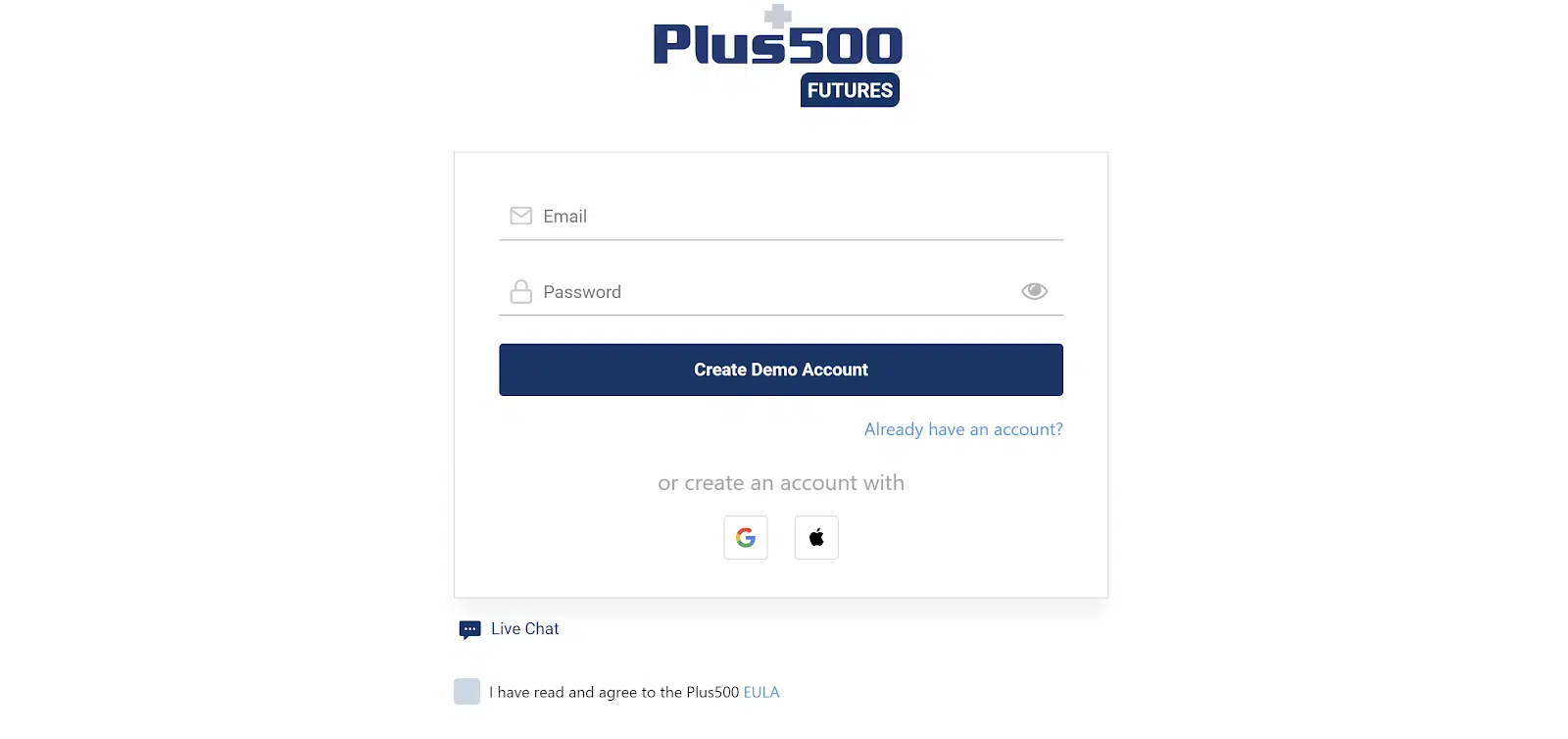 And you are all set to start trading with a simulated $50,000 account. It will help you have a sense of the platform, the fees charged, and all the products available: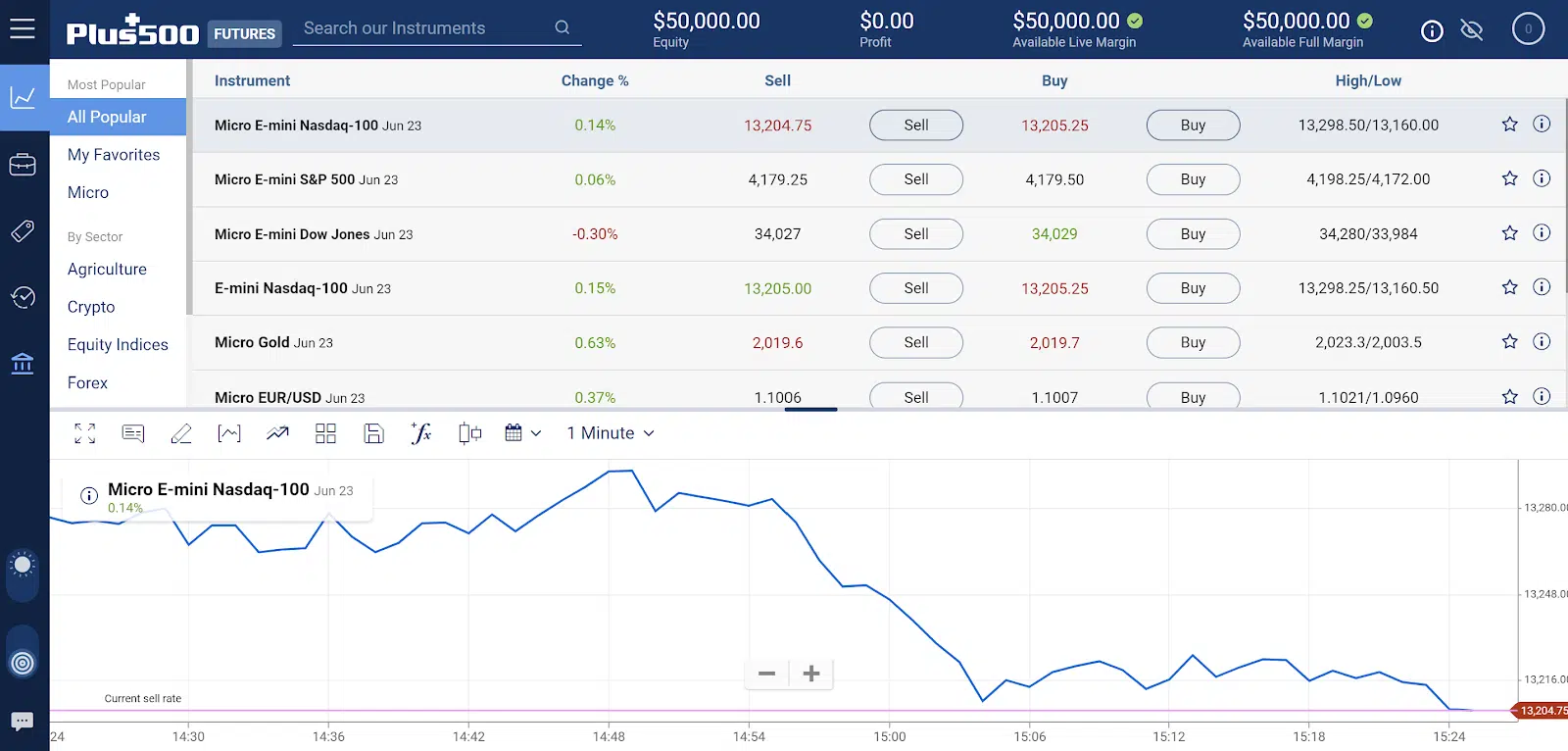 As soon as you feel ready to start with a real money account, you just need to select "menu" and switch to "real money mode":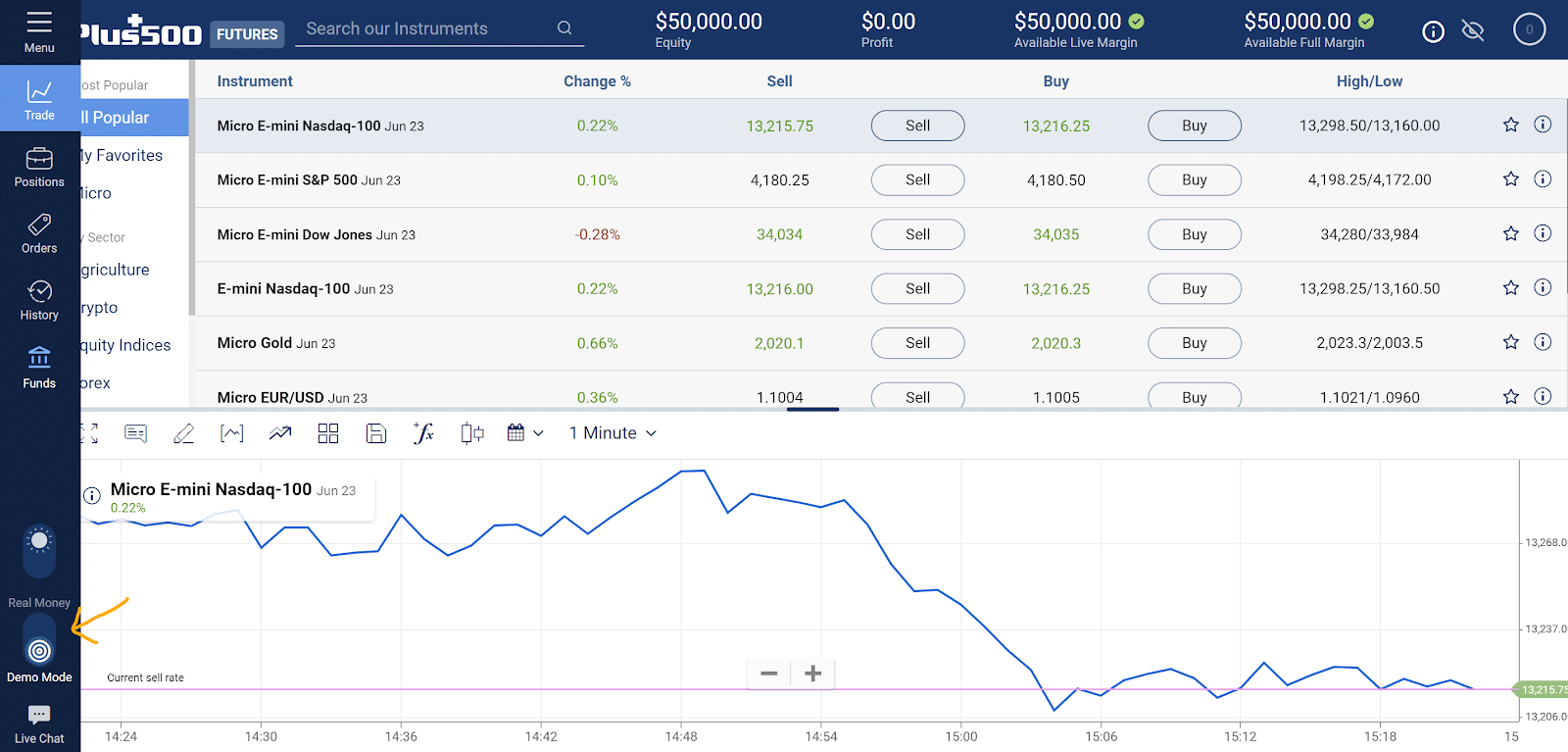 For a "REAL MONEY" account, you will need the following documents, according to the Plus500 website:
"Identification document:

Driver's licence, Photo ID, Firearm Owners ID (FOID), Tribal ID, US Military ID, Passport or Passport Card is used to authenticate your identity. The stated document should show an identity picture, number, full name, date of birth, date of issue and expiry, and governmental institutions.

Proof of Address Document

: Utility bill, Cable/Internet bill, Landline bill, Mobile phone bill, Bank/Credit card statement, Lease agreement, Mortgage statement, Insurance statement or card, Government agency letter (universities), Medical bill, Pension, Salary slip/Employment contract, Vehicle registration form.

Permission Letter

: in case of work experience in the financial sector – a document issued by the employer will be required.
The required documents should have been issued within the last 3 months, showing your name, the registered address in the account, and the issuer's logo. We guarantee that we will make no other use of these documents, nor will they be disclosed to any third party".
To deposit money, you have two available options with relatively low minimums:
Debit cards: $100;

Wire transfer: $500.
Plus500 Futures Review
4. Trading Platform
You will use WebTrader, Plus500's proprietary platform focused on Futures Contracts. You will not miss any essential features since you will encounter an intuitive and customisable dashboard, watchlists, alerts, and technical analysis tools.
You can easily search your instruments or use the left bar "by sector":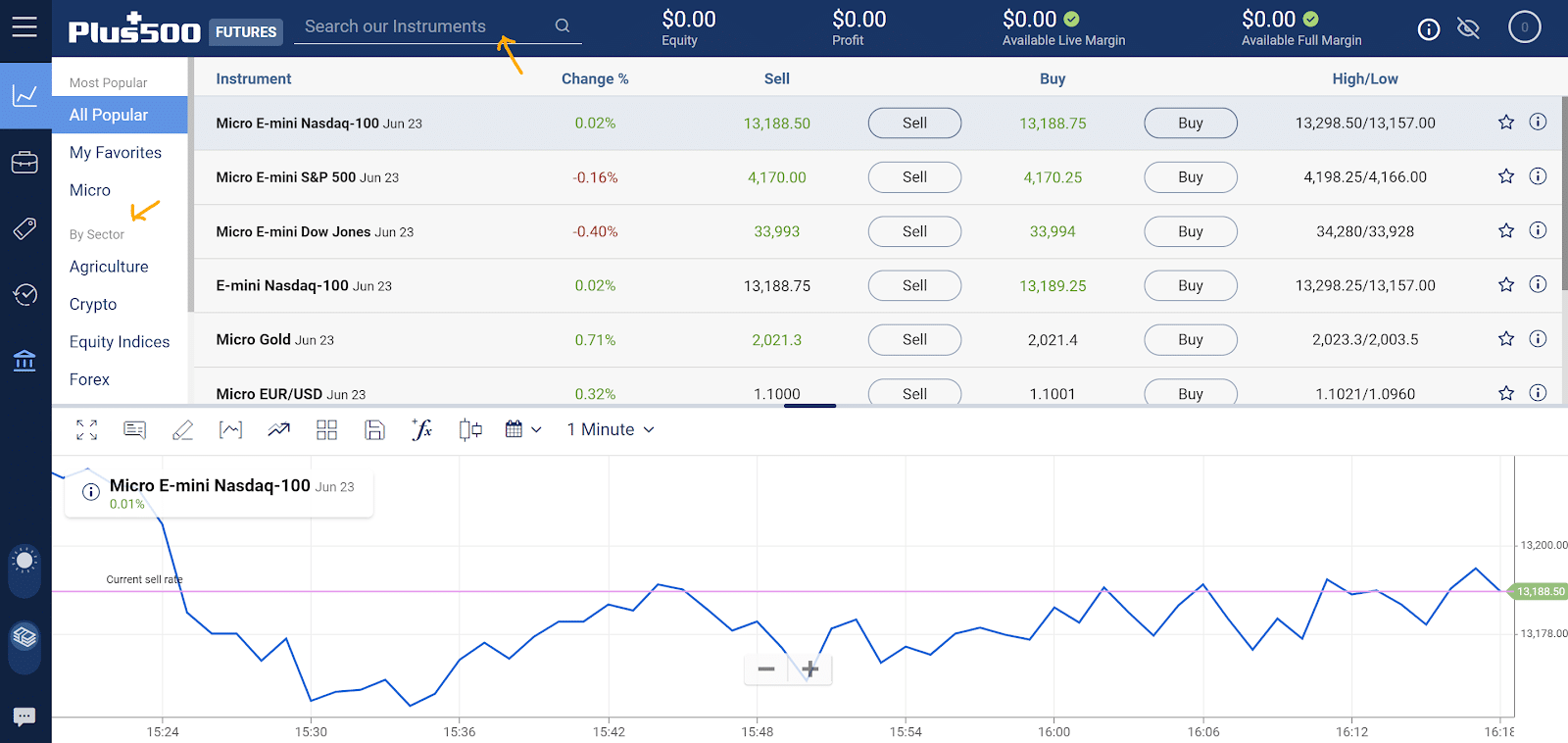 When you double-click any instruments, a pop-up window will appear on the right side: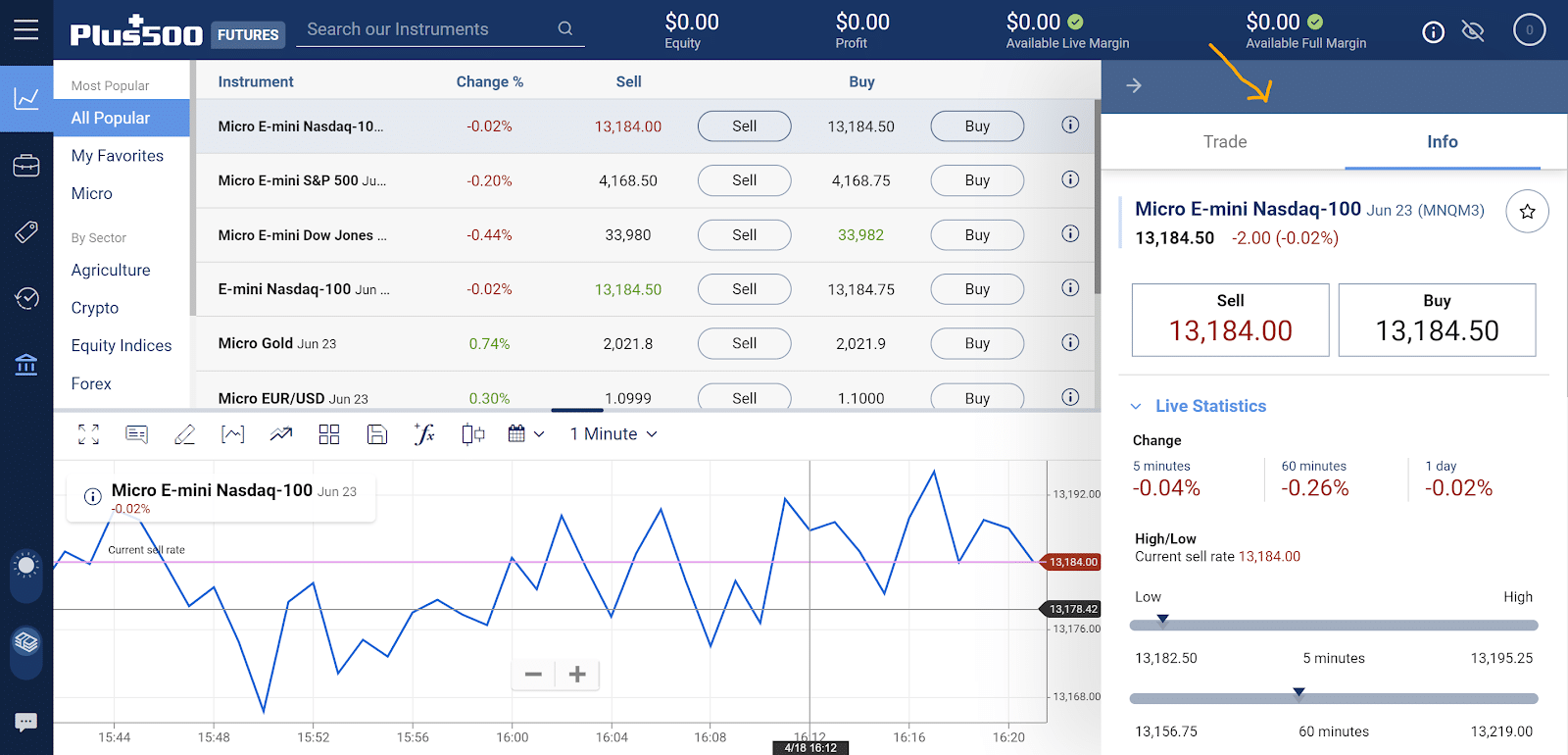 From here, you clearly see the bid-ask spread (the difference between the "Buy" and "Sell" prices). By scrolling down, you will notice the commission for "margin levels," "charges," "availability," and "additional info":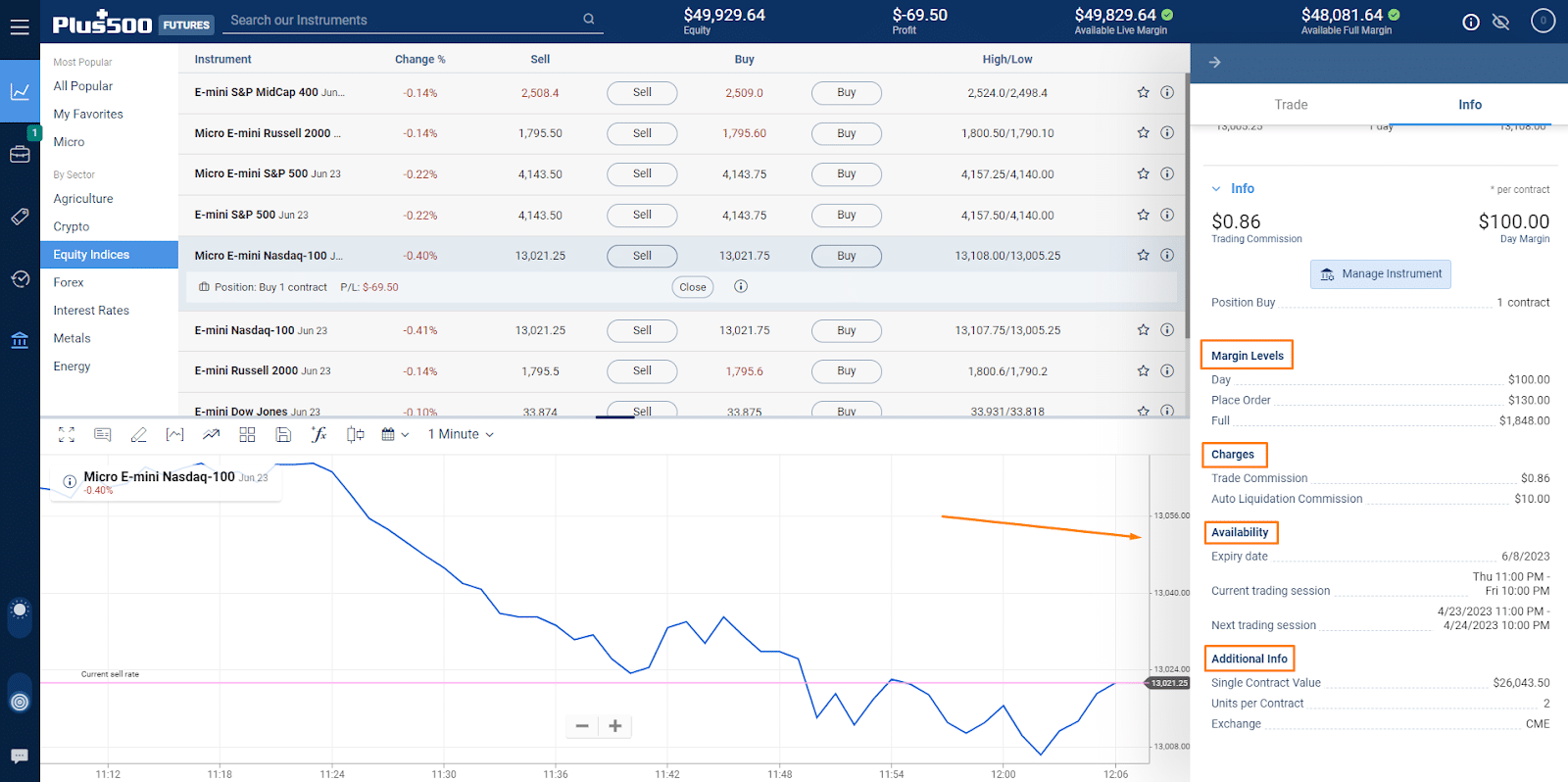 Within the "Trade" tab, you can also notice three different types of orders: "Market", "Limit", and "Stop". In addition to it, you may select "Take Profit" and "Stop Loss":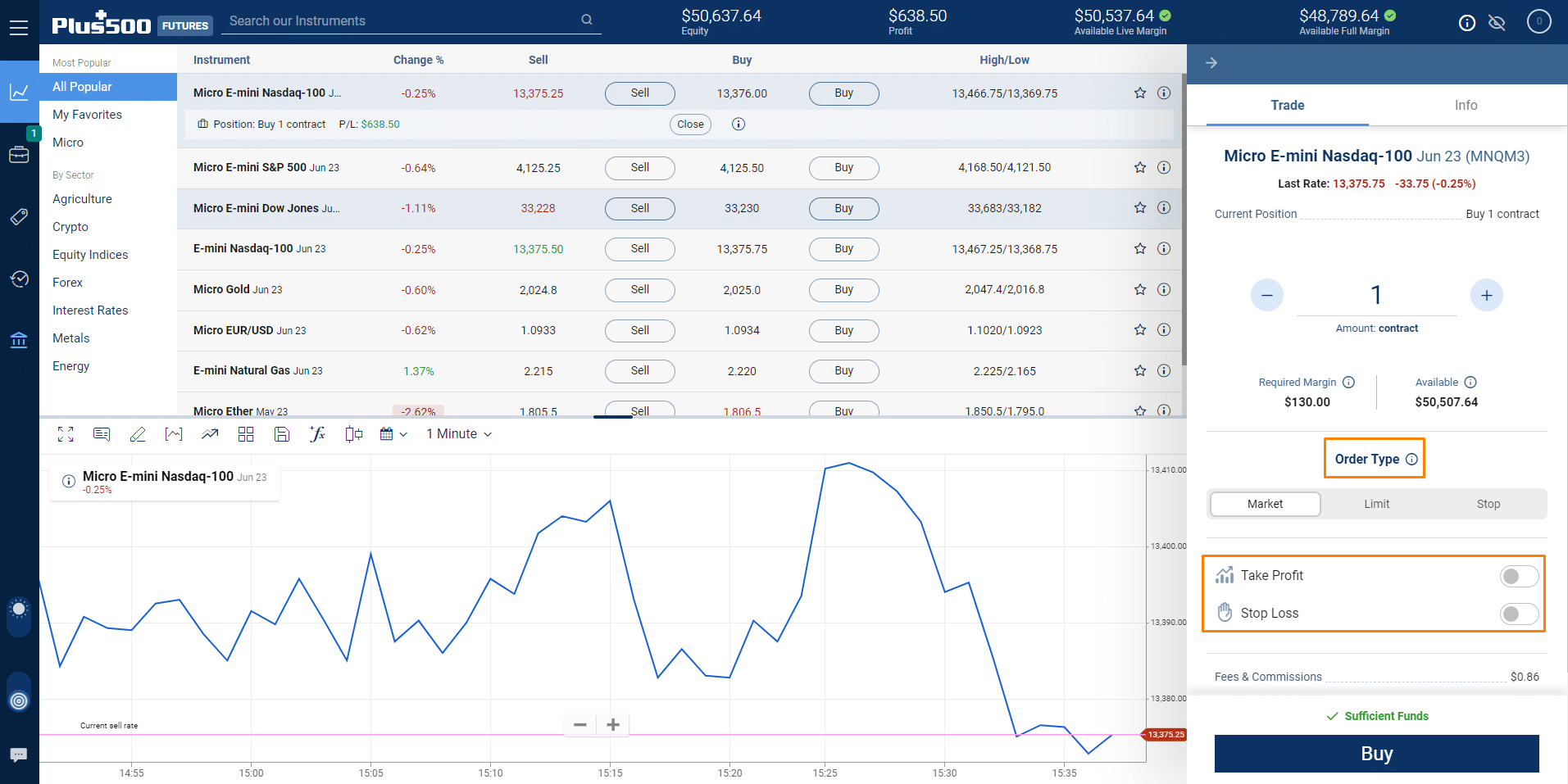 The Plus500 Futures Platform allows you to generate a monetary history report and daily and monthly statements by following these steps: "Menu" then "Tools," "Reports," and clicking "Show Report/Sent by email."

Finally, in the bottom-left corner, you can access a "Live Chat" available 24/7.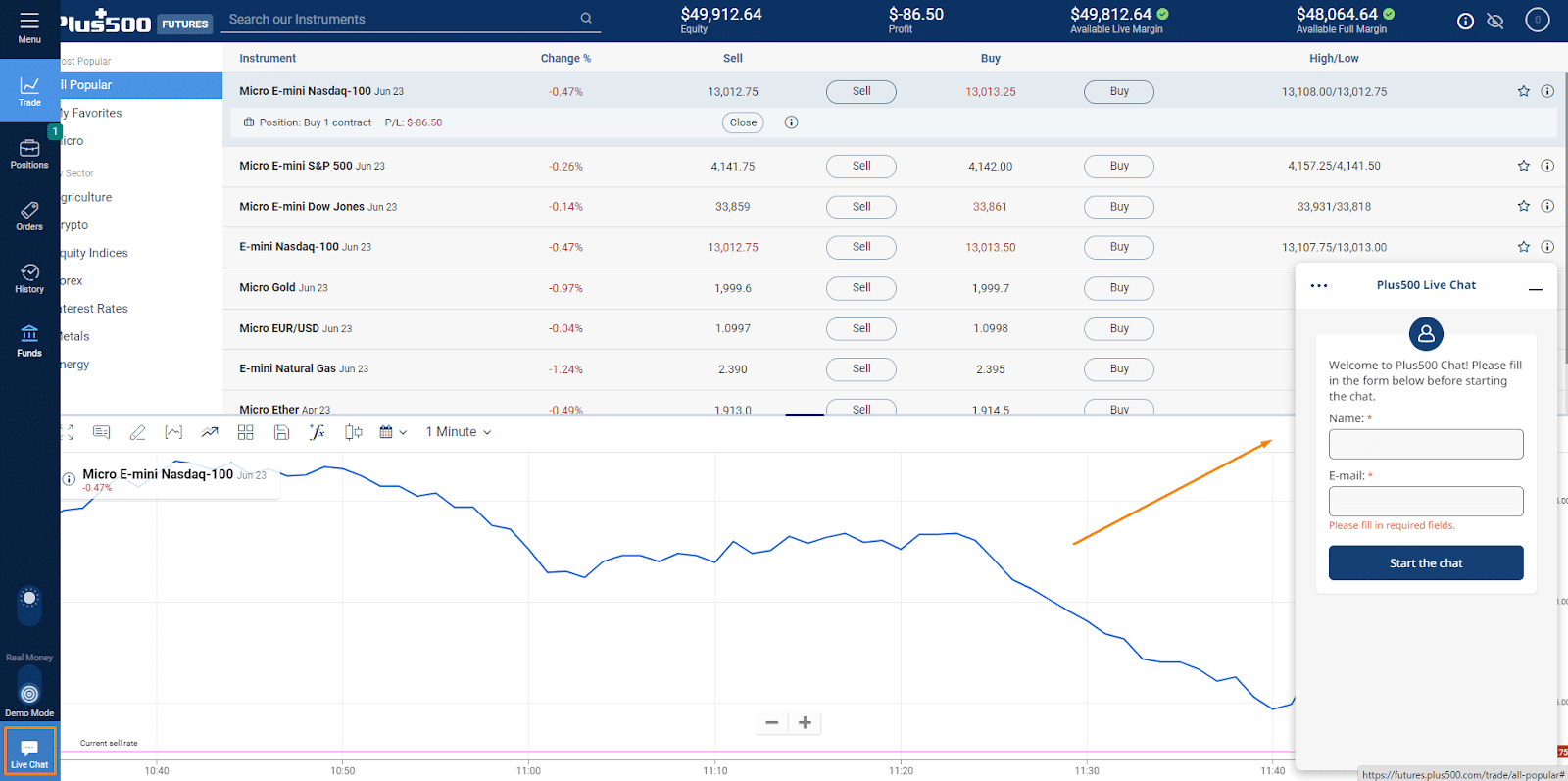 Plus500 Futures Review
5. Products & Markets
Plus500 futures gives you exposure to seven different asset classes:
Crypto

: Micro Bitcoin and Ethereum;

Agriculture

: Soybean Meal, Corn, Soybean, Wheat, Live Cattle, Soybean Oil, and Feeder Cattle;

Metals

: Gold, Silver, Copper, and Platinum;

Forex

: Australian Dollar, British Pound, Canadian Dollar, Mexican Peso, Swiss Franc, New Zealand Dollar, Euro FX, and Japanese Yen;

Interest Rates

: Micro 10-year yield and 30-Day FedFund;

Energy

: WTI and Brent Crude Oil, Heating Oil, Natural Gas, and RBOB Gasoline;

Equity Index

: S&P MidCap 400, Russell 2000, S&P 500, Nasdaq 100, Russell 2000, Dow Jones, and Nikkei.
Most asset classes will have "mini" and "micro" contracts. For example, a "Micro Bitcoin" is like investing at 1/10 the size of one bitcoin.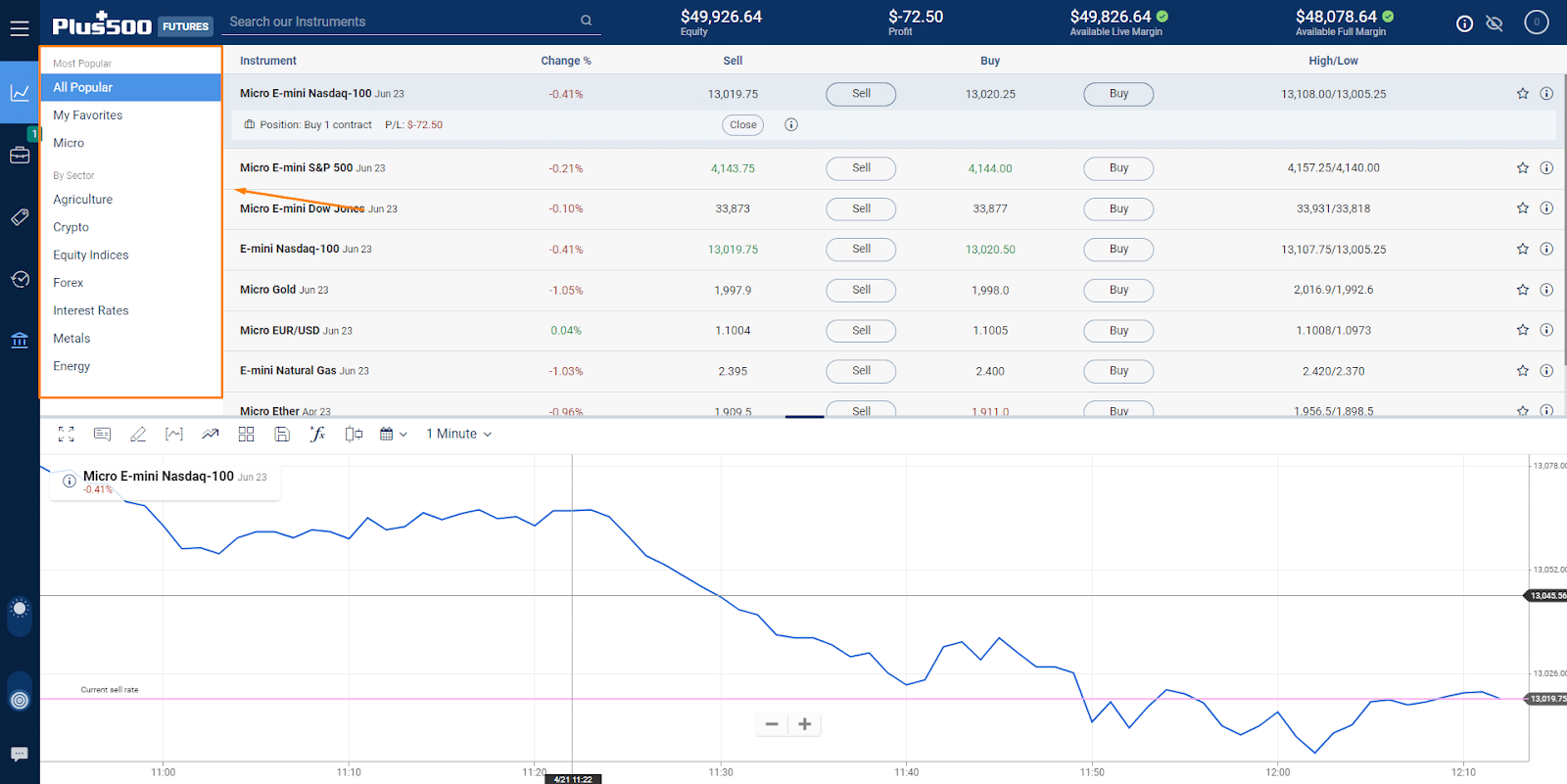 Moreover, Futures markets are open virtually 24 hours a day, 6 days a week. Still, opening and closing times may vary depending on the type of Futures contract and the underlying instrument. For more information on US Futures, for example, you can check the "Hours and Holidays" on the Chicago Board Options Exchange (CBOE) website.
Plus500 Futures Review
6. Fees snapshot
The fee structure is quite clear:
Standard contract commission: $0.89 (per trade);

Micro contract commission: $0.49 (per trade);

Auto-liquidation fee per contract: $10 (this fee will only apply If a trader has not offset or rolled his position before contract expiration. In that case, Plus500 must liquidate automatically as it does not support the delivery of the underlying assets);

Withdrawal wire transfer: $20;

No inactivity fee, data fee, platform fee, routing fee, and withdrawal fee (Except when it is in a wire transfer)
Finally, as explained by Plus500 Futures: "Aside from the fees charged to clients, there is also an additional NFA Regulatory Fee of $0.02 per side and per contract and Exchange execution and clearing fees for non-members". Exchange fees can be checked on the CME group exchange website.
Plus500 Futures Review
7. Regulation
Plus500 Futures, formerly known as "Plus500US Ltd", is a company registered in the United States, licensed to offer the trading of futures via Cunningham Commodities, LLC, a Futures Commission Merchant registered with the US Commodity Futures Trading Commission, a member of the National Futures Association (NFA ID number 0001398) and of the Chicago Mercantile Exchange (CME) group. Cunningham Commodities, LLC is a wholly-owned subsidiary of Plus500US Inc.
It is essential to understand that the funds you deposit with a futures commission merchant are not protected by the Securities Investor Protection Corporation (SIPC), even if the futures commission merchant is registered with the Securities and Exchange Commission (SEC) as a broker or dealer.
Besides, the funds you deposit with a futures commission merchant are not held by the futures commission merchant in a separate account for your individual benefit.
Futures commission merchants merge the funds received from customers in one or more accounts. You may be exposed to losses incurred by other customers if the futures commission merchant does not have sufficient capital to cover such other customers' trading losses. However, when you open an account, your funds will be segregated from the company's funds.
More information can be found in Plus500 Risk Disclosure Statement.
Finally, Plus500 Ltd, which owns Plus500US Ltd, is listed on the London Stock Exchange and included in the FTSE 250.
Plus500 Futures Review
8. Accepted Countries
Plus500 Futures is only available in the US.
Plus500 Futures Review
9. Bottom Line
All-in-all, the Plus500 Futures is only suitable for someone looking to get exposure to Futures. If you want to trade Stocks, ETFs, Options, or any other financial instruments, you won't be available to do It here. On the other hand, being a broker 100% focused on Futures can give you a tailored-man experience in this market.
We believe the use of a Demo account to get started is advisable. It clearly shows what you can expect from trading with Plus500 Futures. We encourage you to take notes on the "Pros and Cons", explore the platform and decide if it is what you were looking for!
Do you have any comments? Feel free to let us know below!