Hello, fellow investor! We will review DEGIRO to help you determine whether it is the right investment platform for you.
We recommend DEGIRO if you are an investor looking for a low-cost European brokerage. It offers free commission trading for ETFs (external fees apply), wide availability of investment products and is a good choice for creating a long-term portfolio of securities.
DEGIRO is a good fit for most investor types. Their competitive commission structure and broad portfolio of investment options make it a great choice for beginners and more experienced investors. This helped them become one of the largest brokers in Europe, reaching more than 2.5 million clients and being awarded as the best broker in several categories by some external entities.
On the downside, it charges a €/£1 handling fee in most transactions (except for Stocks on the Tradegate exchange, Options, and Futures [excl. OMX Nordics]), offers little research, no demo account, and you won't find Forex, CFDs, and direct investment in cryptocurrencies.
That's DEGIRO's review in a nutshell. If you want a more detailed DEGIRO review, keep on reading. Here's what we'll cover:
1. DEGIRO Overview
Launched in 2013, DEGIRO is a discount broker based in the Netherlands, allowing retail clients to benefit from the same low rates and opportunities that were once only available to professional investors. The company offers many investment options: stocks, ETFs, investment funds, futures, leveraged products (not the same as CDFs. More info here), bonds, options, and warrants.
The company operates under the motto "Financial Power to You". The main competitive advantage explaining its tremendous growth is its low commission structure. Apart from the commissions charged, DEGIRO generates additional revenue by allowing you to leverage your portfolio (interest rate on the loan amount) and lending your shares to other investors for short-selling activities, for instance, but with rigorous risk management procedures. Lending shares allows DEGIRO to reduce costs significantly but also implies an additional small (yet existent) risk for investors.
DEGIRO offers a user-friendly interface that will certainly fit beginner and intermediate investors. Still, if you give high importance to fundamental and technical tools, it might not be the ideal choice for advanced investors (Interactive Brokers will better suit that role).
Opening an account is pretty intuitive. As soon as you land on the DEGIRO homepage, you just need to select "Open an account" and follow the intuitive steps.
DEGIRO Highlights
🗺️ Supported Countries
15 European Countries
💰 US Stock Fees
€/£1 (+€/£1 external fee)
💰 ETF Fees

ETF Core List

: €/£0 (+€/£1 flat handling fee);

Other ETFs

: €/£2 (+€/£1 flat handling fee)
💰 European Stock Fees
€/£3.90 (+€/£1 external fee)
💰 Currency Conversion fee
0.25%
💰 Connectivity fee
€/£2.50 annually, per exchange
💰 Inactivity fee
€/£0
💰 Withdrawal fee
€/£0
💵 Minimum Deposit
€/£0.01
📍 Products offered
Stocks, Funds, ETFs, Futures, Leveraged Products, Bonds, and Warrants
🎮 Demo Account
No
📜 Regulated by
AFM & DNB
List of commission-free ETFs available (one free transaction per month – €/£1 flat handling fee still applies)
User-friendly web and mobile app
Wide range of investment options
Education material: Investor's Academy and Investing with DEGIRO
Low commission structure
No account opening, inactivity, or withdrawal fee
0.25% currency conversion fee
€/£2.50 of connectivity fee (paid annually)
Does not offer Forex, CFDs, and Cryptos
No demo account
Little research
Low-quality customer support
Only available in 15 European countries
3. Account Types
DEGIRO offers four account types: Basic, Active, Trade, and Day Trader. When you first register, you will be automatically assigned a Basic Account. Later on, you may upgrade to Active, Trader, or Day Trader after answering some questionnaires to ensure you have the proper knowledge of the new risk level (DEGIRO must do this because of legal procedures).
In the Basic Account, you can access the shallow fee structure and trade in almost all the financial instruments. What will be missing? Well, you are not allowed to trade options, futures, short selling, or use margin lending.
However, if you upgrade to Active, Trader, or Day Trader, you will have full access to the restricted assets in the Basic Account. The only difference between Active and Trader Accounts will be the level of margin lending: up to 50% and 100% of your portfolio value, respectively. In the Day Trader account, you can trade more actively during market hours (separate limits and conditions apply to the Day Trader profile between 8:00 and 21:30 CET – More info here). The Day Trader account does not appear in the following image since it can only be activated upon request.

4. Trading Platform
DEGIRO offers a trading platform for both mobile and web. Below, we'll review DEGIRO's web trading platform.
DEGIRO's trading platform sets it apart from its competitors due to the ease with which you can get what you are looking for. As soon as you log in, this is what you will see (yeah, my account balance is blurred for privacy reasons):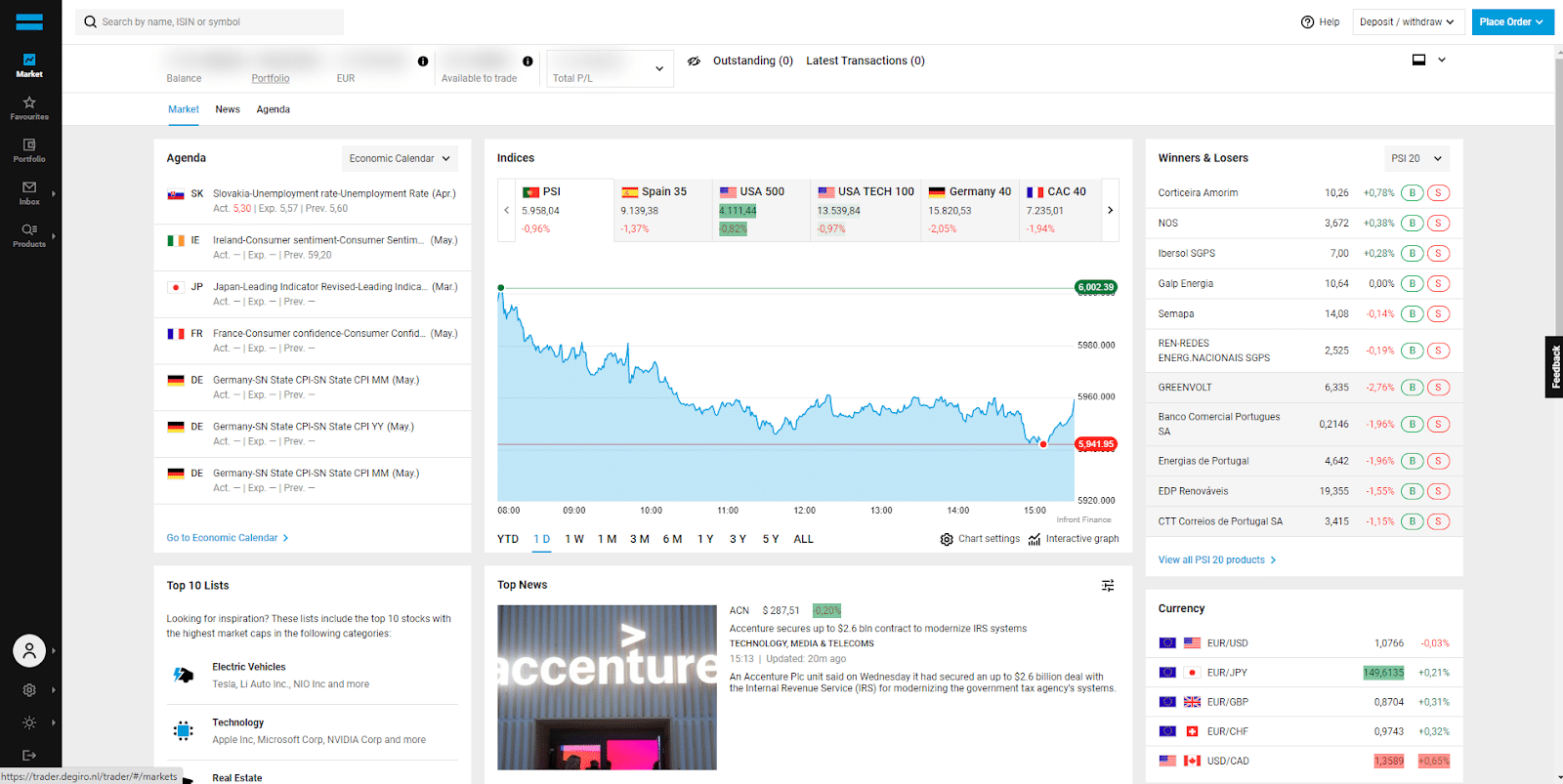 In the top left corner, you can search for any asset. As you type, it will automatically filter until it appears what you came looking for. So, to find any product you have in mind, just stick to the search bar.
Apart from that, it gives you a quick overview of what is happening in the market, including the leading stock indices, top news, agenda (economic calendar, earnings, dividends,…), latest news and videos. You need to scroll down to check it: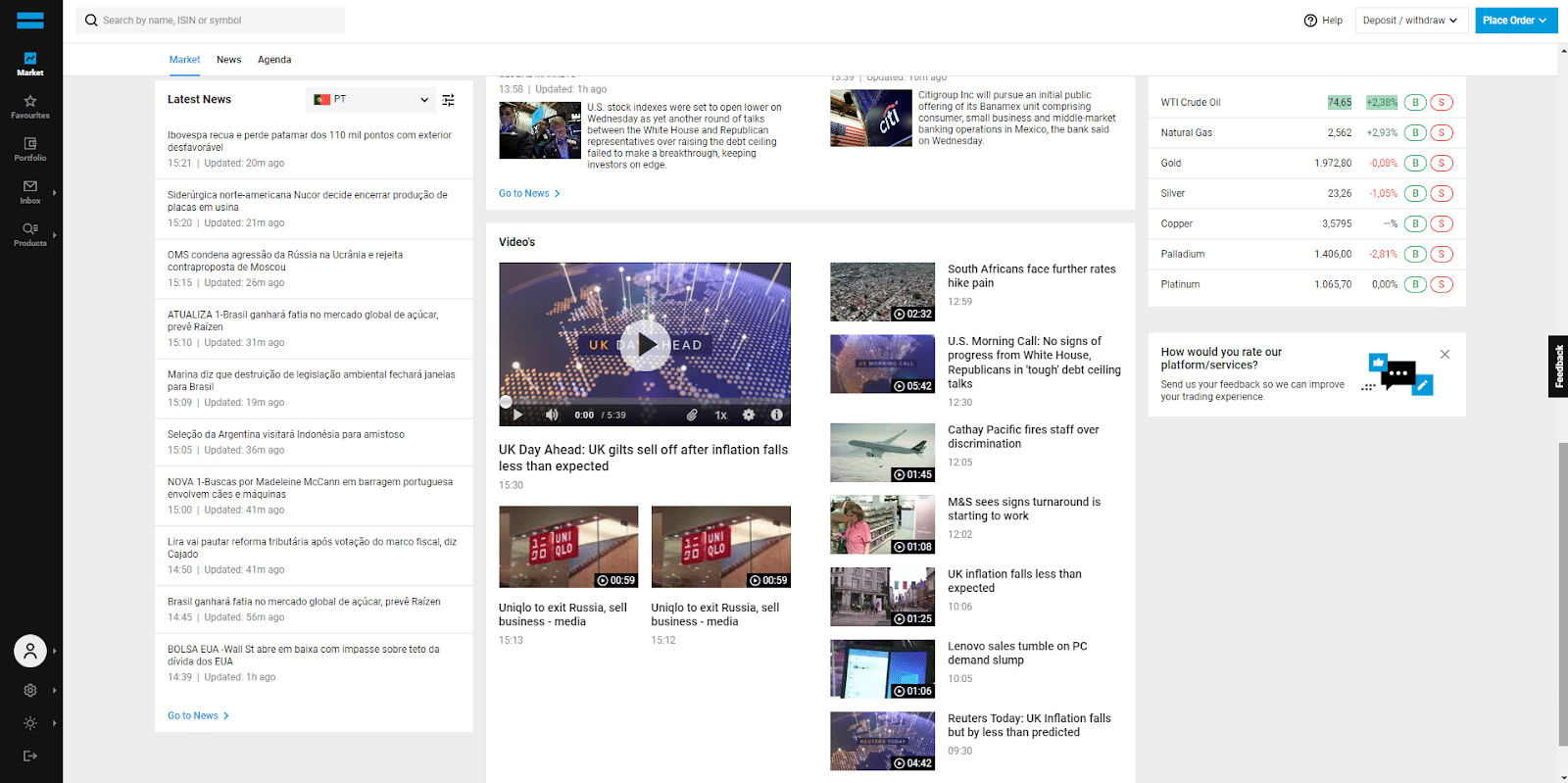 Also, on the top right corner, the "help", "deposit/withdraw," and "place order" buttons are available as shortcuts for those needs.
In the tab "Favourites," you are allowed to see the stocks or ETFs that you have selected to be included in this list by clicking on the "star" you find in each asset: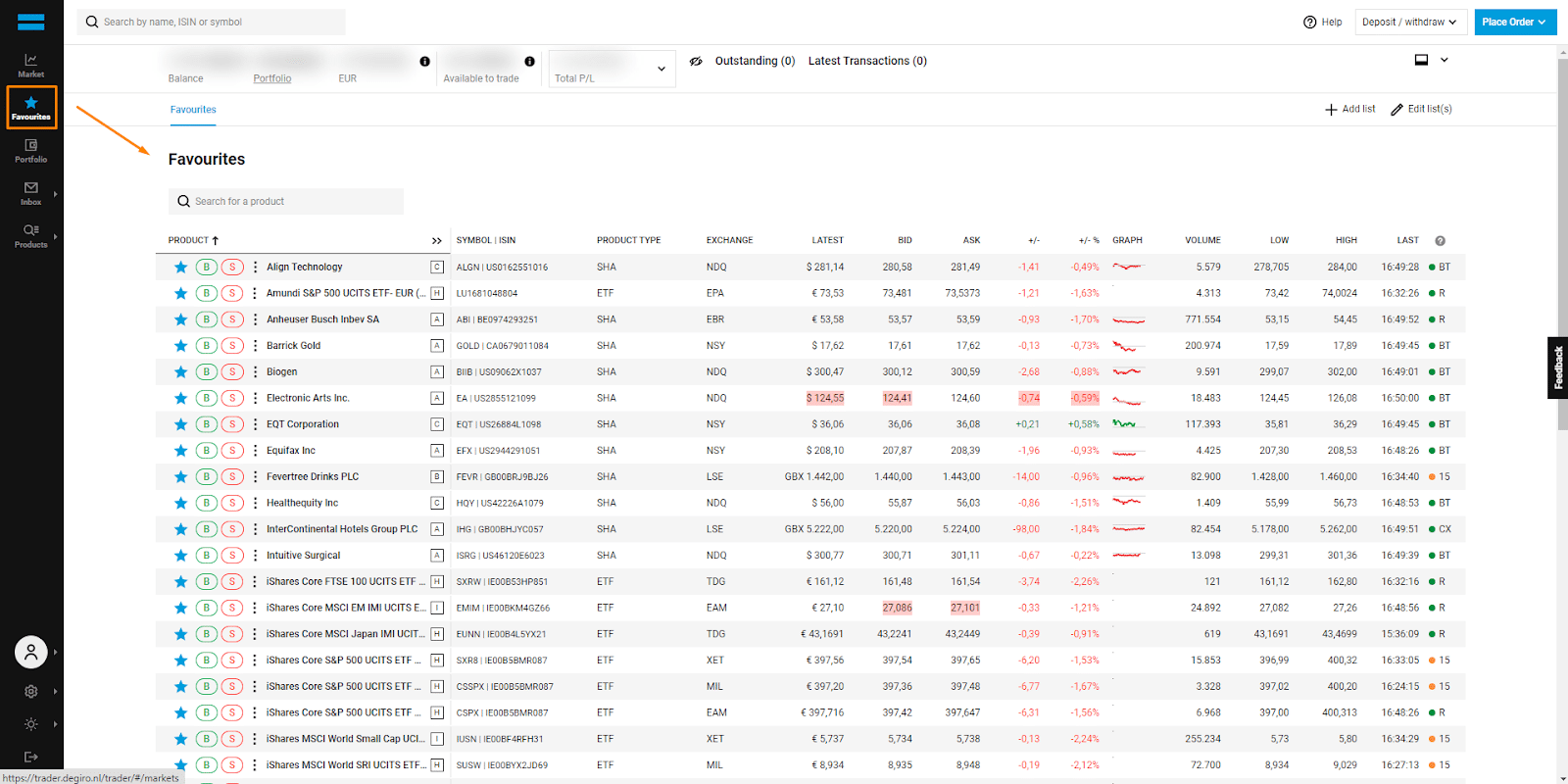 In "Portfolio," you can clearly see your holdings (I have just one ETF – please do not consider it as financial advice):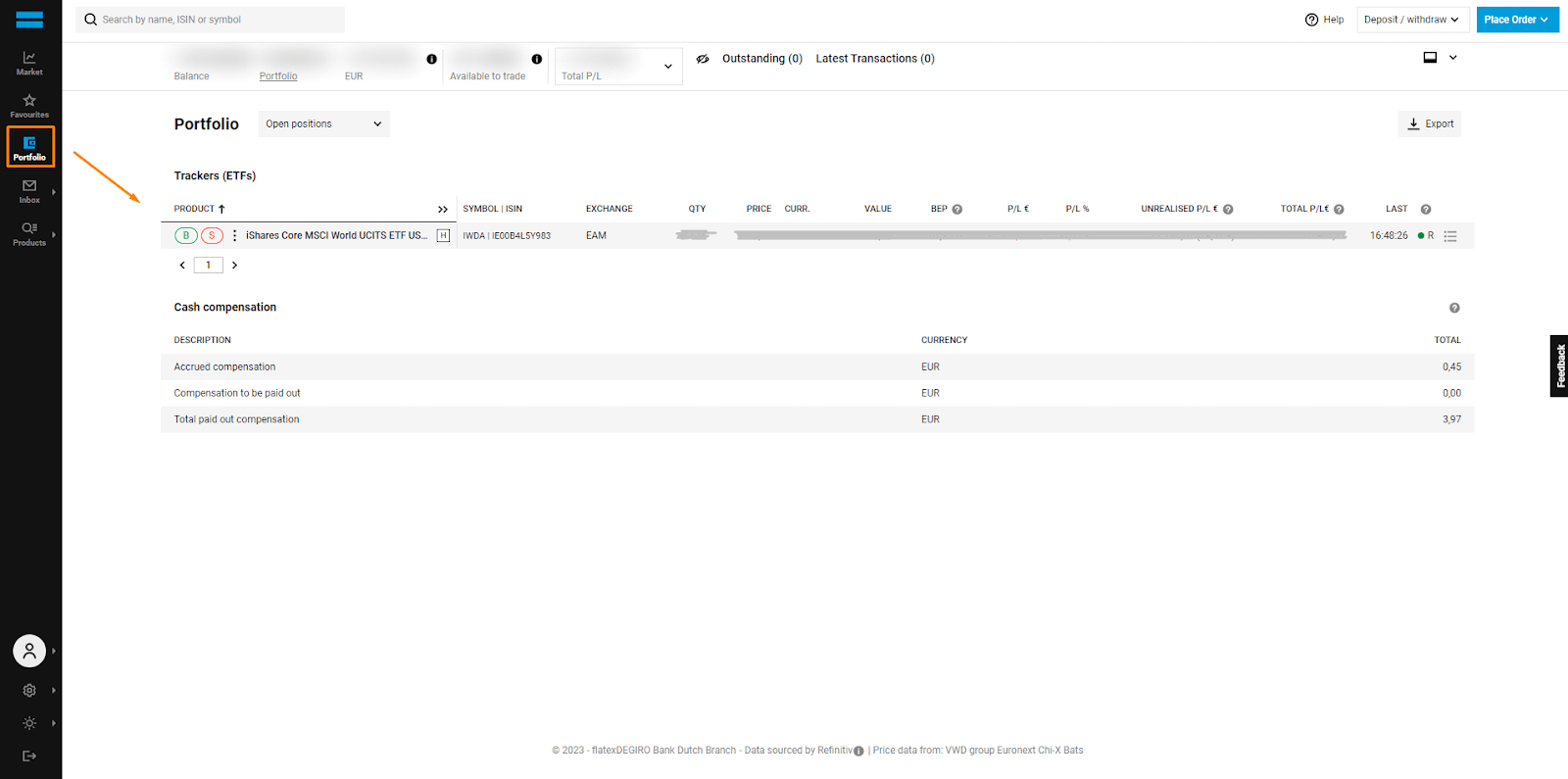 In the "inbox" is where you can get not only all communications from DEGIRO but also the status of open orders, past transactions, account statement details, Portfolio Depreciation and Documents: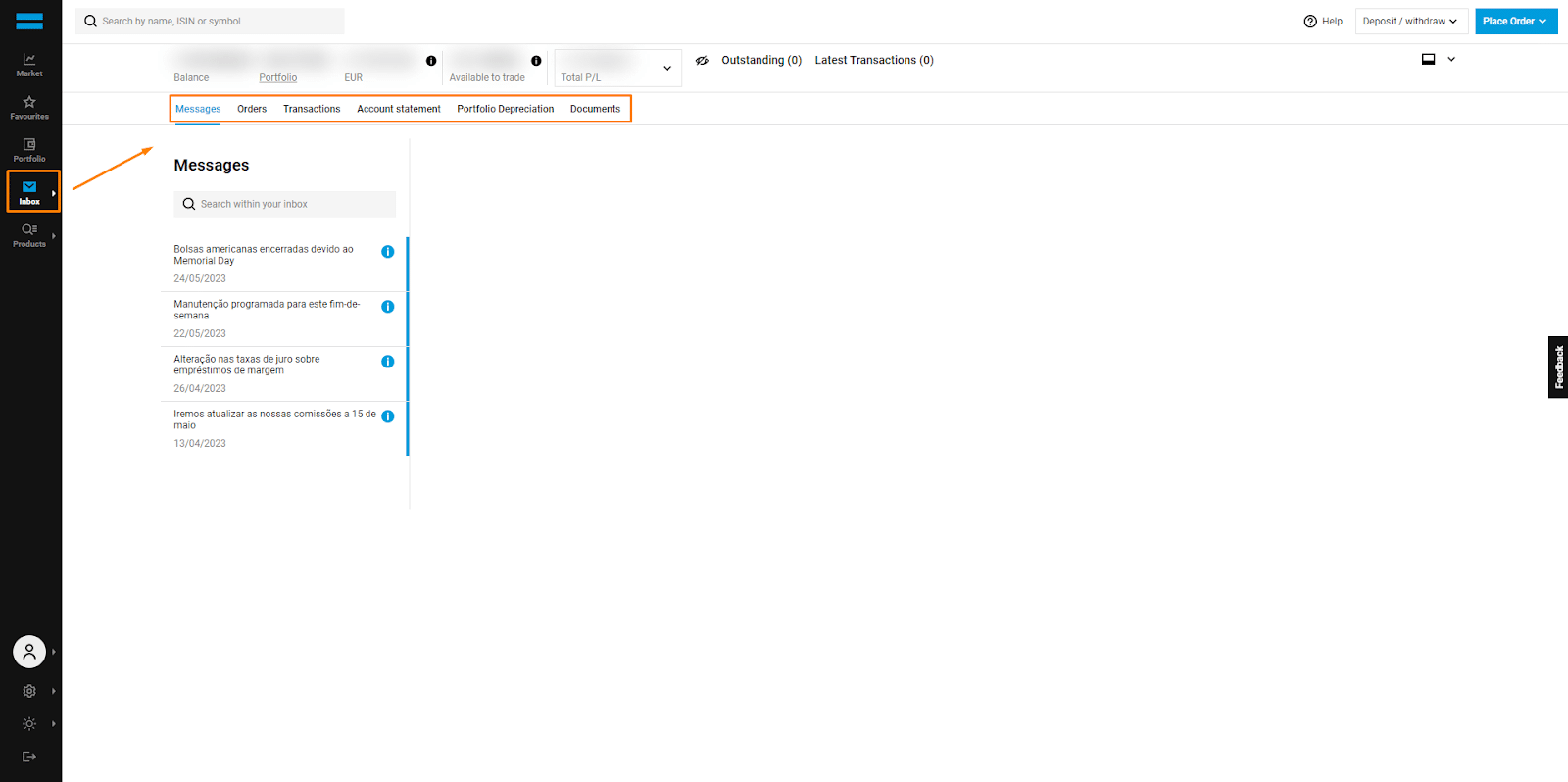 Finally, the "Products" section is useful if you want to explore the whole range of financial instruments available within the platform: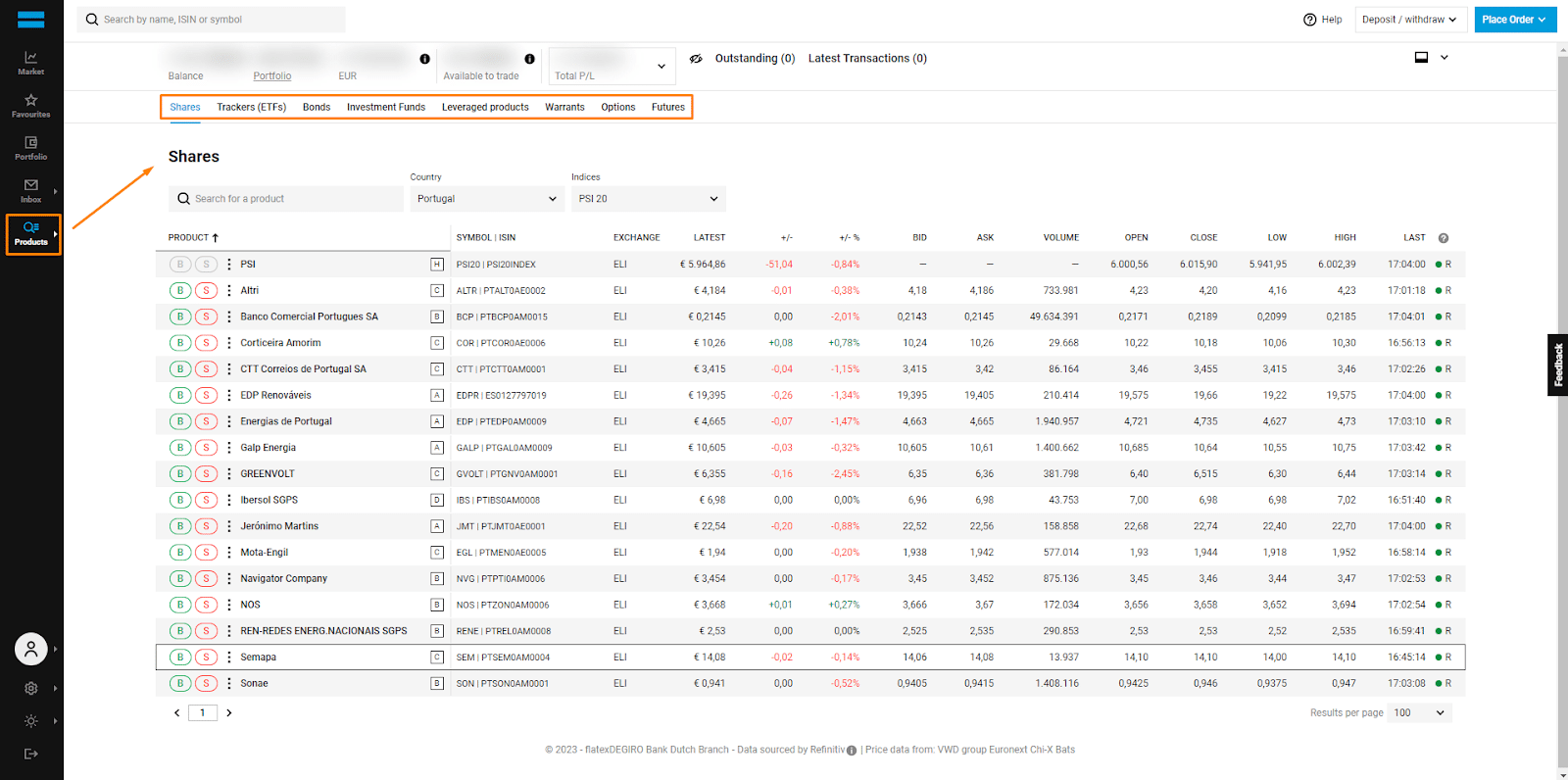 5. Products & Markets
DEGIRO offers Stocks, ETFs, Bonds, Leveraged Products, Funds, Options, Futures, and Warrants. You cannot trade these assets through fractional shares since DEGIRO does not allow fractional shares.
| | |
| --- | --- |
| Products | Available? |
| Stocks | ✔ |
| ETFs | ✔​ |
| Bonds | ✔​ |
| Funds | ✔​ |
| Options | ✔​ |
| Futures | ✔ |
| Forex | ✘ |
| Cryptocurrencies | ✔​ (through ETPs) |
| Commodities | ✔ (through ETCs) |
| CFDs | ✘​ |
Stocks: You can trade stocks from over 50 global exchanges in 30 countries, including NASDAQ, NYSE, London, Frankfurt and Amsterdam.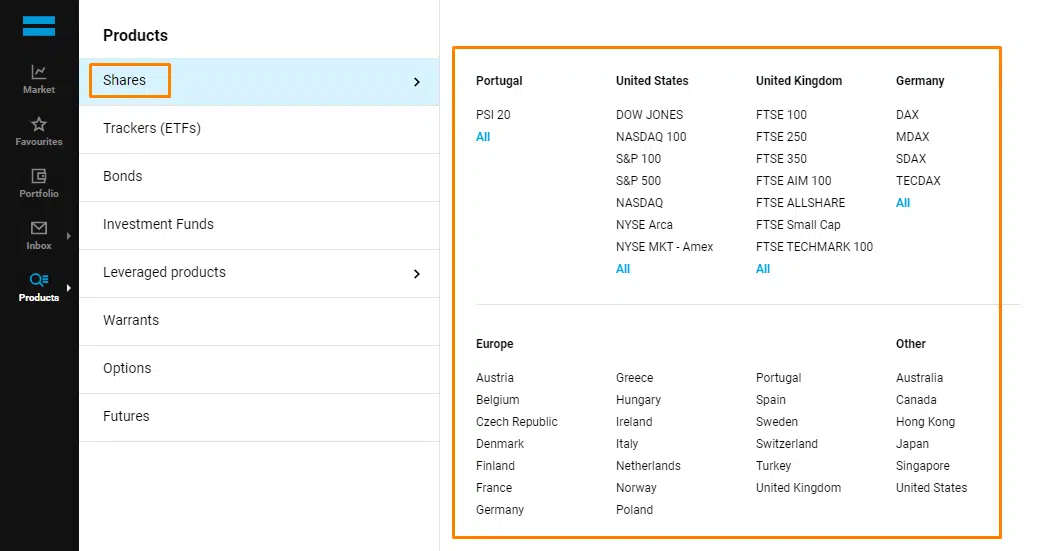 ETFs: You have thousands of ETFs at your disposal, which can be chosen according to the type (ETF, ETN, ETC, Crypto Tracker), Stock Markets, Issuer, Region, Benchmark, Asset Allocation and Total Expense Ratio (TER):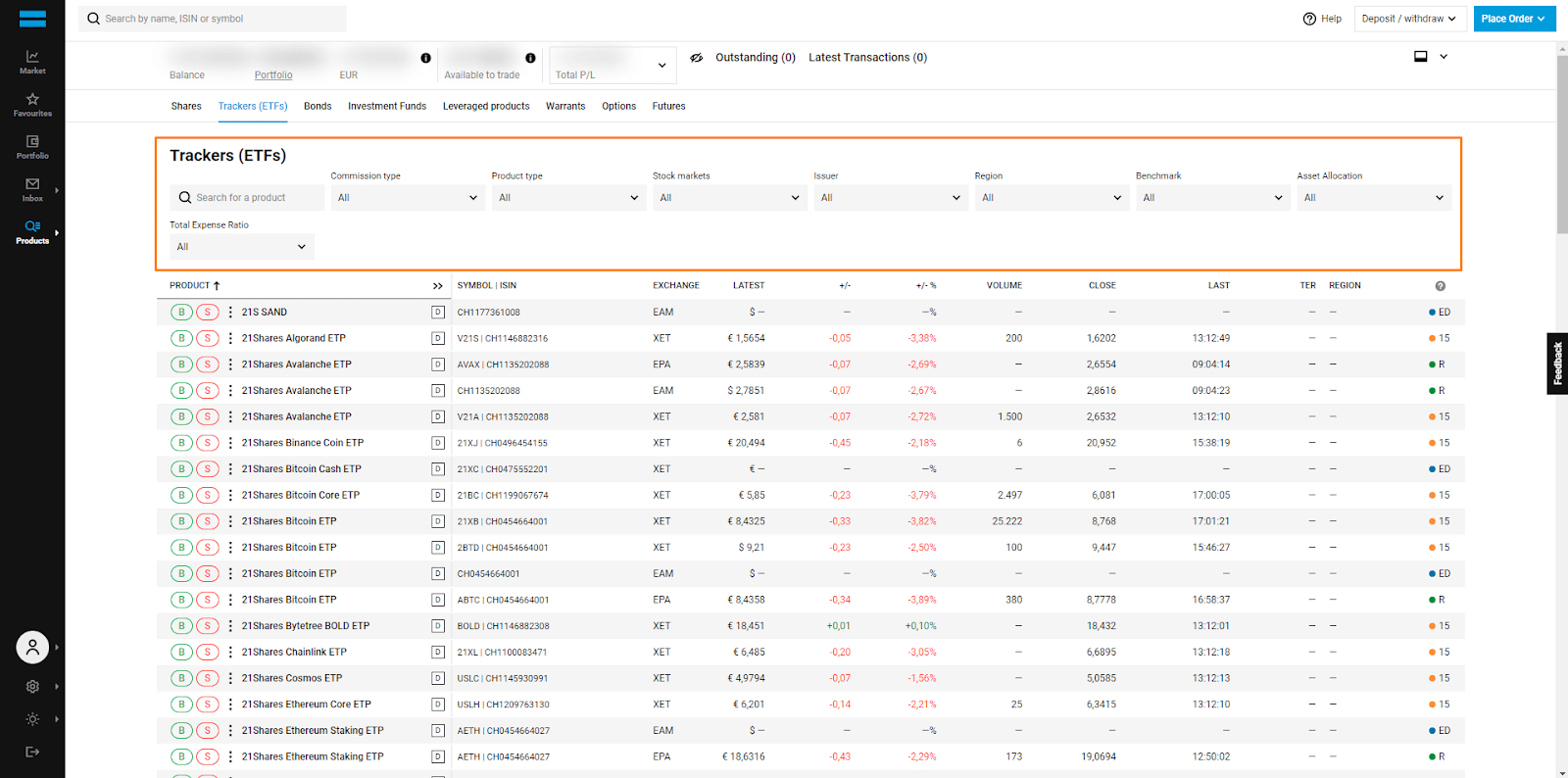 Bonds: You have government and corporate bonds to choose from in the secondary market from several countries: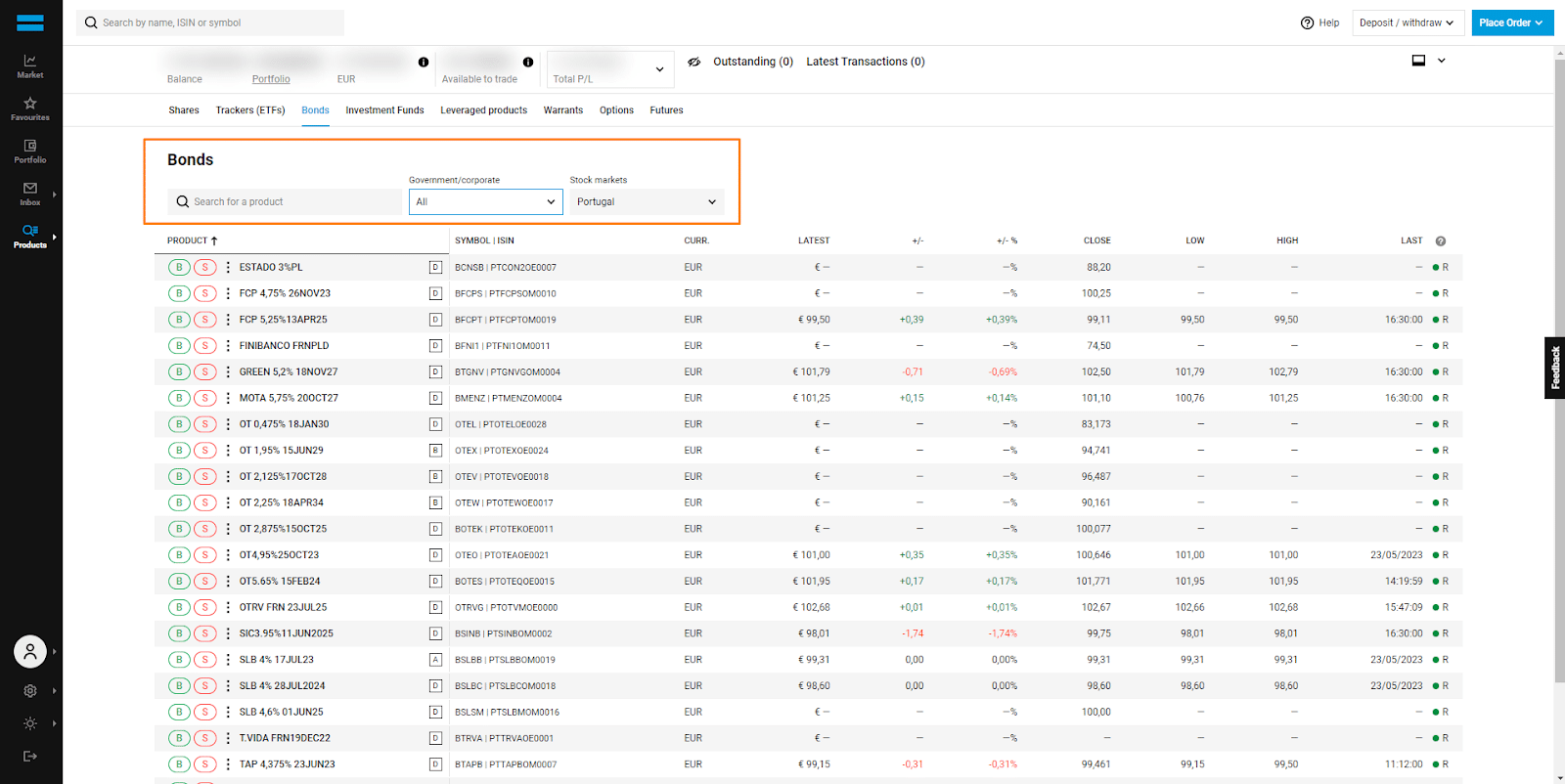 Funds: In the Investment Funds space, you can filter by Commission Type and Issuer: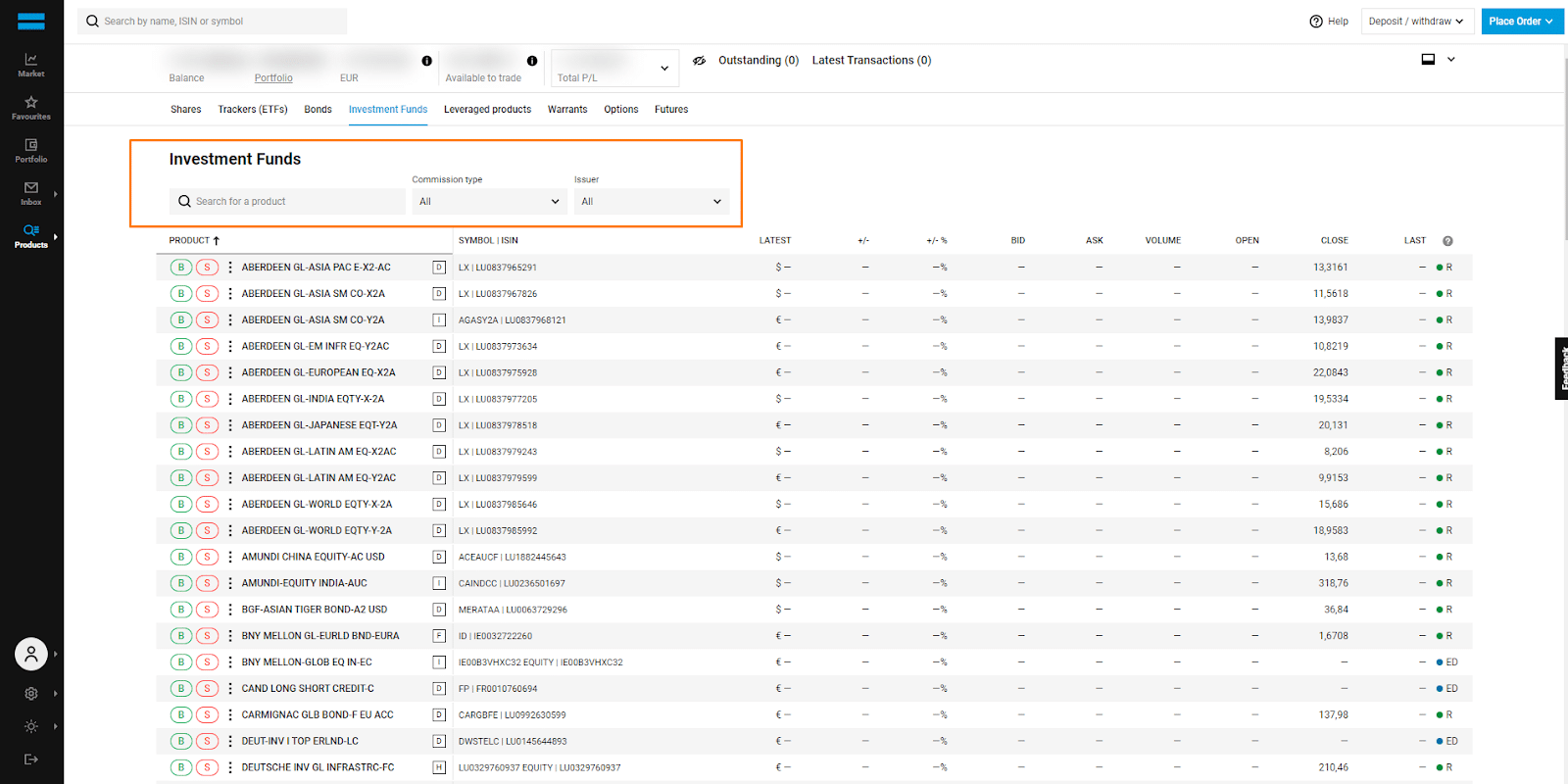 Options: Here, the list of options available is relatively wide. CBOE, CME, Eurex and NYMEX are included. Apart from that, you can filter by Underlying, Strike price, Month and Year: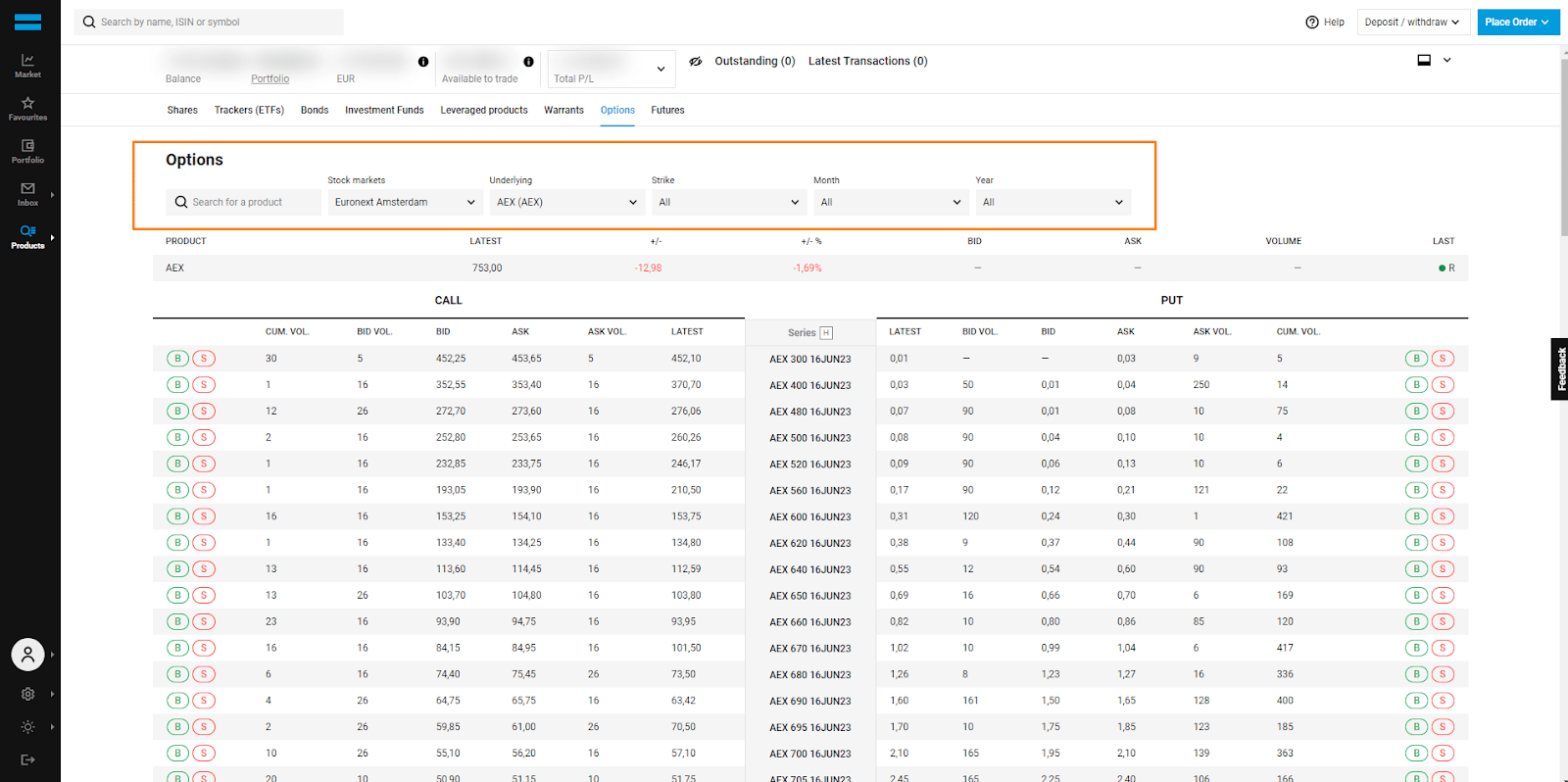 Futures: In this asset class, the offering is pretty limited. You will not find a lot of alternatives, so we would not recommend it for futures trading. If you are keen on that, please consider other futures trading platforms.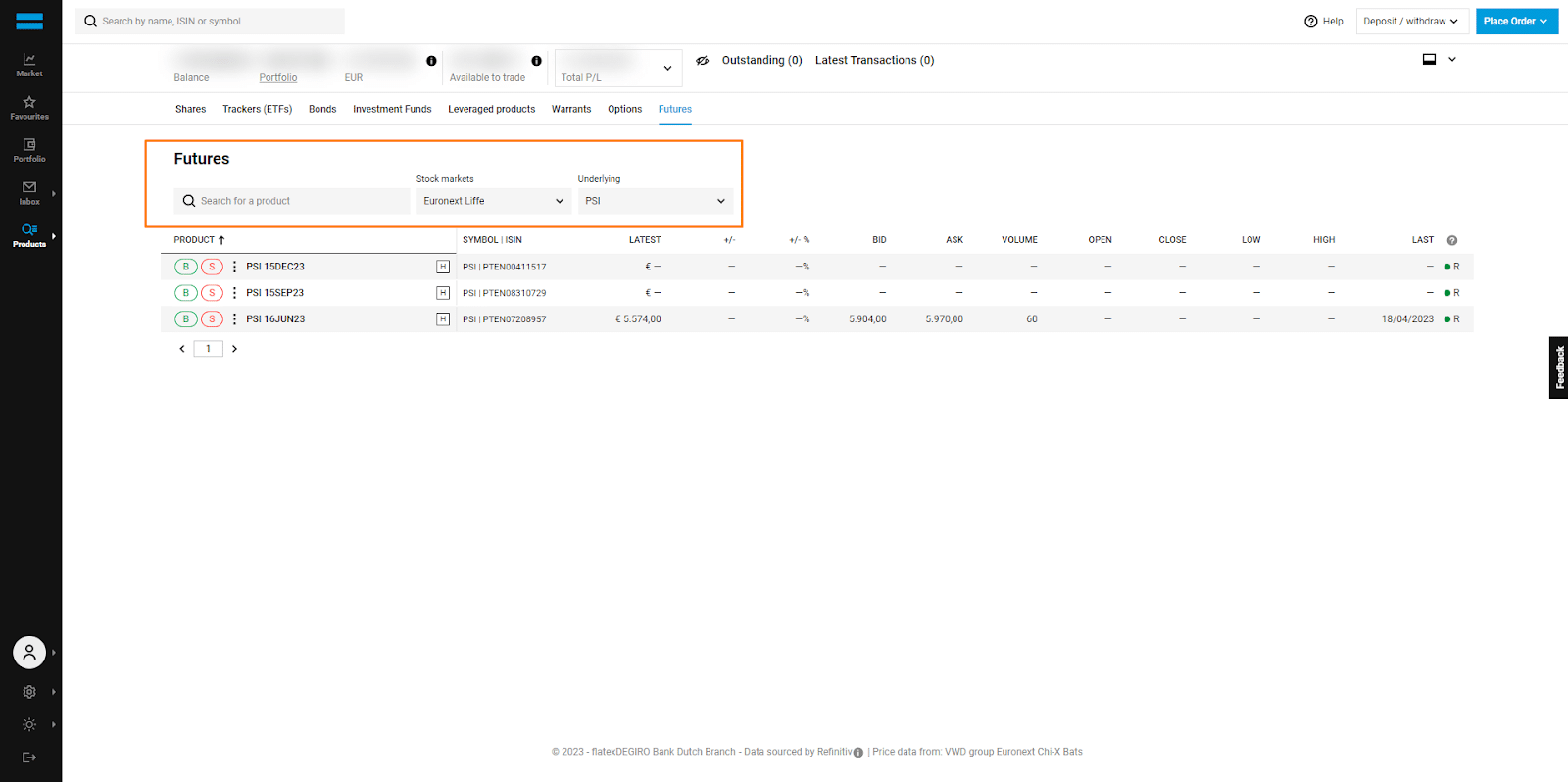 Cryptocurrencies and Commodities: For these two asset classes, you need to go to the search bar – there is no category within Products. if you search for "Bitcoin", a lot of trackers will appear (mimic the price movement of Bitcoin):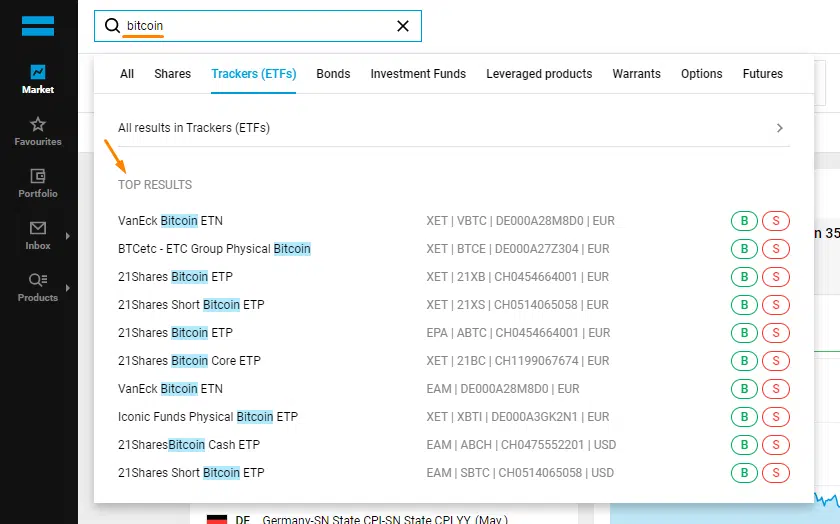 The same can be done by searching for "gold". The first result is an ETN replicating the price of gold: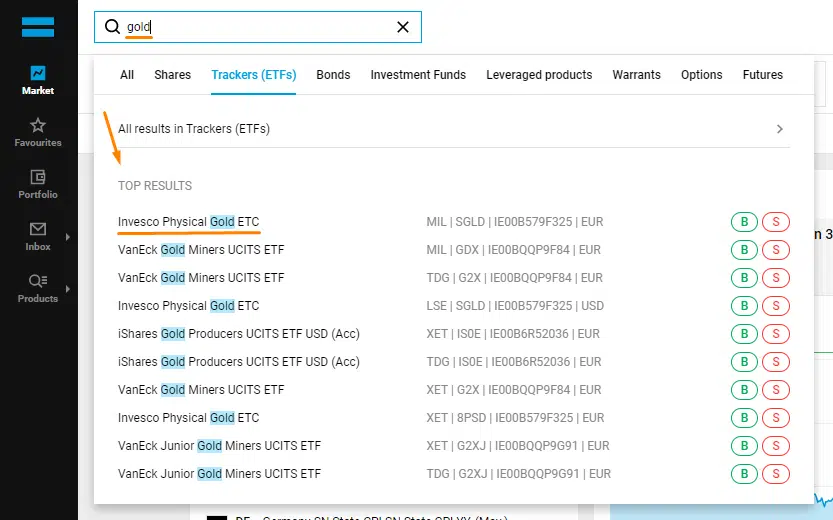 6. Fees snapshot
| | |
| --- | --- |
| Fee Type | Classification |
| US Stocks and Local Stocks* | €/£1 (+€/£1 external fee) per trade |
| European Stocks | €/£3.90 (+€/£1 external fee) per trade |
| Core Selection ETFs | €/£0 (+€/£1 external fee) per trade |
| Global ETFs | €/£2 (+€/£1 external fee) per trade |
| Options and Futures | €0.75 per contract |
| Currency Conversion | 0.25% |
| Deposit, Withdrawal, Inactivity and Custody | €0 |
| Connectivity fee per exchange | €2.50 per year (stocks, ETFs); €5 for US options per month |
*This cost may vary depending on the country you reside. For UK investors, the commission on local stocks is £1.75 per trade.
DEGIRO offers commission-free trading ETFs in a "Core Selection List" (+200 ETFs). Still, there is a "catch." When placing an order, you will notice a €/£1 fee, a cost that does not go to DEGIRO's pockets. In other words, DEGIRO charges you nothing, but it passes you external costs related to clearing and settlement expenses, brokerage fees, regulatory fees, and execution fees. That's why you see the €/£1 per trade. On ETFs outside the "Core Selection List", it charges a €/£2 commission per trade plus the €/£1 handling fee.
Commissions on US, CA, and in your home market stocks are €/£1 fee per trade plus a handling fee of €/£1 fee, so a minimum of €/£2 per trade. For European stocks, the fees are high: €/£3.90 per trade plus the €/£1 handling fee. If you want to buy stocks in Australia, Hong Kong, Japan, and Singapore, the transaction fee increases to €/£5.00 per trade plus the €/£1 handling fee.
Additional fees you may pay will depend on the type of asset class (stocks, ETFs,…) and the securities exchange (NYSE, NASDAQ, LSE,…). In general, their trading fees are medium-to-low. Besides, there are no account opening, inactivity, or withdrawal fees.
You will have to pay an annual exchange connectivity fee of 0.25% of your portfolio (with a maximum charge of €2.50) per year per foreign exchange (the exchange connectivity fee is charged when you buy an asset that isn't listed in your home country).
Also, there is a 0.25% fee on currency conversion (Example: If you have EUR and want to buy/sell an asset in USD, you will pay this fee). However, since you have the option to hold a US dollar account, you may only incur currency costs (e.g. 0.25%) when buying an asset for the first time in a currency other than the EUR and when transferring money outside your account, which forces you to convert again to EUR because you can only deposit/withdrawal in EUR.
In other words, you deposit in EUR, buy an asset in USD (pay the 0.25% fee), then sell the asset and keep the USD amount for as long as you wish. If you want to buy another asset in USD, no currency fee applies since you are using USD. But If you want to withdraw money from your account (or just get some EUR), you will need to convert the USD back to EUR (pay the 0.25% fee again).
Users tend to trade more often US-denominated stocks, which is subject, as mentioned in the previous paragraph, to the FX fee of 0.25% (Included in every transaction in a foreign currency), which makes it not so "cheap" to buy assets denominated in USD, for instance.
Costs per trade (buy OR sell)

ETFs from the core selection list

Flat Handling fee (External cost)

FX fee (0.25%) - €1000 trade

EUR: €0.00
Other currencies: €2.50

EUR: €0.00
Other currencies: €2.50
*This varies between countries. For example, if you are a UK or a Portuguese resident, it will refer to LSE and Euronext Lisbon stocks, respectively.
**Every month, the first transaction made on an ETF listed, it's free regardless of amount or direction (External costs apply). If you want to buy again in the same month, you will be charged the €/£1 flat fee unless the order is above 1000 EUR/USD. If you want to sell during the same month, a fee will apply independently of the amount.

Every time you place a trade, a confirmation window will appear, where you will see the total estimated costs (95% of the time, that is what you will be charged) before placing an order, so don't worry about buying something without knowing the associated costs. However, fees vary from country to country, so please check your country's fees here.
As you just witnessed, you still pay commissions and fees despite being competitive. If you are an active trader, please take a look at our Reviews of eToro, Trading 212 and Interactive Brokers.
7. Safety and Regulation
FlatexDEGIRO Bank Dutch Branch, trading under the name DEGIRO, is the Dutch branch of flatexDEGIRO Bank AG. As a German-regulated bank, flatexDEGIRO Bank AG is regulated by the German financial regulator, the Bundesanstalt für Finanzdienstleistungsaufsicht (BaFin). On the other hand, the FlatexDEGIRO Bank Dutch Branch (DEGIRO) is subject to integrity oversight by the DNB and oversight by the AFM (Dutch Authority for the Financial Market).
| | |
| --- | --- |
| Entity | Regulated By |
| FlatexDEGIRO Bank Dutch Branch (DEGIRO) | DNB & AFM |
| flatexDEGIRO Bank AG | BaFin |
DEGIRO clients' assets are segregated into separate entities and thus protected against the insolvency of DEGIRO. In the unlikely event that the segregated assets cannot be returned to clients, DEGIRO falls under the German Investor Compensation Scheme, which compensates any losses from non-returned assets up to 90% (with a maximum of EUR 20,000). Furthermore, any money deposited on a DEGIRO Cash Account with flatexDEGIRO Bank AG will be guaranteed up to €100,000 under the German Deposit Guarantee Scheme. Information about the German Investor Protection Scheme and the German Deposit Guarantee Scheme can be found in English on the BaFin website in "Deposit protection and investor compensation."
| | |
| --- | --- |
| Asset Type | Protection (per person) |
| Investments assets (stocks, ETFs,…) | Up to 90% (with a maximum of €20,000) |
| Cash (uninvested money) | Up to €100,000 |
DEGIRO is also registered with the financial authorities in the countries where it operates, such as the Financial Conduct Authority (FCA) in the UK and the Portuguese Securities Market Commission (CMVM) in Portugal.
To better understand the German Investor Compensation Scheme, let's give you an example: Imagine you have €30.000 invested. If DEGIRO goes bankrupt and only has €10.000 of your €30.000 safeguarded assets (very unlikely but good for the illustration purpose), you would receive €18.000 as compensation (90% of €20,000 – "non-returned assets"). Yeah, you would lose €2,000.
Why do we say it is "very unlikely"? First of all, DEGIRO doesn't hold your assets: they are located in a Special Purpose Vehicle (SPV), also called a Special Purpose Entity (SPE), which is a custodian entity holding them separately from DEGIRO's balance sheet, so that, in case the company doesn't perform well, your assets won't be affected.
Secondly, if DEGIRO did not have your assets safeguarded, that would probably be classified as fraud, which can occur in any Broker, so that's a risk you will always have. Your assets are your assets. Period. The only issue you would face could be the transfer of your securities to another broker, which can take weeks, months, or even years.
Besides, if DEGIRO decides to get loans for its business activities and cannot repay them, its creditors will not claim your assets.
Do you want to read a deeper analysis? Check out our dedicated article on investment protection (for EU investors)! If it is unclear, please let us know in the comments below!
8. Supported Countries
DEGIRO accepts clients from the following European countries: the Czech Republic, Denmark, Finland, France, Germany, Greece, Ireland, Italy, Netherlands, Poland, Portugal, Spain, Sweden, and Switzerland.
Exceptions include Estonia, Latvia, Slovenia, Lithuania, Bulgaria, Slovakia, Luxembourg, Croatia, the United Kingdom, and Romania.
Bottom Line
DEGIRO is a popular trading platform with several notable pros and cons. On the positive side, DEGIRO offers a wide range of investment options at competitive prices, including stocks, ETFs, bonds, and more. Its low fees make it an attractive choice for cost-conscious traders.
However, DEGIRO has a few drawbacks worth considering. Customer support can be inconsistent, with some users reporting delays in response times and difficulty reaching a representative. While DEGIRO offers a user-friendly interface, its platform may not be as advanced or feature-rich as some of its competitors, which could be a drawback for experienced traders who require advanced charting tools or sophisticated order types.
In conclusion, DEGIRO provides a cost-effective solution for investors looking for a wide range of investment options and low fees. Considering these factors, DEGIRO can be a suitable choice for investors seeking affordability and simplicity in their trading experience.