eToro is a well-known fintech startup established in Israel in 2006 and the leader in the social trading field, with over 30 million users worldwide.
Their huge popularity and growth have been facilitated since offering commission-free stock and ETF trading (other fees apply) in most regions, social trading, and their intuitive and simple-to-use trading platform both in PC and mobile versions, making it a good choice for all sorts of investor
However, it has a comparatively smaller selection of assets in some categories, like the unavailability of Futures contracts, and it also provides only one currency account (USD), which means that you'll incur currency conversion fees when depositing in another currency.
Want to know if you can trade futures in eToro? Wondering about alternative investment platforms to invest in futures? We've got you covered!
Can you trade Futures on eToro?
Unfortunately, you are not able to trade futures in eToro! As of this writing, eToro doesn't offer futures trading.
However, you can trade Contracts-for-difference (CFDs) on Futures in eToro, which gives you exposure to the futures market but without requiring you to take on any obligations that are associated with futures trading, like having to actually deliver the underlying asset (if you are a seller) or receiving the underlying asset (if you are a buyer).
Please note that US investors are not allowed to invest in CFDs due to regulatory reasons. So, if you are a US investor, please skip to the section "Best eToro alternatives for investing in Futures".
Let's look at the example of crude oil below: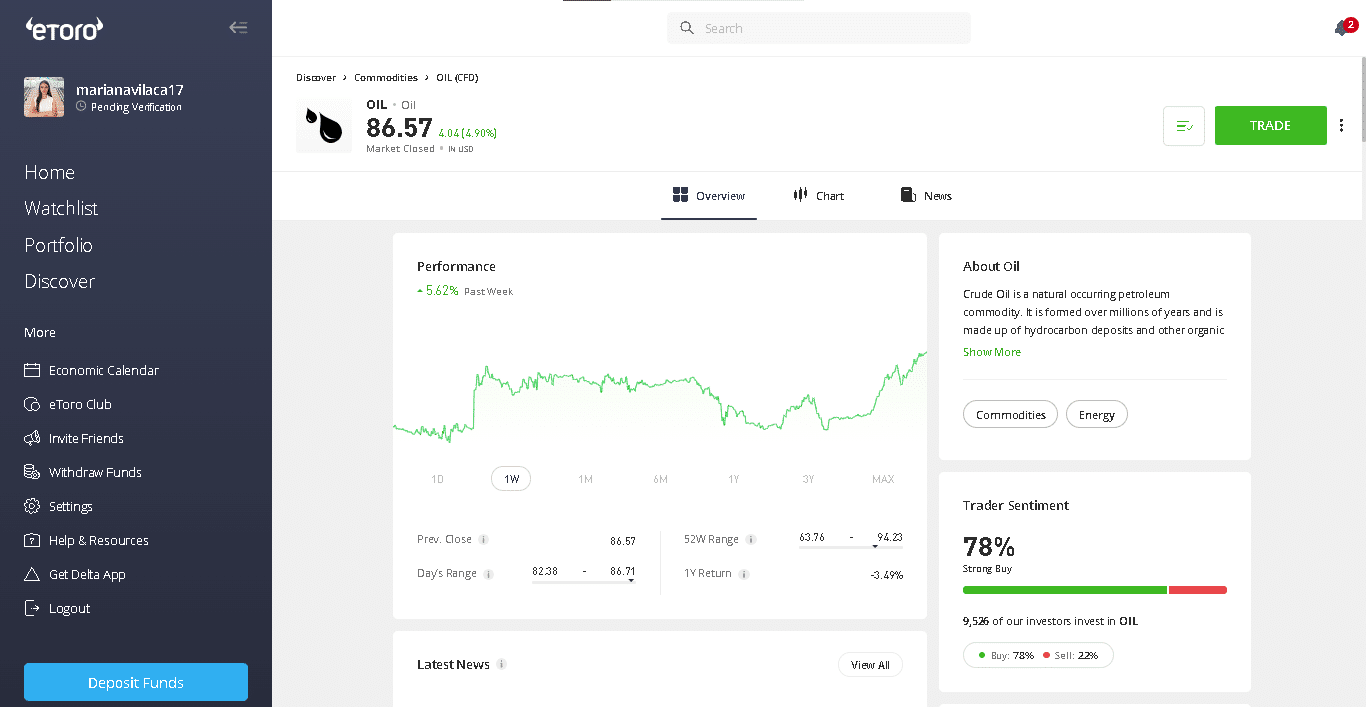 eToro allows you to invest in Crude Oil (shortened to just "oil") through a CFD. If you were to buy oil futures contracts, you would have to buy the barrels of oil if you kept the futures contract until maturity (contract's expiry date). With CFDs, you can get exposure to the price of oil in the future without taking direct ownership. In essence, a CFD simply mimics the price movement of the futures contract with no maturity date.
In a nutshell, CFDs let you speculate on prices rising or falling in an underlying asset without taking direct ownership. Futures are financial contracts in which a buyer and a seller agree to exchange an underlying asset for a predetermined price at a future date.

One possible reason eToro doesn't offer futures trading is that they might want to keep things simple for their users. They have a diverse user base, including both beginners and experienced traders, so they could provide a straightforward trading experience for a broad audience rather than catering to more specialised and experienced traders and investors.
However, eToro offers Stocks, ETFs, Cryptos, and CFDs on Stocks, ETFs, Commodities, Forex, Indices, and Cryptocurrencies, with a minimum deposit of $10 (it varies between countries). eToro is also overseen by top-tier regulators, such as FCA and ASIC.
| | |
| --- | --- |
| Products | Available? |
| Stocks | ✔ |
| ETFs | ✔​ |
| Bonds | ✘ |
| Funds | ✘ |
| Options | ✘ |
| Futures | ✘ |
| Forex | ✔ (CFDs) |
| Cryptocurrencies | ✔​ |
| Commodities | ✔ (CFDs) |
| CFDs | ✔ (on stocks, ETFs, cryptos, commodities, forex and indices) |
Best eToro alternatives for investing in Futures
Broker
Minimum Deposit
Supported Products
Available in the US?
Futures Trading Fees
Interactive Brokers

$0

Futures

, Stocks, ETFs, bonds, mutual funds, currencies, options, warrants

Yes

From $0.25 to $0.85 for US contracts (depending on the volume). Up to $0.25 for Micro contracts, and max of $5 for crypto futures contracts

Saxo Markets

$2,000 (can vary by country)

Futures

, Stocks, ETFs, mutual funds, options, bonds, options, forex, CFDs, crypto

No

Ranges between $1.25 and $6 per contract (min of $10)

TD Ameritrade

$50 (electronic transfers); no account minimum

Futures

, Stocks, ETFs, mutual funds, options, fixed income (including bonds), forex

Yes

$2.25 per contract

E*TRADE

$0

Futures

, Stocks, ETFs, bonds, options, mutual funds, managed portfolios

Yes

$1.5 per contract, except for cryptocurrency futures, which cost $2.5 per contract
What Makes a Good Broker for Futures Trading?
When choosing a futures broker, it's important to consider several factors that can impact a trader's success. These include:
Low trading fees:

To enhance your profitability in futures trading, choosing a broker with competitive trading fees is crucial. You'll want to look for a broker that offers low spreads and minimal or no commissions. In addition, consider choosing a broker with low account minimums if you want to start with a small amount.

Reliable platform: The trading platform is your primary tool and should have all the necessary features for effective trading. The platform should be user-friendly, fast, and reliable. It's also helpful if the platform includes market news and real-time data feeds, which can give you valuable insights into the market. Additionally, risk management tools such as stop-loss orders and trailing stops can help protect your trades and minimise your risk.
Excellent customer support: A futures broker's customer support is essential, particularly for new traders. Fast response times and helpful support staff should be available via phone, email, or live chat to ensure you can get the help you need when needed.
Regulatory compliance: To ensure the safety of your funds, it's important to choose a futures broker that is regulated by the relevant regulatory bodies in the country where they operate. For example, the Commodity Futures Trading Commission (CFTC) is a member of the National Futures Association (NFA) in the United States, the Financial Conduct Authority (FCA) in the United Kingdom, the Australian Securities and Investments Commission (ASIC) in Australia, the Investment Industry Regulatory Organization of Canada (IIROC) in Canada, or any other reputable global regulatory bodies.
eToro, a user-friendly investment platform, doesn't offer futures trading. This keeps their approach simple for a diverse user base. For futures trading, alternatives like Interactive Brokers, Saxo Markets, TD Ameritrade, and E*TRADE offer options with competitive fees. Consider low fees, platform reliability, and regulatory compliance when choosing a futures broker. While eToro suits many investors, these alternatives cater to those interested in futures trading.
If you want to know more about eToro, read our review!