TD Ameritrade was established in 1975 and is one of the top trading platforms that allow the transaction of several financial assets, including stocks, forex, futures contracts, cryptocurrency (careful here!), mutual funds, fixed income investments, exchange-traded funds, and other cash management services.
In the crypto space, TD Ameritrade does not offer individual cryptocurrency trading (Shiba Inu, Ripple, Stellar, Cardano, Dogecoin, Ethereum, Bitcoin, and Litecoin..). Still, it does provide different ways to get market exposure through products like Mutual funds and Exchange-Traded Funds (ETFs).
This article will explain how to get exposure to TD Ameritrade crypto, understand its benefits and drawbacks and consider other alternatives for those who want to trade real cryptocurrencies.
Can you buy crypto on TD Ameritrade?
The answer is yes and no, both to some extent. TD Ameritrade will not give you direct exposure to cryptocurrencies, but it will provide indirect exposure to the crypto industry through other products.
Below, we will give you some alternatives for real crypto exposure and discuss how you can get indirect exposure to cryptocurrencies through OTC trusts, mutual funds, ETFs, and futures.
Best TD Ameritrade Alternatives for owning real cryptos
If you only want to own cryptos, TD Ameritrade crypto is not the right choice for you. But, here are four alternatives you may want to consider:
1# eToro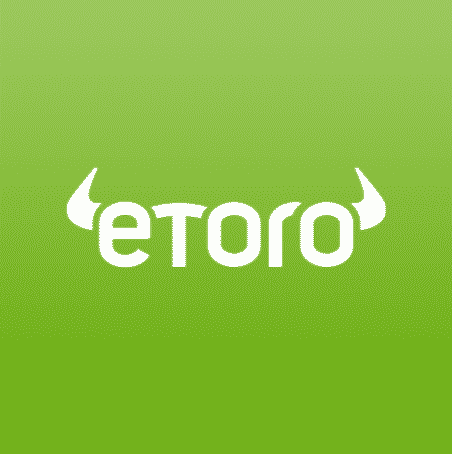 Visit eToro
74% of retail CFD accounts lose money.
eToro at a glance
Commission
0% for stocks, 1% for crypto
eToro provides a one-stop-shop service when it comes to the world of online brokerages, most major cryptos included. In addition to cryptos, it's known for stocks, currencies, CFDs, and ETFs.
Staking is also on offer and represents one of the key reasons why any investor would prefer real crypto to alternative exposure. It works like a locked savings account. In exchange for sacrificing your liquidity, you can earn rewards on your crypto still technically belonging to you.
eToro sets itself apart through its unique feature: "social investing," whereby inexperienced traders can copy those trades done by the pros. It works best for active traders or those serious about learning how to trade.
Users based in Australia, Europe, or the UK benefit from free access to insurance on their assets up to 1 million AUS, EUR, or GBP, respectively. Users in the US receive the standard FDIC insurance up to $250,000 for cash or money market instruments. Crypto positions are not covered worldwide, but some assets are kept in secure, cold (offline) storage.
Opening an account is intuitive and straightforward, and you can even use a "demo" account to start. Crypto purchases are funded through different options, such as credit cards or PayPal, but the only fiat currency accepted is USD.
If you want to learn more, check our eToro Review.
CFDs are complex instruments and come with a high risk of losing money rapidly due to leverage. 77% of retail investor accounts lose money when trading CFDs with this provider. You should consider whether you understand how CFDs work and whether you can afford to take the high risk of losing your money.
Real Crypto Exposure
Commission-free stock and ETFs trading (not all ETFs are commission-free)
Slick, modern, and easy for anyone to use

Quick and smooth account opening

It makes trading social; allows users to follow and copy friends' investments and the investments of famous traders

Offers a demo version
Does not offer the most cryptos relative to other exchanges

Spread, overnight, inactivity, and currency conversion fees higher than average
Only one currency account (USD)
2# Coinbase
Coinbase at a glance
Custody Fee
0.5% annualized (charged monthly)
Coinbase is one of the world's top crypto exchanges in terms of cryptos supported and active users. It caters to crypto beginners and veterans alike. If you feel you're part of the latter group, we wholeheartedly recommend checking out Coinbase Pro.
The breadth of cryptos on offer is impressive and includes Dogecoin, Shiba Inu, Ripple, Stellar, Cardano, and Litecoin, in addition to the classic Bitcoin and Ether.
Its mobile apps are highly rated and feel easy to use. The standard Coinbase app caters well to beginner and intermediate users, while advanced users should appreciate their Pro app. Enthusiasts also excited about non-fungible tokens or decentralized apps are served by Coinbase's Wallet.
The platform does suffer from relatively high fees, however, with a complex fee structure on top. Breaking it down, smaller transactions face higher fees. For example, a $60 purchase using a US Bank Account as a source of fiat funds will run you $2.99 (commission) plus a 1.49% conversion fee. In other words, you'll receive a net $56.12 worth of crypto exposure and an effective 6.5% fee.
Coinbase provides crime insurance (against hacking) up to $255 million for the entire platform, but breaches to your account due to personal negligence are not covered.
It's regulated by the New York State Department of Financial Services in the USA. In Europe, Coinbase Ireland Limited (but not Coinbase Europe) is regulated by the Central Bank of Ireland.
A world leader for real crypto trading
An impressive array of coins on offer
Three highly-rated mobile apps catering to all types of crypto investors
High fees, including a custody fee
Possibly the most marketed crypto platform right now, Crypto.com allows you to access over 250 different cryptos and earn interest on the crypto you buy by lending them to other investors. Your fees will be determined by how much you invest (higher investments will give you lower costs and vice versa), and the platform may also be challenging to navigate for new investors.
It is a solid crypto platform that offers a pre-paid Visa card that allows crypto spending and even earns rewards. You can keep your crypto in a high yield savings account.
Keep in mind that If you are new to cryptocurrency, you may be overwhelmed by Crypto.com's trading interface, and it will be hard to find any educational materials. You will experience higher fees for low-volume trades.
A wide variety of real cryptos

High interest in staking (CRO – crypto.com coin)

VISA card allows you to spend your crypto and earn rewards
Higher trading fees for non-CRO holders

It may not be good for beginners (hard to find educational materials)

Poor customer support
Founded in 2011, Kraken is one of the oldest crypto exchanges in the world. You can easily buy/sell over 185 cryptocurrencies with low fees (up to 0.26%), versatile funding options, 24/7 customer support via live chat, and high-security standards. Its inclusion of live support leads the market and makes it a preferred choice for investors new to crypto.
It offers trading tools for beginners, scaling up to that needed by experts. In addition, there are detailed "Crypto Guides" alongside instructional videos, even a podcast if you're so inclined. These are excellent tools for beginners to be informed before making any decision.
We like the inclusion of futures and staking. The latter functions are similar to a locked savings account. With the right cryptocurrency choice, you could earn 10%-plus in interest. It's an ideal choice for traders who wish to keep a portion in a secure wallet but make something out of that too.
On the downside, It lacks a wallet for retail users, but it maintains a reputation for storing 95% of the exchange's assets in cold storage across different geographies. Besides, Kraken's trading platform and mobile app are pretty basic, so you might be disappointed if you're looking for more advanced features.
More than 185 cryptos available, including many altcoins

Inclusion of Futures and Staking
Kraken only accepts a select few fiat currencies.
How to gain indirect exposure to crypto on TD Ameritrade
1. Over The Counter Trusts
An OTC trust will allow you to trade the shares in trusts that hold large pools of cryptocurrency. But they do involve high volatility, risks, and hefty fees. They work like closed-end funds and trade over the counter.
Pros and Cons of investing in crypto OTC Trusts
Enjoy high volume in trade. OTC platforms enable users to trade a high volume of crypto assets in a go. Crypto exchanges may have some limits for each crypto deal but there are no such ceilings by crypto OTC desks.
Supports multiple currencies. An OTC is not restricted to a particular form of currency. It supports crypto to crypto as well as crypto to fiat transfers while there are many exchanges that do not support the fiat currencies.
No regulation. Cryptocurrency OTC is unregulated so the settlement risk is higher here than in that of the traditional exchange.
The deals are private. All Over-the-Counter crypto deals are private, making it difficult to screen the counterparts to ensure that there is no illegal laundering of funds.
There are many mutual funds and Exchange Traded Funds (ETFs) that invest in Bitcoin futures contracts and give clients a chance to get indirect exposure through TD Ameritrade. The funds can be screened through TD Ameritrade's ETF and Mutual Fund screeners. However, the mutual funds are restricted to Bitcoin and you do not have a lot of options to choose from.
Pros and Cons of investing in Crypto Mutual funds and ETFs
Easy way to invest in crypto through your broker. You can enjoy exposure to crypto through mutual funds. It helps diversify the portfolio.
You do not own crypto. When you invest in mutual funds and ETFs, you do not have direct ownership of crypto and you cannot transfer it to another wallet or make any peer to peer transactions.
Limited options. There are very limited options and if you are looking for a fund that has a mix of different cryptocurrencies, you might not be able to find any.
The expense ratio could be high. The expense ratio in Bitcoin mutual funds can be significantly higher.
You can engage in Bitcoin futures trading on CME Group through TD Ameritrade. It will give you crypto exposure without holding the actual cryptocurrencies. The CME bitcoin futures are traded using borrowed money which is known as a margin.
Through this, the trader can control a large part of the trade with little money. However, the CME's margin requirements for bitcoin futures will be higher compared to the other indices or markets.
Pros and Cons of investing in Bitcoin Futures
Go long or short. The biggest advantage of crypto futures trading is to go long or short to profit from the market.
Volatility. There is high volatility in the crypto market and it can be a blessing for some or trouble for others because the direction of the asset is not guaranteed.
High risk. With leverage and high volatility, comes a high risk of losing money.
Why prefer crypto ownership over indirect exposure?
There are many benefits of trading real cryptos compared to gaining exposure through other products on TD Ameritrade. Let's take a look at them.
No centralized governance: Many investment products are governed by the government or securities board, but there is no centralized governance in the cryptocurrency market. The market is open 24 hours a day, seven days a week, and you can trade anytime you feel like it.
Higher liquidity: Liquidity is vital for many investors, and it is the measure of how quickly a cryptocurrency can be converted into cash. When you directly trade cryptocurrency, you can enjoy high liquidity because there are no middlemen, and you can buy or sell the assets whenever you feel like it.
Freedom of transaction: It is possible to use crypto to exchange value between two parties. You can make crypto to crypto transactions or use them to pay a party without the involvement of any third party. This is not possible through mutual funds or ETFs. Holding crypto will help make the transaction freer.
It boils down to your personal preferences. Do you want to own crypto or follow it using more traditional investment products?
If owning crypto is the name of the game, then you'll be happy to know that most crypto exchanges streamline the account opening process to a few intuitive. Then direct ownership, staking, and leveraged trading are all yours through your mobile phone. If you opt for an all-in-one, such as eToro, you can have crypto while concurrently managing a traditional portfolio of stocks, ETFs, futures, etc.
The bottom line: in 2023, it's become incredibly easy to own crypto, and you likely don't have to forgo the opportunity in favour of stocks- or futures-based exposure. However, great crypto funds are offering passive exposure to the sector.
Did we answer all of your questions? If not, please let us know your feedback in the comments below!