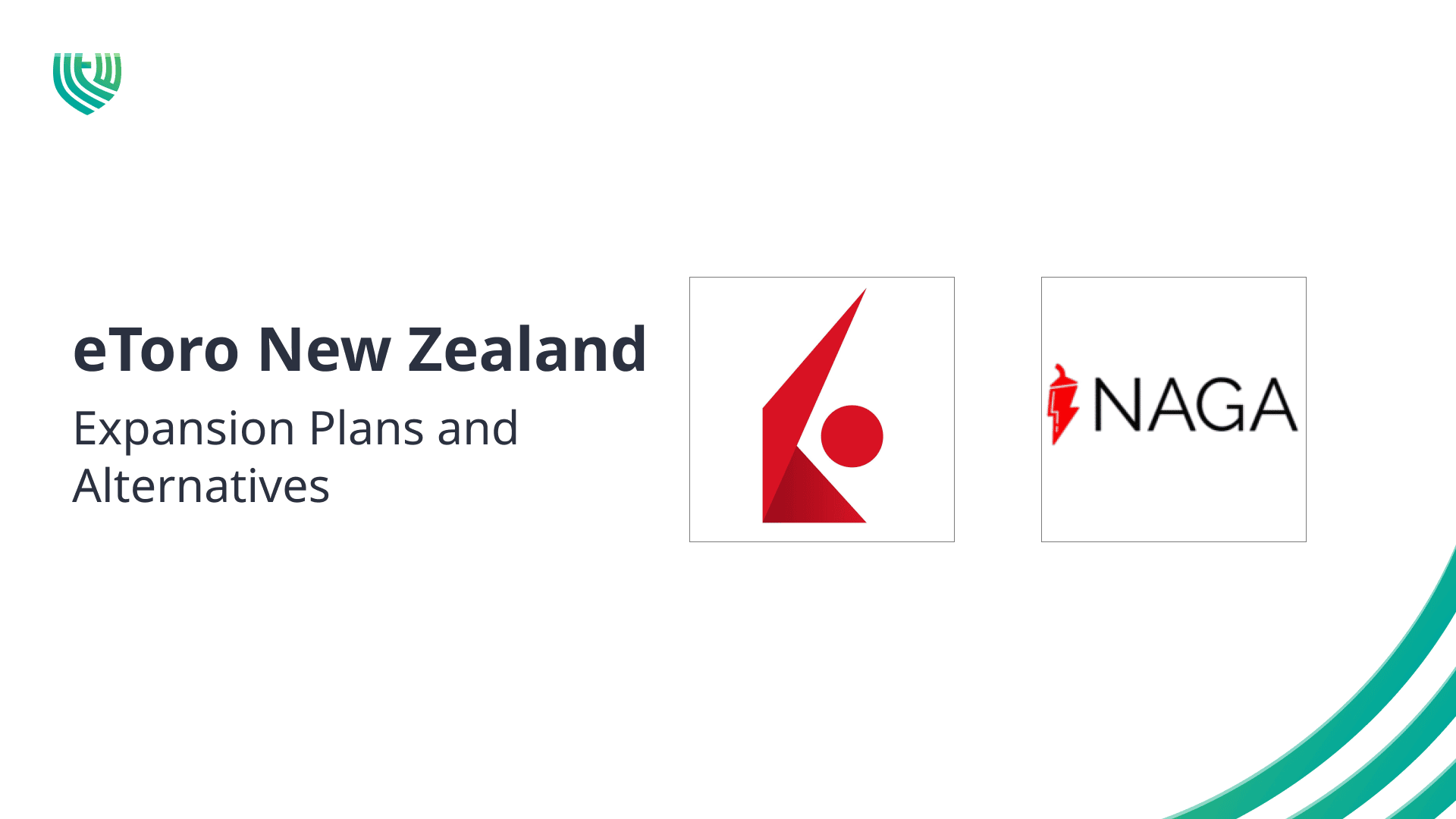 Why is the brokerage industry so dispersed in terms of its offering to specific countries? You have probably noticed one platform available in dozens of countries and a close competitor only available in a handful of regions (only in Asia, for instance).
Some attribute it to regulation, others to corporate choices, but at the end of the day, no one seems to know the exact reason why X platform is available in Y country and others are not.
The same applies to eToro, which is unavailable in many countries, including New Zealand. In this article, we will briefly talk about eToro's restrictions and present you with solid alternatives accessible in New Zealand.
Why is eToro unavailable in New Zealand?
eToro presents a detailed list of countries not supported by them due to regulatory requirements and business decisions. It includes more than 150 countries globally with some notorious names such as Canada, India, Russia, South Africa and Turkey.
Regarding New Zealand, there is no clear explanation on whether it was purely related to regulatory rules, business decisions or a combination of both. Moreover, eToro has no plans to enter New Zealand in the near future, so other options must be considered.
Best eToro alternatives in New Zealand
Since you cannot open an account in eToro, we found two excellent alternatives! Our selection criteria involved having similar features as eToro, like the ability to invest in stocks and cryptocurrencies, low fee structure, a hassle-free trading platform, good customer support and top-tier regulator bodies overseeing those companies.
Founded in 1978, IBKR is one of the world's most trustworthy brokers. It offers an enormous range of financial products (stocks, ETFs, Options,…), and low currency conversion fees (FX fees).
💡 Interactive Brokers also launched IBKR GlobalTrader, a modern mobile trading app to trade Stocks, Options and ETFs, ideal for novice investors.
Founded in 2015, NAGA is a German fintech adopted by 1M+ investors and allows you to trade 1,000+ financial instruments worldwide, including Cryptocurrencies, Futures, Forex, and CFDs of Indices and stocks. It also offers social trading, a multi-currency account, and a demo account.
Interactive Brokers at a glance
Products
Stocks, ETFs, Bonds, Forex, Funds, Commodities, Options, Futures and CFDs
Regulators
FINRA, SIPC, SEC, CFTC, IIROC, FCA, CBI, AFSL, SFC, SEBI, MAS, MNB
Founded in 1978 and publicly listed in NASDAQ (ticker: IBKR), Interactive Brokers is a global online broker which surpassed major financial crises, showing resilience and a rigorous risk management process.
Interactive Brokers offers an advanced investment platform that includes a wide range of products (stocks, options, mutual funds, ETFs, futures, bonds, and currencies) from 150 markets, solid trade execution (IB SmartRouting), and a set of technical and fundamental tools to help you in your investment decisions.
Beginners and intermediate investors have educational tools to explore, but the learning curve will be steep. That´s why we mainly endorse it to more advanced traders. Besides, the customer service gives crystal clear answers to your doubts, so there is no need to go back and forth.
On the downside, Interactive Brokers' fee structure is quite complex, the registration process is lengthy but fully online, and the broker doesn't offer commission-free trading. However, when considering FX fees, narrower spreads, and the stock loan program, Interactive Brokers' clients still get significant savings compared to most brokers.
Interactive Brokers also launched IBKR GlobalTrader, a modern mobile trading app to trade Stocks, Options and ETFs, ideal for beginner investors. Some of the features of IBKR GlobalTrader include automatic currency conversions, fractional shares, demo account, and more.
Want to know more about Interactive Brokers? Check our Interactive Brokers Review.
NAGA at a glance
Products
CFDs on Indices, Futures, Forex, Commodities, Bonds
NAGA is a German fintech company, a subsidiary of NAGA Group AG (listed in the Frankfurt Stock Exchange). It gives you investment access through two subsidiaries: "NAGA Markets Europe Ltd" and "NAGA Global Ltd".
Besides, the typical do-it-yourself brokerage services, NAGA presents the "Autocopy" which enables you to automatically follow other people's trades, and even earn up to 0.30$ by having other people follow your trades!
Through their various platforms (MT4, MT5, web version, and mobile apps), you have access to CFDs on indices, Forex, stocks, cryptocurrencies, commodities, and futures. Besides, its academy produces valuable insights into the NAGA platform and trading in general. From time to time, you may also watch webinars mainly on technical analysis.
NAGA Global is registered in St. Vincent and the Grenadines, which still gives you negative investment protection and segregated client funds but no investor compensation fund.
Want to know more about NAGA? Check our NAGA Review.
Which is the best alternative?
As you may imagine, there is no single answer. Each platform sets itself apart from its competitors in certain features. For instance, we believe Interactive Brokers is the best broker overall. Still, if you are exclusively looking for social trading, you will quickly realise that there is only one real alternative in New Zealand: NAGA.
Additionally, you should pick the best one for you according to your needs and goals. Are you looking for day trading or a more long-term approach ("buy and hold")?
All in all, you should always do your own research to assess which online broker will be better for you. We hope this article helped save you some research time and ultimately leads you to choose the most suitable platform for you!
___________________________
Did we answer all your questions? If not, please let us know in the comments section below!
Does eToro operate in New Zealand?
No, eToro is not available in New Zealand. Still, you can find equivalent alternatives like Interactive Brokers or NAGA.
Can You Use a VPN to open an eToro account from New Zealand?
No, a VPN can only offer access to eToro's platform, and not in any way facilitate an account opening since the broker requests a valid ID. Proving an eligible residency remains an essential requirement. No VPN is able to sidestep this requirement–only shift your IP address.
What is eToro?
By now, you should have an idea about eToro but let's give a recap of what you can find there. With over 25 million users, eToro is a multi-asset trading platform that enables investors to invest in the assets they want, from stocks and commodities to crypto assets. The platform makes it easy to buy, hold and sell assets, monitor their portfolio in real-time, or even copy other people's portfolios.
Besides, eToro is an established and reliable company. It is highly supervised by top-tier regulators, including FCA, ASIC, and CySEC and authorised by each country's local financial regulators where it operates (e.g. BaFin in Germany or CNMV in Spain).
But not everything is a bed of roses. Did you know eToro charges $5 per minimum withdrawal of $30? Or that only the US dollar is accepted as a base currency?