Social trading has gained a lot of mainstream attention in recent years. Perhaps that's what has poked your curiosity. It has simplified the learning curve in the world of investment, allowing millions of people to join the party.
We'll go through different sections to help you gain a better grasp of Social Trading.
We can take a look at Wikipedia's definition of the term:
"Social trading is a form of investing that allows investors to observe the trading behavior of their peers and expert traders and to follow their investment strategies using copy trading or mirror trading. Social trading requires little or no knowledge about financial markets, and has been described as a low-cost, sophisticated alter- native to traditional wealth managers by the World Economic Forum."
Judging from this, we can see that social trading is essentially the merger of social media and trading in financial markets. It often allows traders to see and follow each other within the same social trading platform, while also setting up one's account to automatically copy the trades made by other traders on the platform, so-called copy trading.
Further, Wikipedia's introduction to the topic also says that social trading "requires little or no knowledge about financial markets." And this is, to be frank, the top selling point for social trading. It's a way for anyone without experience from finance, or without deep pockets to pay for a personal trading coach, to have a chance at making money from trading in any market, be it stocks, forex, commodities or crypto.
Copy trading requires little knowledge about financial markets – all you have to know is how to assess the investor's performance and profile, to determine whether you should or not follow him/her.
However, this is HARD! There are probably good traders to copy in all platforms, but it takes some time and skills to find them. Most of them are beginners with bad bankroll management skills and high risk profiles. You should be careful when choosing traders to copy.
How does Copy Trading work?
Copy trading platforms give you access to each trader's full information, including:
The amount of time they have been trading
How profitable are their trades
The risk levels associated with each trader
What type of products they are trading – like forex, stocks, indices, cryptocurrencies, etc.
How many followers they have
How much others have invested with them
Etc.
You can interact with other traders, discover the type of strategies they are using, follow their insights and opinions on real-time events, and determine whether you want to follow or copy them.
Once you have found your perfect fit, all you have to do is fund your account and "copy" the traders you feel like are a good fit for you, and every trade that they make should be copied in equal proportion from your investment in that trader. There's always a bunch of more features (depending on your platform) such as the CSL. Other features, like Take Profit or Stop Loss, allows you to close the trade once it is making huge profits, or losses. Moreover, you can even preset which of their deals you would like to copy and filter out the rest.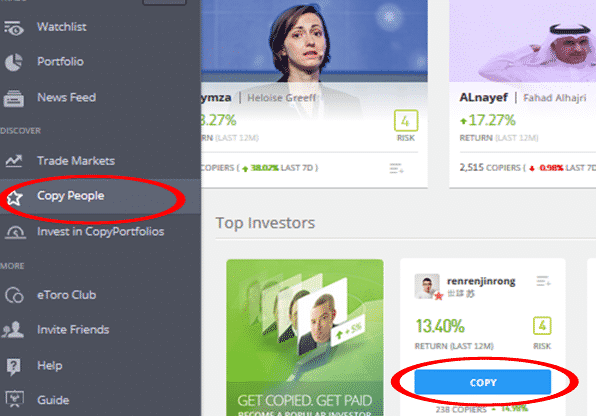 On the last issue of whether you should copy open trades, it may be a good idea to see what the trader you are copying have to say about it. Some recommend doing it, while others advise against it. Speaking from a traditional trading standpoint, however, the best option is probably to not copy trades that are already open, as the risk:reward profile on those positions will then most likely have changed by the time you get into the trade.
Remember, if the reasons for entering a trade are no longer valid, you should not enter it – regardless of what other people may be doing.
In addition, another important factor here is to remember to set an appropriate stop-loss level for each trader you decide to copy. eToro and several other copy trading platforms lets you do this intuitively by choosing the how much you are willing to lose at the most. In the example below, the order window indicates you're willing to lose $80 dollars on this particular trader ($200 – $120 = $80).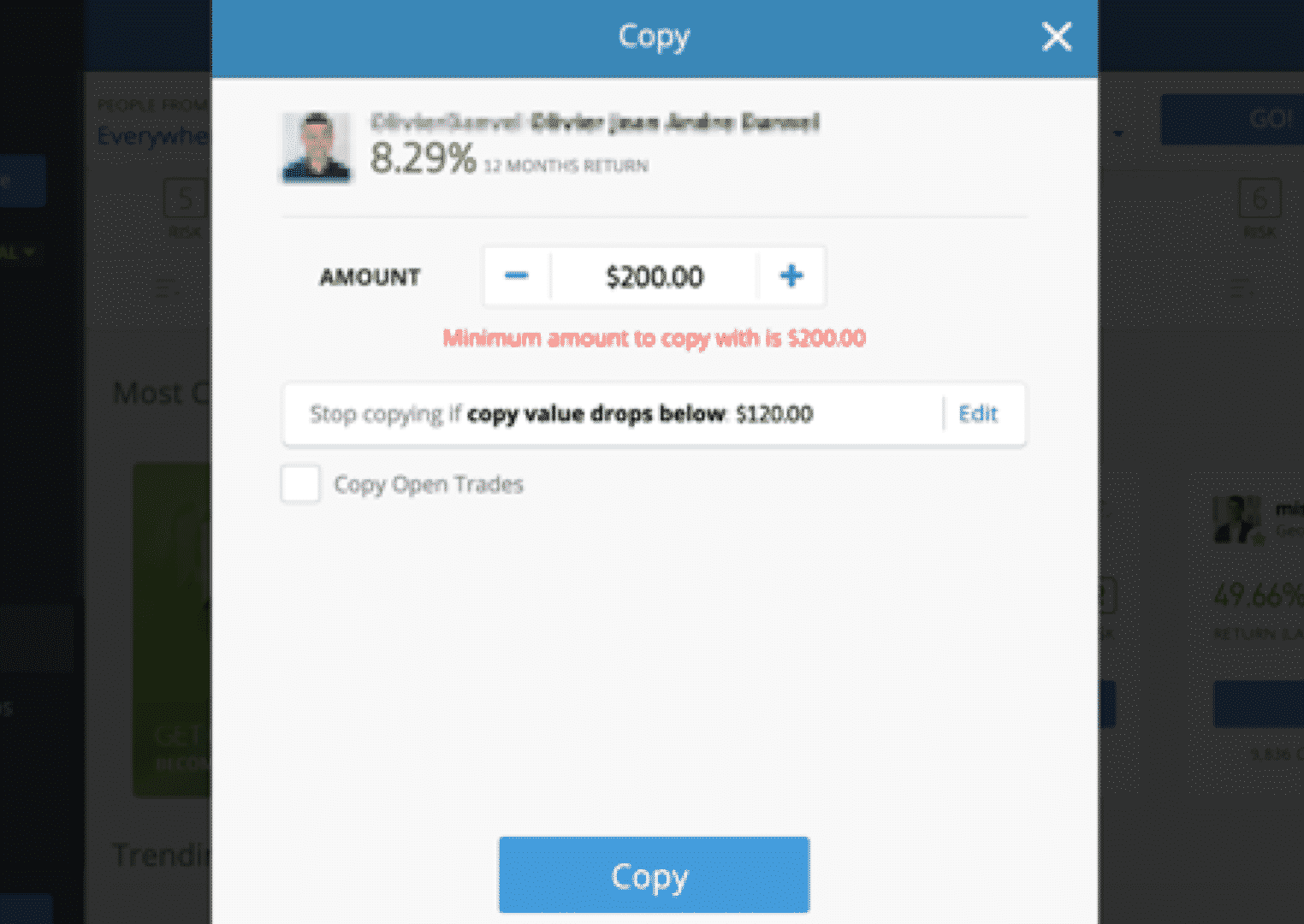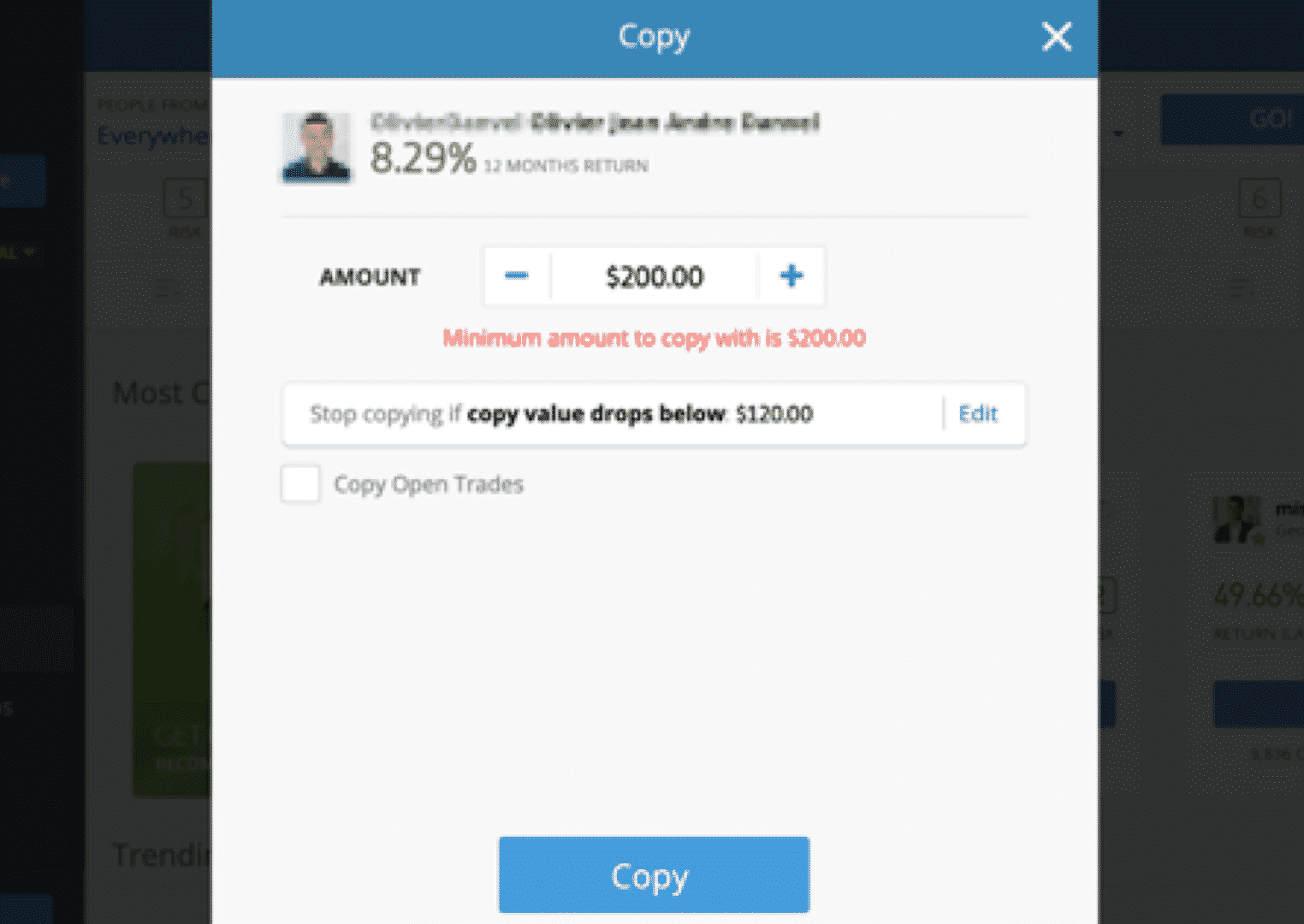 Finally, once the trader you've copied opens a new trade, you'll be able to see it instantly in your account, with a delay of just milliseconds. The trade on your account will then have been opened proportionally to the amount you've allocated to that trader.
Instead of copying other traders, however, it's also possible to add some to your watchlist and observe their activity and performance for some time before deciding to allocate any real money to copy him or her. On eToro, that can be done by first clicking on the trader's name to open his profile, and then clicking on the small button to the left of the "COPY"button.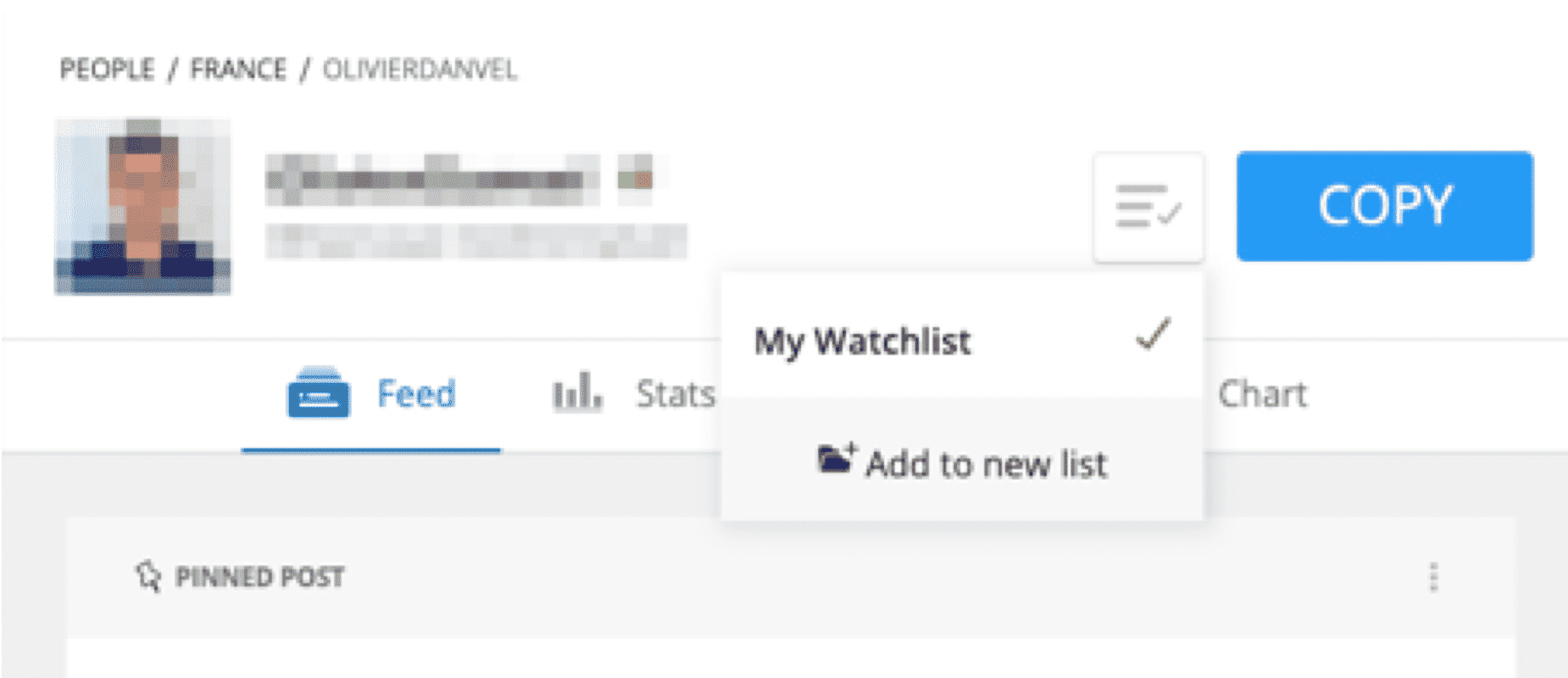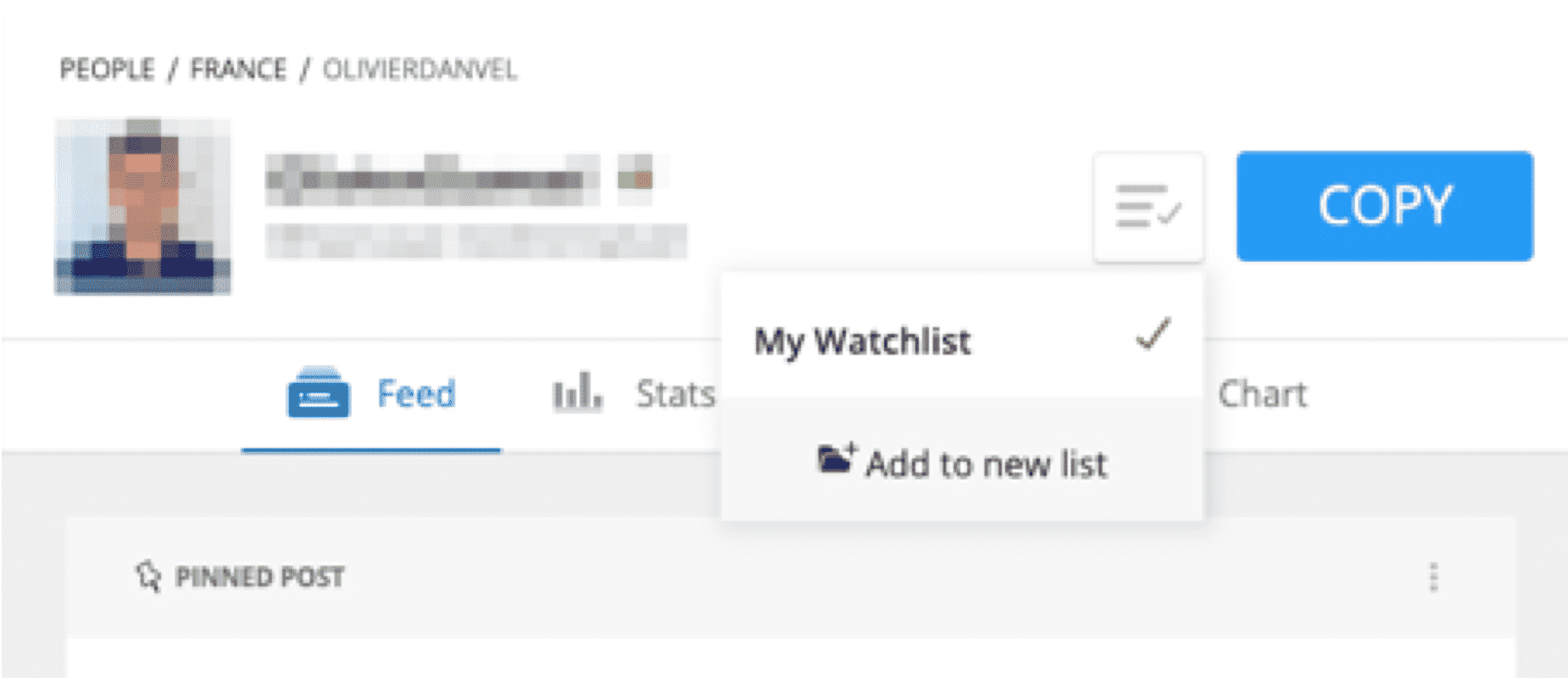 Here's an example of how your copy trading could work out with a € 1,000 account:
You fund your account with € 1,000 and you've found a trader you want to copy.
You choose to copy him or her with 10% of your capital, which is € 100.
Let's say the trader you choose to copy has a € 10,000 trading account, and decides to make a trade with 5% of his capital (€ 500). Your own position will then be 5% of the amount you've allocated to that trader (5% x € 100 = € 5).
f the trade is successful and the trader earns 10%, you will also earn 10% of the amount. The same of course also happens if the trade results in a loss.
As you can see, you won't get immediate massive profits that you can live off of unless you have quite a sizeable account. However, the good news is that most brokers these days don't charge commissions for their social traders, which means that you can learn from your own experience while profiting along the way until you eventually reach an account that is big enough to make a living from.
Technically, the signal provider is safer than their followers – it's the followers that stand to lose unless the trader has real money invested as well. You don't want to go with traders who are running on demo accounts. Yes, there are demo accounts for testing the waters before making up your mind to invest real money. While some platforms like eToro forbid traders to become signal providers on demo accounts, others – like ZuluTrade – allow demo accounts and even trading robots.
How much does Copy Trading cost?
In case you are wondering what's in it for the signal provider (trader) and the social trading platforms, there's normally no additional charges for copy trading. Social trading platforms earn from the regular trading and non-trading fees, the same fees you pay when you trade independently in the platform.
The signal providers (traders being copied) receive rewards from the platform depending on their follower numbers as well as the amount that people have invested by following them (and of course, their performances). Beware that different social trading platforms have different fees schemes, so please make sure you do your own research before you choose to invest in any platform.
Social trading might look like a failsafe way of making money online, but there are significant flaws. People indeed make money (some even earn their living) that way. However, you need to know what you are doing. Learn and keep learning. Study the basics, practice with dummy accounts, study other expert's trading styles, and form strategies of your own.
Also, if you choose to copy people, conduct thorough background research to determine whether they are worth it. Finally, try to keep away from sites and signal providers who promise unbelievable results. If the deal is too good, think twice. Good investments!