Wealthfront operates as a leading fintech robo-advisor, seamlessly merging banking services with automated investment management to provide users with a holistic financial platform.
So, is Wealthfront FDIC insured?
Wealthfront is not a bank but a robo-advisor. As such, your investments at Wealthfront are not FDIC-insured. However, there's a crucial caveat – cash balances in Cash Accounts are indeed eligible for FDIC insurance coverage. So, technically, Wealthfront is not under the FDIC, but in practice, your money is protected since it uses FDIC insurance banks to deposit it.
Throughout this article, we will examine Wealthfront's structure intricately and how it affects investor protection regarding FDIC Insurance.
Is Wealthfront FDIC Insured?
Despite Wealthfront not being a bank but a robo-advisor (not FDIC-insured), the Cash Accounts are eligible for FDIC insurance. This signifies that the money you haven't used for investing is secured, with protection extending up to $250,000 per person per bank.
Think of it like this:
Money just sitting there or in a cash account, not invested: FDIC-insured (safe up to $250,000).
Money you've put into stocks, bonds, etc.: NOT FDIC-insured. It has a different kind of protection called SIPC protection.
So, while your investments aren't covered by FDIC, your uninvested cash is.
Understanding the distinction between FDIC-insured accounts and other investment products is paramount. While FDIC insurance guarantees the safety of your cash in your Wealthfront cash account, the investments you made in your brokerage account are not covered by this insurance (instead, follow under the SIPC protection1).
The Wealthfront Cash Account is a notable feature of Wealthfront's suite of financial services. It's designed to provide users with a high-yield savings option that offers competitive interest rates while also ensuring FDIC insurance coverage for up to $5 million, providing a level of financial protection.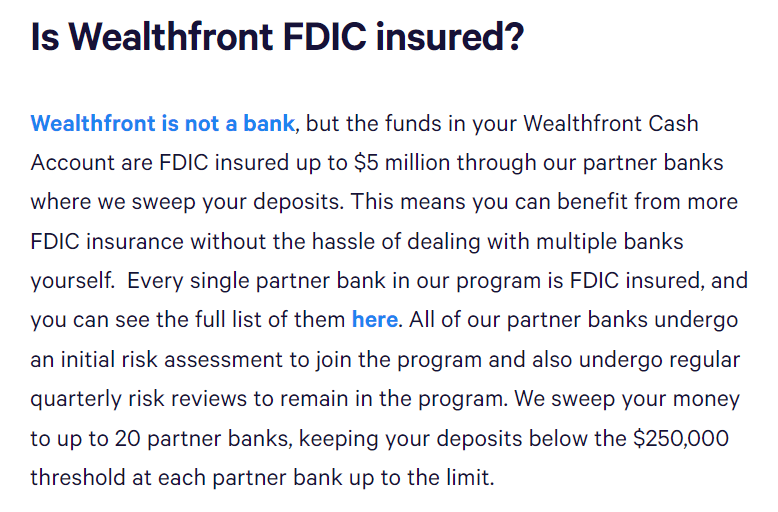 Typically, banks provide $250K in FDIC insurance. To provide you with $5 million in FDIC insurance, Wealthfront automatically allocates your money across up to twenty unaffiliated partner banks (you can check the list of Program Banks on Wealthfront´s Website).
Understanding FDIC Insurance
The Federal Deposit Insurance Corporation (FDIC) insurance stands as a cornerstone of financial security for depositors in the United States. This protection offers peace of mind by safeguarding your funds against potential bank failures.
In essence, FDIC insurance is a safety net for your deposits, covering a wide range of accounts, including savings, checking, and certificates of deposit (CDs). The assurance extends up to $250,000 per depositor per bank, ensuring that a significant portion of your funds remains safeguarded even in the face of unexpected challenges.
It's important to note that FDIC insurance applies exclusively to traditional banking products, not investments like stocks, bonds, mutual funds, or other securities. The coverage primarily pertains to cash deposits, ensuring that even if a bank faces financial difficulties, your hard-earned money is shielded up to the specified limit.
| | |
| --- | --- |
| FDIC deposit insurance covers: | FDIC deposit insurance does not cover: |
| Checking accounts | Stock investments |
| Negotiable Order of Withdrawal (NOW) accounts | Bond investments |
| Savings accounts | Mutual funds |
| Money Market Deposit Accounts (MMDAs) | Life insurance policies |
| Certificates of Deposit (CDs) | Annuities |
| Cashier's checks | Municipal securities |
| Money orders | Safe deposit boxes or their contents |
| Other official items issued by an insured bank | U.S. Treasury bills, bonds, or notes |
| – | Crypto assets |
Understanding Wealthfront: A Closer Look
Wealthfront stands as a fintech pioneer, seamlessly merging banking and investment solutions to redefine financial management. Wealthfront is described as a Robo-Advisor, and their services include a wide range of products, such as:
Banking:

It allows you to earn an annual percentage yield (APY) of 4.55% on your cash balance, get cash from 19.000 ATMs, and pay bills with your debit card (VISA);

Investing

: A pure passive approach is used in your investments. Essentially, your money is put to work automatically while keeping costs low (only 0.25%/annually) and taxes low;

Borrowing:

An option to add leverage to your investments (up to 30% of your investment account) and use it as a simple line of credit for expenses with interest rates starting from 7.40%;

Planning

: A more personalised approach to your particular needs. Incredibly easy to be your guide in your homeownership, early retirement, among other life steps.
This platform offers a unified approach to diverse financial needs, from automated investing to high-yield cash accounts. Users benefit from tailored accounts, including customisable portfolios and cash management tools, accessing a range of investments like ETFs and stocks.
In summary, Wealthfront brings together smart financial services with FDIC protection. Although it's not exactly a bank, Wealthfront's Cash Account is special. Your money in this account gets FDIC insurance coverage, meaning up to $5 million of your cash is safe if things go wrong.
Wealthfront's clever setup uses several partner banks to ensure your money is covered. It's important to note that this protection only applies to your cash in the Cash Account. Other parts of Wealthfront, like your investment accounts, don't have this kind of FDIC coverage.
---
1SIPC (Securities Investor Protection Corporation) coverage safeguards funds invested in securities, such as stocks and bonds, in case of broker insolvency.