Acorns operates as a leading fintech robo-advisor, seamlessly merging banking services with automated investment management to provide users with a holistic financial platform.
In this article, we will examine Acorns' structure and how it affects investor protection regarding FDIC Insurance.
No, Acorns is not a bank but a robo-advisor. As such, your investments at Acorns are not FDIC-insured. However, Acorns Cash accounts are indeed eligible for FDIC insurance coverage.
So, technically, Acorns is not under the FDIC, but your money is protected, in practice, since it uses FDIC insurance banks to deposit it.
Think of it like this:
Acorns Cash Accounts:

FDIC-insured, safe up to $250,000 (per member, per bank);

Money you've put into stocks, bonds, etc.: NOT FDIC-insured. It has a different kind of protection called SIPC protection1 (covered up to $500,000)
The Acorn Cash Account is a notable feature of Acorns' suite of financial services. It is designed to offer users a high-yield savings option with competitive interest rates, and FDIC insurance coverage aims to provide users with a safe and secure place to hold their uninvested cash.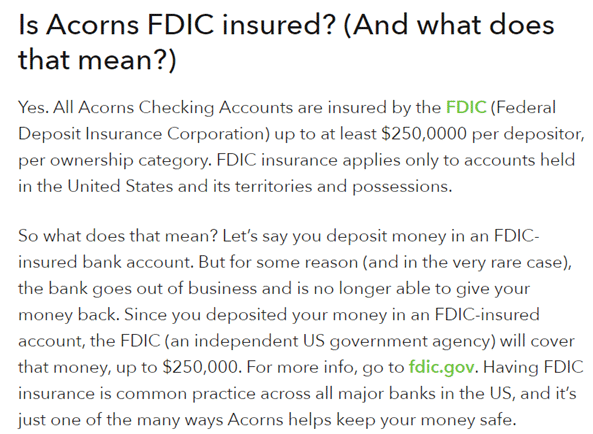 Understanding FDIC Insurance
The Federal Deposit Insurance Corporation (FDIC) insurance stands as a cornerstone of financial security for depositors in the United States. This protection offers peace of mind by safeguarding your funds against potential bank failures.
In essence, FDIC insurance is a safety net for your deposits, covering a wide range of accounts, including savings, checking, and certificates of deposit (CDs).
The assurance extends up to $250,000 per depositor per bank, ensuring that a significant portion of your funds remains safeguarded even in the face of unexpected challenges.
It's important to note that FDIC insurance applies exclusively to traditional banking products, not investments like stocks, bonds, mutual funds, or other securities. The coverage primarily pertains to cash deposits, ensuring that even if a bank faces financial difficulties, your hard-earned money is shielded up to the specified limit.
| | |
| --- | --- |
| FDIC deposit insurance covers: | FDIC deposit insurance does not cover: |
| Checking accounts | Stock investments |
| Negotiable Order of Withdrawal (NOW) accounts | Bond investments |
| Savings accounts | Mutual funds |
| Money Market Deposit Accounts (MMDAs) | Life insurance policies |
| Certificates of Deposit (CDs) | Annuities |
| Cashier's checks | Municipal securities |
| Money orders | Safe deposit boxes or their contents |
| Other official items issued by an insured bank | U.S. Treasury bills, bonds, or notes |
| – | Crypto assets |
Understanding Acorns: A Closer Look
Acorns stands as a fintech pioneer, seamlessly merging banking and investment solutions to redefine financial management. Acorns is described as a robo-advisor, and their services include a wide range of products, such as:
Micro-Investing

: Acorns is most known for its micro-investing feature. It rounds up everyday purchases to the nearest dollar and invests the spare change in diversified investment portfolios. It helps users start investing with minimal effort.

Planning

: Acorns Later enables users to set up individual retirement accounts (IRAs) for long-term savings. This service helps users plan for retirement and take advantage of tax-advantaged investment options. Acorns Early allows users to set up accounts to save for their children's education expenses. It's a tool to help parents plan for future educational costs.

Borrowing

: It offers a feature called "Acorns Borrow" that provides users with access to a portfolio line of credit. Users can borrow against their investment portfolios for various financial needs.

Financial Education: It provides educational content and resources to help users improve their financial literacy, make informed investment decisions, and achieve financial goals.
Acorns functions as a fintech robo-advisor, merging banking services and automated investments for a comprehensive financial platform. While the platform's investments aren't FDIC-insured, Acorns does offer an FDIC-insured feature known as the Acorns Cash Account. This account ensures coverage of up to $250,000 per member per bank, providing a secure space for uninvested cash.
Acorns' innovative suite includes micro-investing, retirement planning, borrowing, and financial education, catering to various financial needs. Notably, the FDIC-insured Cash Account offers users a safety net for uninvested funds. While investments remain outside FDIC coverage, Acorns provides a versatile platform, empowering users to work towards their financial goals through a range of integrated tools and services.
---
1SIPC (Securities Investor Protection Corporation) coverage safeguards funds invested in securities, such as stocks and bonds, in case of broker insolvency.