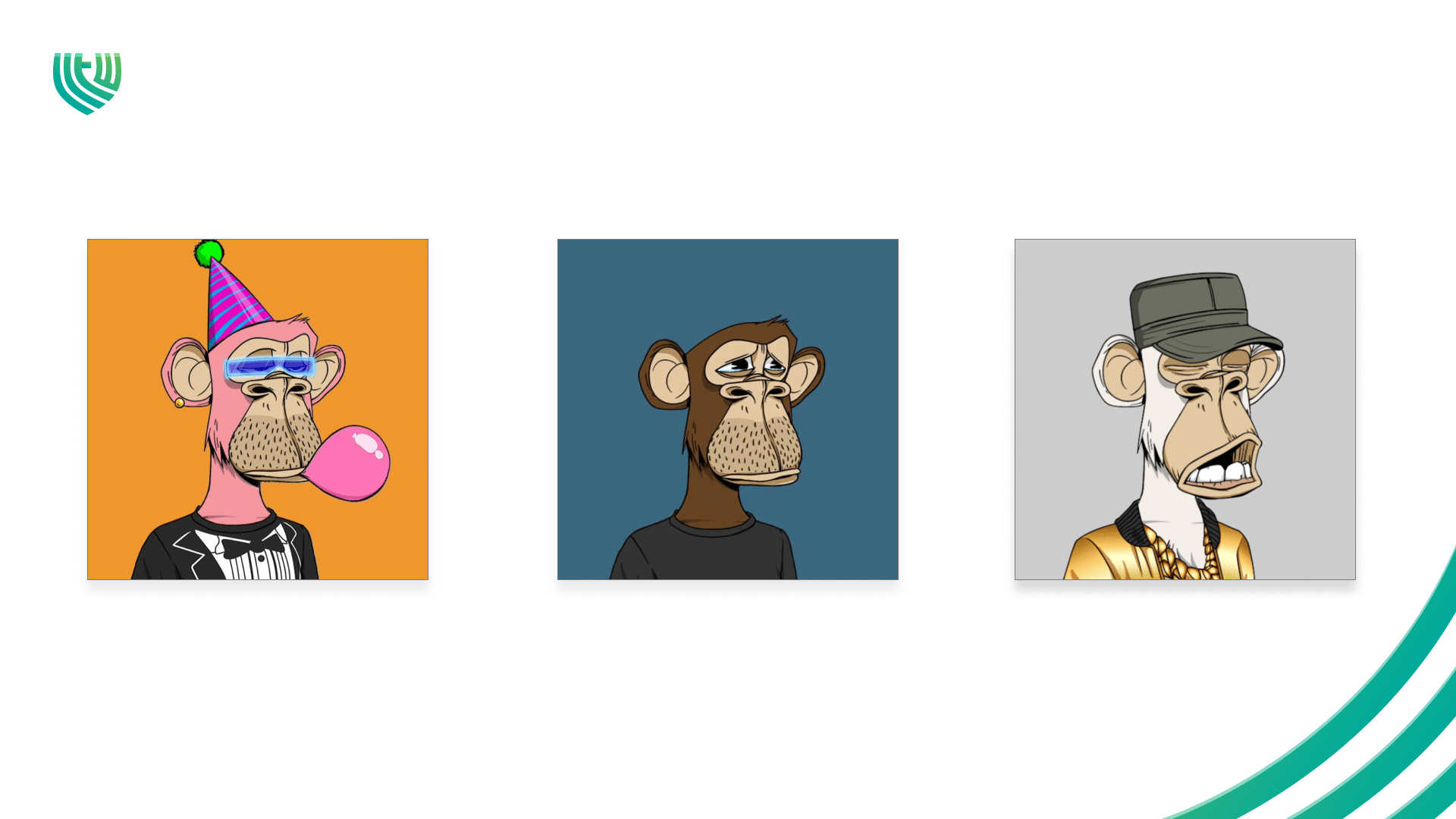 If you know a little about non-fungible tokens (NFTs), chances are you've seen or heard of Bored Ape Yacht Club (BAYC). Last year, NFTs moved US$ 25 billion, and one of the main drivers of this value was BAYC.
The collection created by Yuga Labs has 10,000 unique NFTs programmatically generated from 170 different traits, which include seven categories: background colour, clothes, earrings, eyes, skin type, hat and mouth. You can see three above. The middle one is Justin Bieber's. He paid US$ 1.29 million for it.
This article will uncover everything about the Bored Ape Yacht Club NFTs, its history, benefits, and controversies. Keep reading!
What are the Bored Ape Yacht Club NFTs?
Launched on April 30th of last year, the Bored Ape Yacht Club is a collection of 10,000 bored monkeys. They're numbered from #1 to #10,000.
The Bored Ape Yacht Club NFTs are the world's most valuable NFT collection. They're exclusive digital collectables that live in the Ethereum Blockchain.
Your Bored Monkey works as a Yacht Club member card and gives access to exclusive benefits for its members, which include:
Access to additional NFTs;

Ownership and commercial usage rights are given to the consumer over their NFT;

Additional benefits through roadmap activations

Access to the bathroom, a member's-only graffiti board. Each ape-holder will be able to paint a pixel on the bathroom wall every fifteen minutes.
BAYC also has "sister" collections created by Yuga Labs, which are Bored Ape Kennel Club (BAKC) and Mutant Ape Yacht Club (MAYC).
On the official website, there is various information about this collection.
It was created by a group of 4 founders. At the inception of the idea, there were only two founders: Gargamel and Gordon Goner. The initial concept was simple: they came up with the idea of rich apes living in a swamp club house.
Then they hired a freelance illustrator to draw the apes and partnered with two engineers as co-founders to develop the collection (Emperor Tomato Ketchup and No Sass). Instead of creating 10,000 drawings one by one, the team draw the features separately and would have an automated system join them together.
The company behind this collection, Yuga Labs, is now launching a cryptocurrency (Ape Coin), and a Metaverse (Otherside).
How much does one Bored Ape cost? And how to buy them?
Initially, each Bored Ape cost 0.08 ETH, or about $200. However, as the initial sale sold out, it is only possible to trade one "piece" via the OpenSea platform – the leading non-fungible token platform. Transactions can be made through 3 blockchain networks: Ethereum, Polygon and Klaytn. It is necessary to register the digital wallet, among those supported by the platform.
Currently, the cheapest part on sale is priced at 88 ETH. That is, nowadays, buying a Bored Ape costs more than $170,000. As each Bored Ape is unique and has its own characteristics, it is natural that some are rarer than others.
How did a simple JPEG of an Ape become valued the same as a house?
It's not about the picture itself but what the digital membership entails. As an owner, you have the ownership and commercial usage rights of the NFT, can go to exclusive Bord Ape Yacht parties, etc.
Most importantly, having a BAYC gives status on social media, and that's why it's the new sensation among celebrities. It works the same way a Rolex does in real life, just that on social media, these pictures are seen by millions of people.
Many celebrities, including Snoop Dog, Post Malone, Mark Cuban, Serena Williams, Stephen Curry, have bought at least one NFT.
It is common to see NFT owners use their NFTs as their social media profile pictures:
BAYC was hit with a massive hack
In April of this year, the most extensive collection of NFTs on the market was the target of two attacks on its social networks. Earlier this month, Bored Ape Yacht Club's Discord channel was hacked.
A hacker has gained access to the official Discord intended to welcome members of Bored Ape Yacht Club, Mutant Ape Yacht Club, and Mutant Ape Kennel Club. The hacker managed to post a link to phishing on the Mutant Ape Kennel Club channel. The link was disguised as "stealth NFT creation" and was used to steal a user's Mutant Ape Yacht Club #8862, according to security firm PeckShield.
More recently, it was the turn of BAYC's official Instagram profile to be the target of an attack of the same type, but which cost much more.
The hacker also made a phishing attack through a fake link placed in the Bored Ape Yacht Club profile bio, which would make the user lose their NFTs when trying to connect their own wallet. Preliminary data indicated that more than 91 NFTs had been stolen, exceeding $13 million.
With BAYC's rapid growth and success came projects linked to the collection.
In March of this year, ApeCoin DAO launched its token — ApeCoin (APE) — tied to the BAYC ecosystem.
Although Yuga Labs did not create APE, the studio behind BAYC is adopting ApeCoin as the primary token for all new products and services, including the blockchain game set to launch later this year. Just like Bored Ape Yacht Club, ApeCoin also became a hit.
In April, crypto exchange Coinbase (COIN) announced that it will produce a trilogy of films, called "The Degen Trilogy", about the Bored Ape Yacht Club.
All in all, is there a bright future for Bored Apes? It looks like the BAYC, just like cryptocurrencies and NFTs, are here to stay.