You may already know about Webull, a modern and user-friendly investment app from the US, founded in 2017. It has introduced the concept of commission-free trading in financial products such as stocks and ETFs alongside its biggest rivals, Robinhood, TD Ameritrade, and E*TRADE.
On Webull, you can choose between investing in stocks, options, ETFs, fractional shares, and even Over-The-Counter (OTC) stocks. New users get up to 12 free stocks.
Want to know if you can trade Forex on Webull? Wondering about alternative investment platforms to invest in Forex? We've got you covered!
Can you trade Forex on Webull?
Unfortunately, you are not able to trade Forex on Webull! As of this writing, Webull doesn't offer forex trading.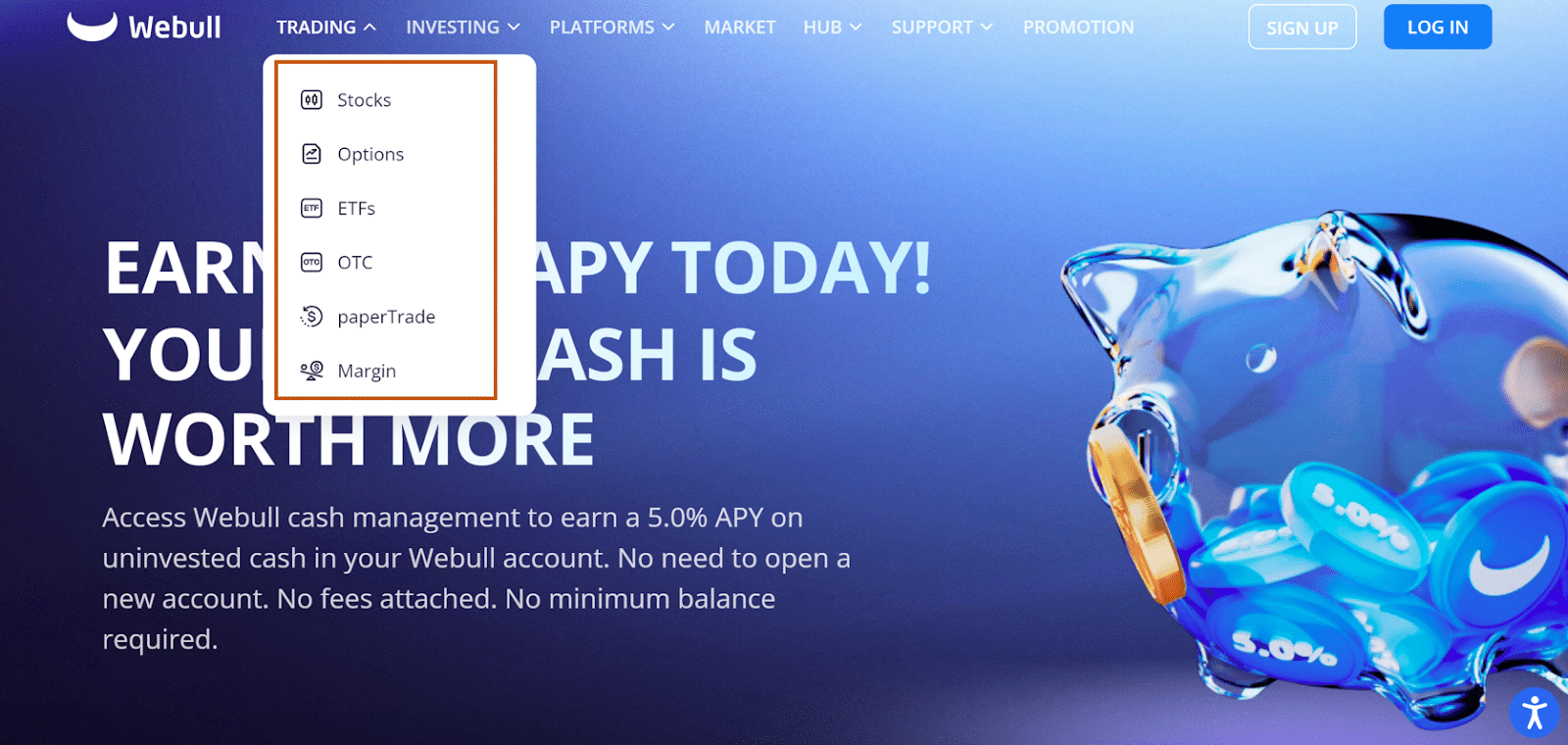 However, they've added a new section to their platform where users can check out detailed Forex data. It's important to note that this feature is only for viewing data; you can't make actual forex trades with it.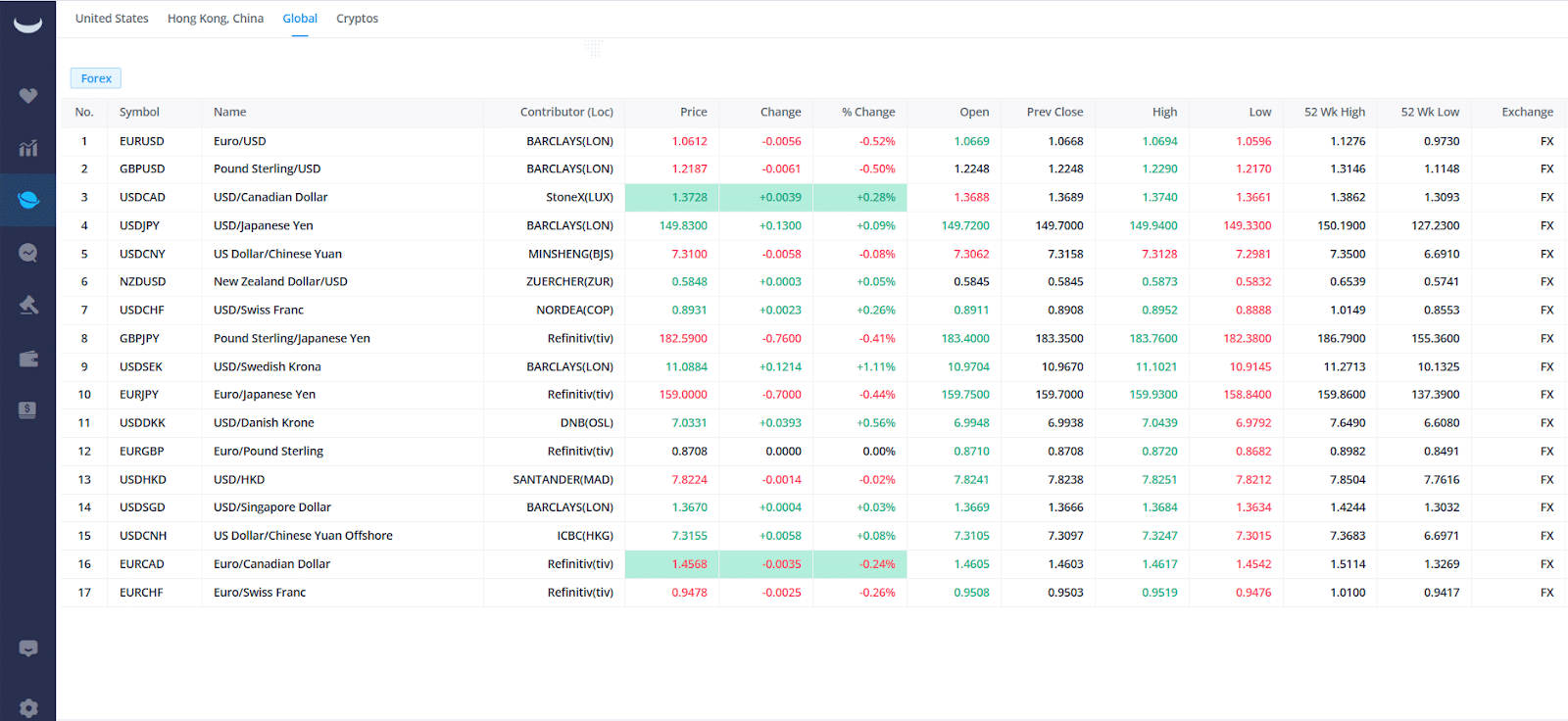 This addition has led to some speculation about Webull possibly adding forex trading to their services. But, as of now, there's been no official confirmation from Webull about this potential expansion.
Which products can you trade on Webull?
Webull has a restricted product range, featuring only stocks, ETFs, and options, primarily focusing on US markets1.
| | |
| --- | --- |
| Products | Available? |
| Forex | ✘ |
| Stocks | ✔ |
| ETFs | ✔​ |
| Options | ✔​ |
| Cryptocurrencies | ✘​ |
| Bonds | ✘ |
| Futures | ✘ |
| Funds | ✘ |
| CFDs | ✘ |
| Commodities | ✘ |
| Leverage Products | ✘ |
Best Webull alternatives for investing in Forex
75% of retail CFD accounts lose money.
Brokers' comparison table
Broker
Minimum Deposit
Number of currency pairs
Spreads starting at

(pips)

Regulators

Interactive Brokers

$0

100+

0.1 (subject to commission)

FINRA, SIPC, SEC, CFTC, IIROC, FCA, CBI, AFSL, SFC, SEBI, MAS, MNB

TD Ameritrade

$50 (electronic transfers); no account minimum

80+

$0, but spreads starting 1.1 pip apply

SEC, FINRA, CFTC

IG

$0 (only for bank transfers)

80+

0.6

ASIC, FCA, NFA, MAS, FSCA, FINMA, FMA

Oanda

$0

65+

0.6

FCA, PFSA, ASIC

Forex.com

$100

80+

0 (subject to commission);

1 (no commission)

CySEC, CFTC, NFA, FCM, RFED, CIRO, FSA, FCA, CIMA, SFC, ASIC, MAS
Factors to consider when selecting a Forex Broker
Selecting the right Forex broker can be overwhelming with so many options available in the market. However, several critical factors can help you choose the best one that aligns with your trading goals and needs. Below are some of the crucial criteria that we have used to evaluate and rank Forex brokers:
Regulatory Compliance:

The best Forex brokers are regulated by credible financial authorities. This ensures that the broker adheres to strict regulations and standards, including client fund protection, transparent pricing, and fair trading practices.

Trading Platform:

The trading platform is the primary tool for executing trades, and choosing a broker that provides a reliable, user-friendly platform with some advanced features is essential. Popular trading platforms include MetaTrader 4 (MT4), MetaTrader 5 (MT5), and cTrader. Additionally, some brokers offer proprietary trading platforms, such as TD Ameritrade's thinkorswim or IBKR's Trader Workstation (TWS).

Commissions and Spreads:

Forex brokers charge commissions or spreads for their services. It's essential to choose a broker that offers competitive pricing without compromising on the quality of service. Some brokers charge low commissions but have wider spreads, while others have high commissions but lower spreads.

Trade Execution Speed:

Fast and accurate trade execution is critical in Forex trading. Ensure that your broker provides fast execution speeds with minimal slippage, as delays could result in missed trading opportunities.

Liquidity:

Access to deep liquidity pools ensures traders can execute trades at the best possible prices. Choose a broker that provides access to a vast network of liquidity providers to ensure you can trade all major, minor, and exotic currency pairs.

Customer Support:

Excellent customer support ensures a smooth trading experience. Choose a broker that provides responsive support through various channels, including email, phone, and live chat.
By evaluating these factors, you can select the right Forex broker that aligns with your trading goals and needs.
The Foreign Exchange (Forex) market stands as the largest and most liquid financial market globally, boasting an average daily turnover of over $7.5 trillion. Although Webull does not currently offer Forex trading, in this article, we have highlighted some of the best alternatives in our opinion to explore, such as Interactive Brokers, TD Ameritrade, IG, Oanda, and Forex.com.
When selecting a Forex broker, consider factors such as regulatory compliance, trading platform quality, commissions and spreads, trade execution speed, liquidity, and customer support. Each broker has pros and cons, so it is important to choose wisely the one that best suits our needs.
Hopefully, we have helped you with your choice.
---
1Customers in Hong Kong have the opportunity to trade stocks and ETFs listed on the Hong Kong, Shenzhen, and Shanghai stock exchanges.