Webull is a prominent fintech company founded in the United States, revolutionising the world of online investing. With millions of users, Webull has quickly become a leading platform in the online brokerage industry.
Webull is a user-friendly and modern investment app that does not charge a commission when investing in some financial products. It offers trading in stocks, options, ETFs, cryptos, fractional shares, and even Over-The-Counter (OTC) stocks. New users get up to 12 free stocks.
Want to know if you can trade futures on Webull? Wondering about alternative investment platforms to invest in futures? We've got you covered!
Can you trade Futures on Webull?
Unfortunately, you are not able to trade futures on Webull! As of this writing, Webull doesn't offer futures trading.
Webull, despite not currently offering futures trading, has introduced a section on their platform that allows users to view futures data, though actual futures transactions are not supported. This development has led some to speculate that Webull might be considering includingfutures trading in the near future. However, it's essential to note that there is no official confirmation from Webull regarding their plans for this potential enhancement.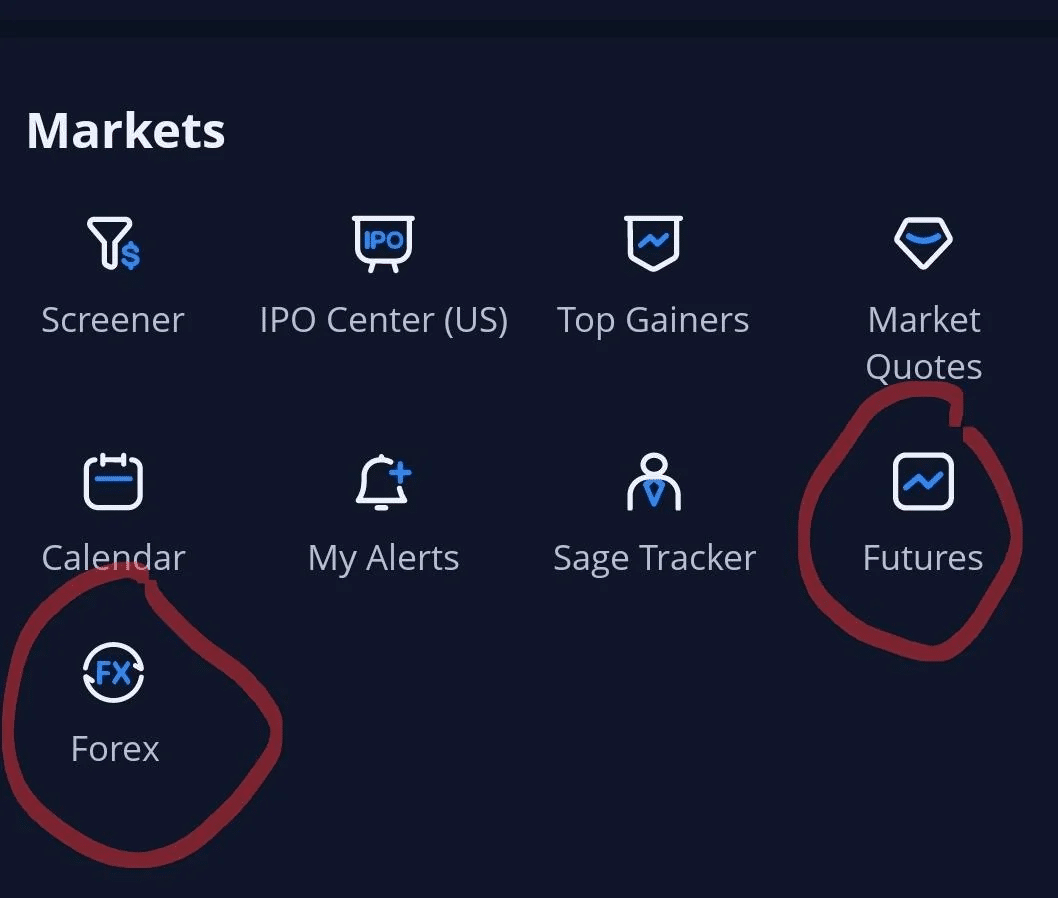 Webull offers Future-Based Funds (mainly ETFs) that give you a similar exposure to the underlying asset. Still, you will not be trading futures contracts directly.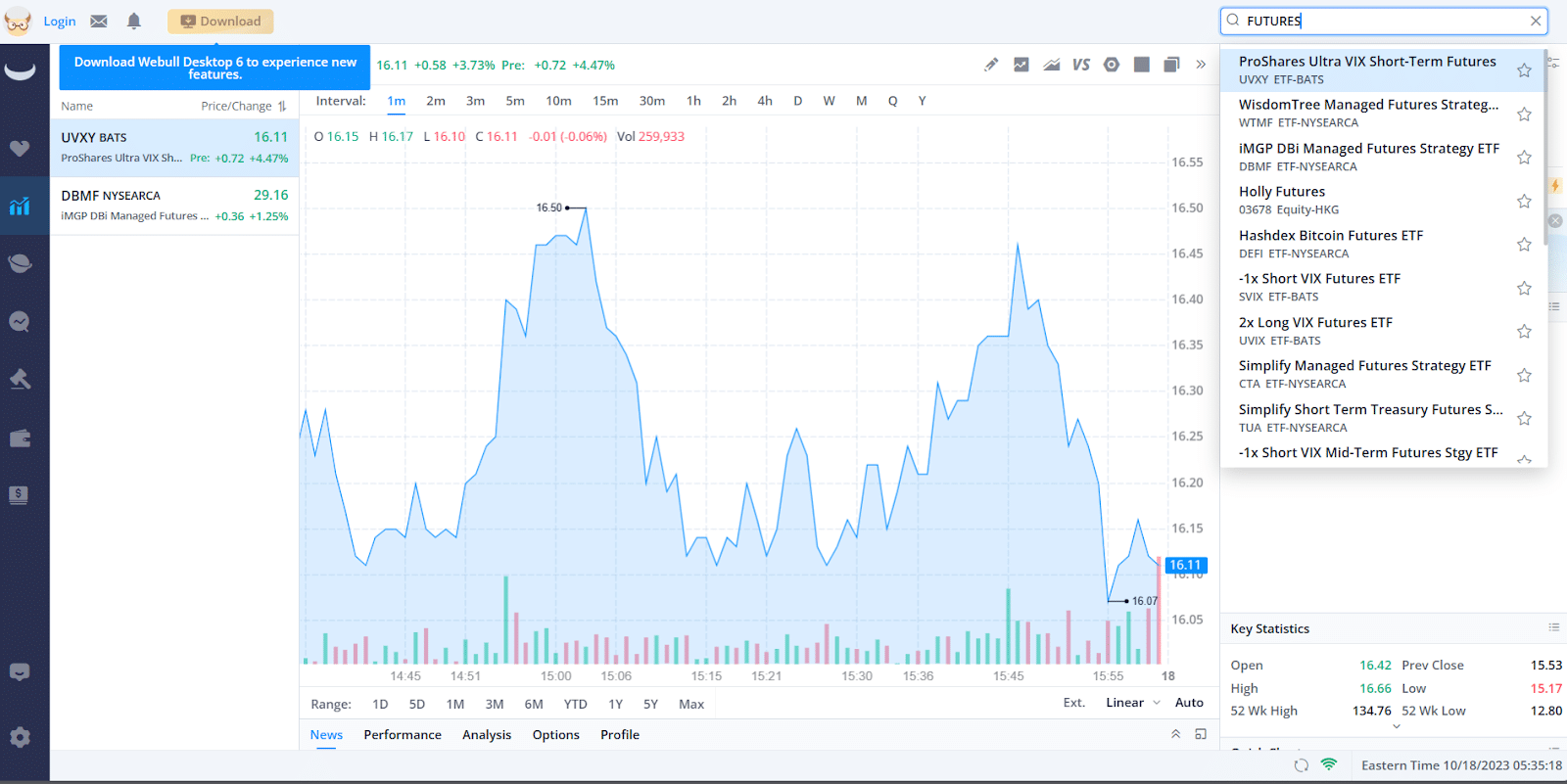 Which Products can I trade in Webull?
| | |
| --- | --- |
| Products | Available? |
| Stocks | ✔ |
| ETFs | ✔​ |
| Bonds | ✘ |
| Funds | ✘ |
| Options | ✔​ |
| Futures | ✘ |
| Forex | ✘ |
| Cryptocurrencies | ✔​ |
| Commodities | ✘ |
| CFDs | ✘ |
| Leverage Products | ✘ |
Best Webull alternatives for investing in Futures
Brokers' comparison table
Broker
Minimum Deposit
Supported Futures
Available in the US?
Futures Trading Fees
Interactive Brokers

$0

Futures on

Crypto, Agriculture, Metals, Forex, Interest Rates, Energy and Equity Index

Yes

From $0.25 to $0.85 for US contracts (depending on the volume).Up to $0.25 for Micro contracts, and max of $5 for crypto futures contracts

Saxo Markets

$2,000 (can vary by country)

Futures on

equity indices, energy, metals, agriculture, rates and FX

No

Ranges between $1.25 and $6 per contract (min of $10)

TD Ameritrade

$50 (electronic transfers); no account minimum

Futures on

Stock index & Micro E-mini index futures,

Energy, Metals,

Treasury & interest rates,

Agriculture,

Currency, Micro Futures

Yes

$2.25 per contract

E*TRADE

$0

Futures on

market indices, energies, metals, interest rates, currencies,

Bitcoin and Micro

Yes

$1.5 per contract, except for cryptocurrency futures, which cost $2.5 per contract

Plus500 Futures

$100

Futures on

: Crypto, Agriculture, Metals, Forex, Interest Rates, Energy and Equity Index

Yes

$0.49 (per trade) in micro contracts and $0.89 (per trade) in Standard contract
What Makes a Good Broker for Futures Trading?
When choosing a futures broker, it's important to consider several factors that can impact a trader's success. These include:
Low trading fees:

To enhance your profitability in futures trading, choosing a broker with competitive trading fees is crucial. You'll want to look for a broker that offers low spreads and minimal or no commissions.

Reliable platform: The trading platform is your primary tool and should have all the necessary features for effective trading. The platform should be user-friendly, fast, and reliable. It's also helpful if the platform includes market news and real-time data feeds, which can give you valuable insights into the market. Additionally, risk management tools such as stop-loss orders and trailing stops can help protect your trades and minimise your risk.
Excellent customer support: A futures broker's customer support is essential, particularly for new traders. Fast response times and helpful support staff should be available via phone, email, or live chat to ensure you can get the help you need when needed.
Regulatory compliance: To ensure the safety of your funds, it's important to choose a futures broker that is regulated by the relevant regulatory bodies in the country where they operate. For example, the Commodity Futures Trading Commission (CFTC) is a member of the National Futures Association (NFA) in the United States, the Financial Conduct Authority (FCA) in the United Kingdom, the Australian Securities and Investments Commission (ASIC) in Australia, or any other reputable global regulatory bodies.
Webull, a well-established financial institution, does not provide futures trading within its platform. In this article, we have highlighted some of the best alternatives to explore, such as Interactive Brokers, TD Ameritrade, Saxo Bank, E*TRADE and Plus500 Futures.
When selecting a Futures broker, consider factors such as regulatory compliance, trading platform quality, commissions and spreads, trade execution speed, liquidity, and customer support. Each broker has pros and cons, so choosing the one that best suits our needs is important.
Hopefully, we have helped you with your choice!