Tastytrade, formerly known as Tastyworks, is a fintech financial brokerage based out of Chicago, Illinois. It was developed and co-founded in 2011 by CEOs Scott Sheridan and Tom Sosnoff as a bolder, more efficient trading space than any that existed at the time. The result? A $1B firm that has become an irreplaceable resource for both experienced and new traders alike.
Though the company offers a range of services to benefit investors, one area that we want to address today is whether tastytrade users can invest in fractional shares or ownership of less than one whole share of a company. Fractional shares or partial shares are often a popular investment route for many, as they allow traders to invest in part of a successful company for the dollar amount they can afford.
Stay with us as we take a closer look at tastytrade' trading capabilities, namely when it comes to fractional shares.
Can you buy fractional shares on tastytrade?
The short answer to this question is that traders cannot invest in stock slices of securities through tastytrade. Thus, if purchasing a whole share of a successful company like Amazon or Tesla proves too expensive, a tastytrade user will have to bypass investment in that company altogether.
Although tastytrade does not currently offer a large number of investment vehicles or stock trading opportunities for users, it does provide other features. The company recently began servicing traditional, Roth, and SEP retirement account types and provides users with robust security and investment research. Moreover, tastytrade users benefit from a high-tech browser platform that offers trading options in numerical and graphical formats.
Best tastytrade Alternatives for trading fractional shares
Because tastytrade doesn't give users the ability to invest in fractional shares, there are other online brokers that a trader might consider for that purpose. We've highlighted a few good alternatives below.
1# Interactive Brokers
IB at a glance
Products
Stocks, ETFs, Options, Futures, Forex, Commodities, Bonds and Funds.
Supported Countries
Worldwide (exceptions apply)
Founded in 1978 and publicly listed in NASDAQ (ticker: IBKR), Interactive Brokers is a global online broker which surpassed significant financial crises, showing resilience and a rigorous risk management process.
Interactive Brokers provides several different options for traders and brokers to choose from. The platform is designed for individuals and institutions alike, boasting global access to stocks, options, futures, currencies, bonds, and funds from 150 markets. Interactive Brokers makes them all accessible from one streamlined and centralized platform. Their cutting-edge technology ensures more efficient trading speed and performs a more sophisticated portfolio analysis.
Of course, we would be remiss if we failed to mention that users can invest in fractional shares with Interactive Brokers. The company believes that traders should invest in the shares they want to diversify and build upon their portfolios regardless of price. The minimum investment for a fractional share is only $1 for US stocks listed on NYSE, AMEX, NASDAQ, ARCA, BATS, and some OTC Pink US penny stocks. The same applies to European stocks and ETFs, regardless of the share price, listed on select exchanges, with average daily volume above $5 million and market cap above $5 billion.
As an aside, Interactive Brokers owns IBKR Global Trader, a mobile app geared toward newcomers to the investment industry that allows stock, options, and ETF trading. This product offers automatic currency conversions, fractional shares, and a demo version.
Want to know more about Interactive Brokers? Check our Interactive Brokers Review.
Interactive Brokers Pros and Cons
Large selection of tradable securities
Low commission rates
Sophisticated platform with a user-friendly interface
No withdrawal fees
Higher than average online account opening process
Complex fee structure
2# eToro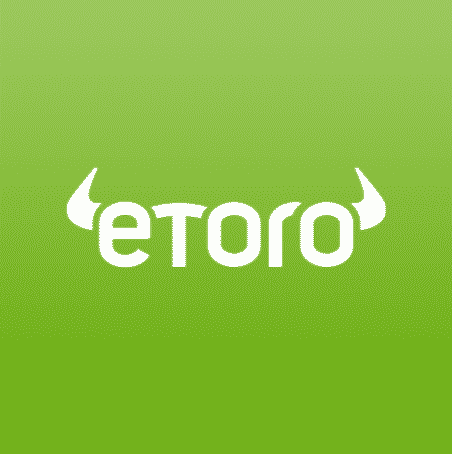 Visit eToro
74% of retail CFD accounts lose money.
eToro at a glance
Minimum Deposit
$10 (it varies between regions)
Products
CFDs, ETFs, Stocks, Commodities, Forex, and Cryptocurrencies
Supported Countries
Worldwide. Exceptions include Canada, Japan, Hong Kong, Russia.
eToro is a digital trading platform that extends thousands of tradable symbols for traders to choose from. They can invest in stocks and cryptocurrency alike, including fractional shares, while taking advantage of other features that the broker offers. One such example is that eToro gives newer traders the ability to "practice" in the industry with $100k worth of virtual "play" money that the app provides. This is a unique concept to the eToro platform and is designed with newcomers in mind.
Plus, eToro offers commission-free stock and ETF trading (not all ETFs are commission-free).
eToro also prides itself on the belief that "trading is social." In light of this, users can see what stocks or crypto options their friends are buying or selling, which they can copy automatically.
If you want to learn more, check our eToro Review.
Buy and sell fractional shares
Commission-free stock and ETFs trading (not all ETFs are commission-free)
Slick, modern, and easy for anyone to use

Quick and smooth account opening

It makes trading social; allows users to follow and copy friends' investments and the investments of famous traders

Offers a demo version
Fees for withdrawal and inactivity

Spread, overnight, inactivity, and currency conversion fees higher than average
Only one currency account (USD)
3# Webull
Webull at a glance
Products
Stocks, ETFs, Options, and Cryptocurrencies (only US markets).
Supported Countries
US, Hong Kong, China, Singapore, Japan, the UK, and Australia
Webull provides high-tech financial solutions for traders and the investment industry. A relatively new online brokerage, Webull was founded just a few years ago in 2017.
Webull has 0% commissions on trading activities in all its product offerings. The revenue streams come from stock loans, interest on free credit balances, margin interest and payment for order flow.
If you are looking for complex products (forex, futures, or others), Webull may not be the right investment platform. It supports several features such as Extended Hours Trading (you can trade in pre and after-hours sessions), a PC version for more advanced customisations (plus mobile and web versions), and customer support 24/7. Essentially, you will find the basics for investing.
Buy and sell fractional shares
No commission fees
No deposit minimum

Fractional cryptocurrency trading in multiple cryptocurrencies (Bitcoin, Dogecoin, etc.)

Advanced trading tools for users

Strong and intuitive UI
Limited product portfolio

Weak customer support
4# Public.com
Public at a glance
Products
Stocks, ETFs, and Cryptocurrencies (only US markets).
Supported Countries
US and UK
Public.com gives users the ability to invest in stocks, ETF, and crypto, commission-free. The platform also offers a variety of educational tools for those who are new to or open to exploring more about, the stock market, investing, and beyond.
The online broker is used by a community of over 3 million members and prioritizes its members' best interests by veering away from selling their trades to market makers or taking money from Payment for Order Flow (PFOF).
Finally, Public.com enables fractional share investing for users, so they can invest in the companies they want while still minding their budget and risk tolerance.
Offers educational tools
No payment for order flow
Commission-free

No minimum deposit

Strong and intuitive UI
Limited product portfolio – only stocks, ETFs, and crypto

Only available to US and UK investors

Traditional, taxable account types are the only options
The Benefits and Drawbacks of Trading Fractional Shares
As with most things in life, trading fractional shares has perks and disadvantages.
Fractional shares let investors partake, even in a small way, in highly successful companies that are doing big things and experiencing an upward growth trajectory. Whether it be Apple, Tesla, Facebook, or other big names in technology, traders can take advantage of the growth and progress that such companies make without spending an arm and a leg purchasing a whole share.
Additionally, if the market takes a turn — as it inevitably will from time to time — investors don't have to experience as much worry about the financial impact of a fractional share. Instead of losing thousands of dollars at a time, they may only lose a few hundred before the market turns again.
On the downside, fractional shares do not provide as much financial opportunity for investors as they might want or expect. In short: you get out what you put in. If a trader purchases a whole stock, they can expect much bigger returns than buying a fractional share of that stock.
Ultimately, traders need to understand their risk tolerance before deciding on the best investment options for their portfolios.
In summary, tastytrade is a good option for some investors, particularly those who place a high emphasis on market and investing research. However, it is not an option for those who prioritize trading fractional shares. Traders who wish to purchase fractional shares should explore some of the alternatives to tastytrade listed in this article.