The steady rise in cryptocurrency popularity has made virtual wallets and crypto trading apps more frequently downloaded. Oanda is one such example, specializing in currency data, Forex & CFD trading, corporate FX payments, and exchange rates services for organizations and individual investors alike.
This article will explore what the Oanda platform has to offer, from cryptocurrency to charting tools and beyond. Read on to learn more.
Oanda started providing free currency exchange information online during the advent of the internet. Today, the company is one of the top FX and CFD brokers globally, specializing in bonds, forex trading, commodities trading, and stock indices for numerous countries around the world. Since its birth in 1997, Oanda is now a major financial corporation with eight financial centres. A large team of tech and financial experts supports its vision: transforming all aspects of how the world interacts with currencies, whether through trading or currency data.
Oanda products are currently available via desktop, the mobile trading app, or the Metatrader 4 Trading Platform (MT4). The company's platforms are highly intuitive and usable for web trading, analyzing market trends, accessing user portfolios, advanced charting functionality features, and more.
Can you buy crypto on Oanda?
For those specifically interested in buying and, more importantly, owning their crypto, Oanda is likely not the platform for buying cryptocurrency. However, this does not mean that the company does not offer cryptocurrency services for users.
Oanda crypto services primarily centre around trading Contracts for Differences, or CFDs, on four major cryptocurrencies against the U.S. dollar. In short, Oanda's emphasis is on trading crypto, not on selling it for investors to own, and yes, there is a difference.
It works like this: investors who purchase crypto coins or tokens buy a fraction of Bitcoin, Ethereum, or another digital currency. A person's cryptocurrency balance is then transferred or stored digitally until they want to sell, at which point, the desired crypto amount is traded against the U.S. dollar.
What does all of this mean? To put it simply: you can't purchase crypto as your own from Oanda. It is a trading platform where you can "buy" and sell cryptocurrency – but again, you do not own it. When you make a crypto purchase via Oanda, you are more "investing" in Oanda rather than in the actual cryptocurrency.
If you are familiar with apps such as Coinbase, Kraken, and eToro, you probably know that these are also platforms that allow you to buy and sell cryptocurrency; however, Oanda will enable you to perform slightly different cryptocurrency actions than those you would complete on these apps. We'll get into that more a bit later.
What products does Oanda offer?
Oanda offers a wide range of products both inside and outside the crypto realm. Their primary focus areas include Forex trading, indices, metals, commodities, and cryptocurrency.
The Oanda platform provides CFD spreads on 45 forex pairs, including majors and minors, on their powerful MetaTrader premium, and technical analysis tools. They also allow users to trade indices as a CFD and trade valuable metals such as gold, silver, and copper.
When it comes to our main topic – cryptocurrency – Oanda provides CFD trading capability for only four major cryptocurrencies (Bitcoin, Bitcoin Cash, Ethereum, and Litecoin).
Oanda allows you to use MetaTrader 4 and MetaTrader 5 software to trade Bitcoin and Litecoin CFDs from your laptop and mobile devices. Crypto CFDs enable you to make market predictions in the value of a cryptocurrency with only a small deposit on your part to gain full access to the underlying market.
As a final note, you can test-drive MT5 software directly through Oanda, experimenting with customizable layouts, trade-through charts, an intuitive interface, and plug-ins.
Oanda alternatives for trading real cryptocurrencies
Even though you can't buy real cryptocurrencies on Oanda, there are several other alternatives to choose from:
1# eToro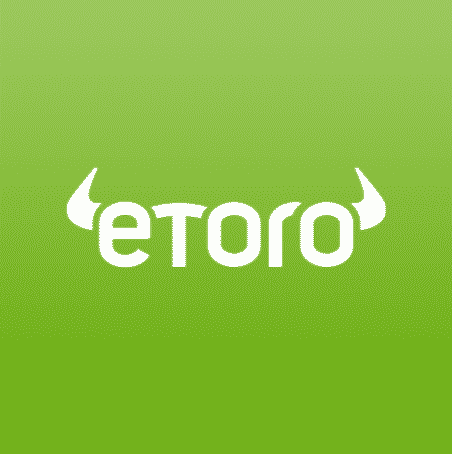 Visit eToro
77% of retail CFD accounts lose money.
eToro at a glance
Nº of cryptocurrencies
+40
Minimum deposit
$10 (it varies between regions)
Supported Countries
Worldwide. Exceptions include Canada, Japan, Hong Kong, Russia.
Founded in 2006, eToro is a well-known worldwide fintech startup and leader in the social trading field (following other people's trades), with over 30 million users worldwide. Apart from letting you trade a wide range of crypto products, it also allows you to invest in other products such as CFDs, ETFs, stocks, commodities and Forex. eToro has crypto offerings that span Bitcoin, Ethereum, Cardano, and dozens of others.
The eToro platform is intuitive and straightforward, making it a good choice for beginners. It offers commission-free stock and ETFs trading (not all ETFs are commission-free).
Opening an account and depositing is easy, and you can even try it out with virtual money. You can buy cryptocurrency via various payment options, including credit cards and PayPal. On the downside, the only currency accepted is the USD, so you'll pay currency conversion costs upon deposit and withdrawal, and spreads can be high for some products.
Want to know more about eToro? Read our full eToro review.
2# Coinbase
Coinbase at a glance
Nº of cryptocurrencies
+100
Supported Countries
Worldwide. Exceptions apply.
Coinbase is the most successful crypto exchange by the number of customers. With over 80 million registered users worldwide, it was designed for beginners and professional cryptocurrency investors (for this last group, it also offers its more advanced Coinbase Pro platform).
The range of cryptocurrencies available is enormous, ranging from the most famous ones to the newer digital currencies. Besides the typical web platform, it also has a highly functional mobile app that allows users to buy, sell, and manage their cryptocurrencies at their fingertips.
On the "not so good side", Coinbase has high fees on its standard Coinbase platform (particularly for smaller transactions – below $200) and a complex fee structure.
It offers hundreds of popular cryptocurrencies for traders to buy and sell, from Bitcoin to Dogecoin. You can also explore decentralized finance (DeFi), NFTs, and other virtual finance products with Coinbase.
3# Kraken
Kraken at a glance
Nº of cryptocurrencies
+185
Supported Countries
Worldwide. Exceptions apply.
Founded in 2011, Kraken is one of the oldest crypto exchanges in the world. You can easily buy/sell over 185 cryptocurrencies with low fees (up to 0.26%), versatile funding options, 24/7 customer support via live chat, and high-security standards. Its inclusion of live support leads the market and makes it a preferred choice for investors new to crypto.
It offers trading tools for beginners, scaling up to that needed by experts. In addition, there are detailed "Crypto Guides" alongside instructional videos, even a podcast if you're so inclined. These are excellent tools for beginners to be informed before making any decision.
We like the inclusion of futures and staking. The latter functions are similar to a locked savings account. With the right cryptocurrency choice, you could earn 10%-plus in interest. It's an ideal choice for traders who wish to keep a portion in a secure wallet but make something out of that too.
On the downside, It lacks a wallet for retail users, but it maintains a reputation for storing 95% of the exchange's assets in cold storage across different geographies. Besides, Kraken's trading platform and mobile app are pretty basic, so you might be disappointed if you're looking for more advanced features.
4# Crypto.com
Crypto.com at a glance
Nº of cryptocurrencies
+250
Supported Countries
Worldwide. Exceptions apply.
Possibly the most marketed crypto platform right now, Crypto.com allows you to access over 250 different cryptos and earn interest on the crypto you buy by lending them to other investors. Your fees will be determined by how much you invest (higher investments will give you lower costs and vice versa), and the platform may also be challenging to navigate for new investors.
It is a solid crypto platform that offers a pre-paid Visa card that allows crypto spending and even earns rewards. You can keep your crypto in a high yield savings account.
Keep in mind that If you are new to cryptocurrency, you may be overwhelmed by Crypto.com's trading interface, and it will be hard to find any educational materials. You will experience higher fees for low-volume trades.
In conclusion, Oanda is a financial broker that uses innovative technology to provide online FX trading and currency information that services everyone, from corporations to individuals. Between their currency information, tools, and resources for investors, as well as their forex trading platform and blog, Oanda may be a good option for traders who prioritize strong research tools and who focus on forex and CFDs.
Oanda is not recommended for traders who want to own their cryptocurrency. It is solely a trading platform.