In a rapidly growing EV (electric vehicle) market, VinFast is a brand that's getting both drivers and investors excited. With plenty of eyeballs on the EV space, everyone is keen to find the next Tesla and in an ideal world – invest as early as possible.
Throughout this article, we're going to take a look at the most important details relating to the firm. We'll dive into all the key areas, such as the company statistics, vehicle sales figures, and everything you need to know about the VinFast IPO (initial public offering).
This electric vehicle (EV) firm was founded in Vietnam but is now based in Singapore. The company started in 2017 and is part of the Vingroup conglomerate. Initially, the company was building combustion engine (petrol) vehicles but switched over to a complete EV focus in 2019.
Part of what makes this firm unique is that it recently became the first Vietnamese EV car and scooter manufacturer to expand into global markets. Vietnam is one of the fastest-growing economies in the world, with a highly productive labour force.
If VinFast can successfully utilise the skilled and efficient supply of workers from within Vietnam, it could catch up with more established competitors at a rapid pace. VinFast is also in the process of opening a multi-billion dollar manufacturing plant in California which aims to start producing cars by 2024.
The company also boasts European influence and partnerships for its design, engineering, and vehicle production, alongside building key relationships with the likes of General Motors (GM) and BMW.
VinFast Key Company Facts
| | |
| --- | --- |
| Founded | 2017 |
| Headquarters | Singapore |
| Parent company | Vingroup |
| Sector | Transport |
| Industry | Electric vehicles (EVs) |
| Founder | Phạm Nhật Vượng |
| Number of employees | 2,095 (based on company's Linkedin March 2023) |
| IPO Date | 2023 (expected) |
VinFast Company Statistics
Below is a breakdown of some key figures relating to VinFast and its electric vehicles:
| | |
| --- | --- |
| EV Cars Sold Globally | 65,000+ |
| E-Scooters Sold Globally | 145,000 |
| US EV Pre-Orders | 12,000 |
| Manufacturing Location | Vietnam |
| Total Investment | $7.5 billion |
| 2021 Profit/Loss | – $1.3 billion |
| 2022 Profit/Loss | – $1.4 billion (first 3 quarters) |
| Valuation | $60 billion with a $2 billion raise (although this is likely much lower in today's market) |
| Competitors | Tesla, BYD, SAIC, Volkswagen, Hyundai, Rivian, Lucid, Li Auto, NIO, Toyota, XPENG |
| EV Vehicle Types | Cars, Motorcycles (Scooters), SUVs |
The company filed for its US IPO on December 6 2022. It's rumoured the company is looking to go public sometime during 2023.
However, VinFast Chief Executive Le Thi Thu Thuy said in a statement that "Valuation or the size of our IPO will be subject, in part, to market conditions,".
So the choppy market conditions and general uncertainty we're seeing in the stock market are likely reasons for the delay.
Also, when VinFast initially floated the idea of an IPO, it was well-received. But over the last year or so, the excitement around EV stocks isn't nearly as buzzing as it was.
It wouldn't be surprising if this IPO gets delayed or pushed back further until VinFast can better capitalise with its initial public offering.
According to the SEC filing, the IPO is being underwritten by Citigroup, Morgan Stanley, Credit Suisse, and J.P. Morgan (amongst others).
How to invest before the VinFast IPO
It can be possible to order VinFast shares before the IPO. This is known as a "pre-placement." In theory, several brokers may allow you to do just that. However, the only one which has already announced it will make an effort to give access to the VinFast IPO is Freedom24.
Among other brokers, TradeStation has not announced if and when it will become available but seems open to it since they offer access to US IPOs. Please take a look at both:
Visit Freedom24
Investing involves risk of loss.
Freedom24 at a glance
Minimum amount for IPO participation
$2,000
Other Products
Stocks, ETFs, Bonds, Futures and Options
Regulators
CySEC, BaFin, SEC
Countries Supported
European Union (no US, UK or Canadian Investors)
Founded in 2008, Freedom Finance, the official company name of Freedom24, has already offered to its 400,000+ worldwide clients participation in 280+ IPOs, including 40,000+ trade stocks, 1,500+ ETFs, 1,000+ US Stock Options, and 147,000+ bonds on the largest exchanges in Europe, Asia, and the US.
With Freedom24, the process of participating before the IPOs is incredibly straightforward:
Open an account with a minimum of 2,000 USD (the minimum for an IPO request);

Submit a request for the available IPO stocks before their respective IPO dates;

Freedom24 automatically credits your account with those shares purchased by them on your behalf ("oversubscribed" IPOs may make it difficult for your orders to be filled completely);

Sell your stocks after the 93-day lock-up period or purchase a forward sale contract through Freedom24 to lock your gains before the 93 days period.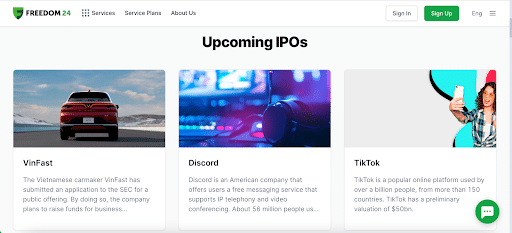 To invest in the VinFast IPO, you will technically become a Freedom Finance client. Nothing to worry about here, that's simply the name of the broker running the platform Freedom24.
Want to know more about Freedom24? Check our Freedom24 review.
TradeStation at a glance
Minimum amount for IPO participation
$500
Other Products
Stocks, ETFs, Bonds, Futures, Options, Mutual Funds and Crypto
Supported Countries
Worldwide - including the US and UK (Canadians not allowed)
Founded in 1982, TradeStation is a US broker committed to offering you the best trading experience within their rewarded platforms and brokerage services. You can trade stocks, ETFs, options, futures, and crypto with competitive pricing models.
With TradeStation, you must follow these steps:
Open an account with a minimum of 500 USD;

Download the ClickIPO app (Available both on iOS and Android);

Register on ClickIPO's trading platform and select TradeStation as your broker;

Link your TradeStation account in the "My Account" section of the ClickIPO app.
For US residents, you have zero commission trades (including the IPO stocks). For international investors, please consult their pricing here.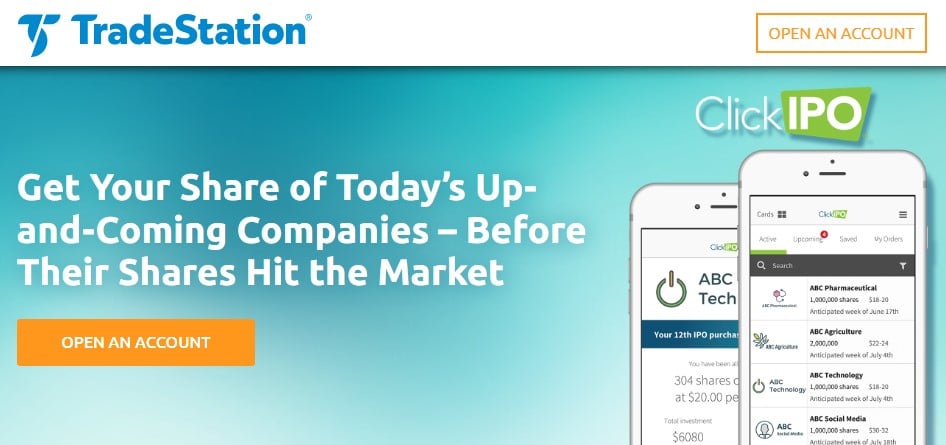 There is no guarantee that TradeStation will offer the VinFast IPO, still, the optionality is there. We encourage you to follow the company and wait for their official announcement. After that, ask TradeStation if they will offer it.
How to invest and buy shares after the VinFast IPO
Alternatively, instead of placing a pre-placement order for VinFast shares before the IPO, you can wait until the public offering before attempting to buy the newly listed stock.
Interactive Brokers and eToro are two top-rated brokers where you can access VinFast shares and buy the stock with low fees after the IPO. Take a look at both these brokerage options below:
Interactive Brokers at a glance
Products available
Stocks, ETFs, Options, Futures, Forex, Commodities, Bonds and Funds
Regulators
FINRA, SIPC, SEC, CFTC, IIROC, FCA, CBI, AFSL, SFC, SEBI, MAS, MNB
Countries Supported
218 countries globally
Founded in 1978, the IBKR platform lets you access over 150 market destinations in 33 countries and trade any asset you may be looking for: Stocks, Bonds, ETFs, Forex, Funds, Commodities, Options, Futures, CFDs, Cryptos Futures, and even tiny small companies (a.k.a micro caps).
If you want to buy VinFast stock after the IPO, here's how you can buy shares using Interactive Brokers:
Deposit funds into your account.

Once it's available, search for the VinFast stock, the ticker is rumoured to be 'VFS'.

Place the type of order you wish to use (e.g. market, limit, stop etc.).

Once you've bought your desired number of VinFast shares, continue to monitor performance.
If you'd like to learn more about the IBKR platform, check out our full-length Interactive Brokers review.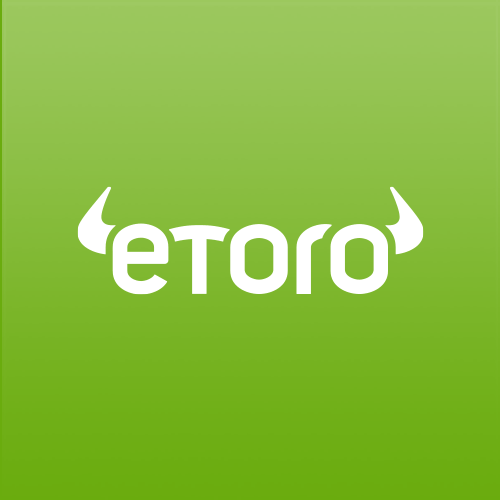 Visit eToro
81% of retail CFD accounts lose money.
eToro at a glance
Minimum deposit
$10 (varies between countries)
Products available
ETFs, Stocks and CFDs on Commodities, Forex, and Cryptocurrencies
Regulators
FCA, CySEC, ASIC
Countries Supported
64 countries globally
Founded in 2006 in Israel, eToro now has over 30 million customers worldwide. The platform is widely known for its social and copy trading features. It allows users to trade stocks, forex, commodities, cryptocurrencies, CFDs, and ETFs.
If you're planning to buy VinFast stock after the IPO, here's how you can buy shares using eToro:
Head to the 'Markets' page, and select 'Stocks'.

Search for the VinFast stock and select 'Trade'.

Next, hit 'BUY'.

Choose how much you want to invest in VinFast or the number of shares you want to buy.

Select your leverage (or ensure that leverage is set to X1).

Decide on a take-profit parameter if you want to automate a future sale of your VinFast stock.

Finally, hit 'Open Trade'.
If you'd like to learn more about eToro, check out our in-depth eToro review.
Bottom line on investing in VinFast
The VinFast IPO is hotly anticipated amongst investors and electric vehicle enthusiasts. Traders worldwide will be hoping to buy shares in VinFast when they become available. However, the market isn't as excited about EV stocks as it has been over recent years. This change in sentiment could lead to further delays for the VinFast IPO, because the company will want to make the most of the opportunity to become publicly listed – hoping to raise as much capital as possible.
VinFast faces plenty of competition within the EV sector and it will be a tough challenge to beat some of its more-established rivals. But, as an underdog, this could present a better investment opportunity for growth if the shares are valued lower than the competition.
As a private company that's part of a larger conglomerate (Vingroup), financial details for the business aren't readily accessible. VinFast and its parent company Vingroup are likely to keep some cards close to their chests while they focus on building up production levels and driving a bigger sales pipeline, waiting for that perfect opportunity to confirm a date for the VinFast IPO.
Let us know in the comments below if you plan on investing in the VinFast IPO!
What is an IPO?
The acronym stands for 'Initial Public Offering', it's a process used by large private companies to raise additional capital. This is done to further invest in the growth of the business or even pay off debt. An IPO creates public awareness, putting the company under the spotlight. Timing of an IPO is particularly important for companies if it wants to maximise its capital-raising potential and increase the company's valuation due to demand from investors and the market.
Is VinFast going public?
Yes. The company filed the paperwork for its IPO with the SEC to be listed on the NASDAQ stock exchange in December 2022. However, the exact date for when VinFast will go public is still to be determined.
Can you buy stock in VinFast?
Not right now. Some trading platforms may let you place 'pre-placement' orders for the stock. However, only private equity investors can buy shares in VinFast at the moment (by investing in Vingroup). Once the VinFast IPO takes place, it will be easier for retail investors to buy stock.
What is the VinFast stock symbol?
The ticker symbol for VinFast is likely to be 'VFS' once it becomes a publicly traded company listed on the NASDAQ stock exchange.
How much will VinFast shares cost?
This will be determined by the investment banks underwriting the IPO once an official date has been decided upon.
How many electric cars has VinFast sold?
Currently, just over 65,000. The company is planning to open a manufacturing plant in California to help boost its production and meet its goal of selling over 750,000 EVs by 2026.