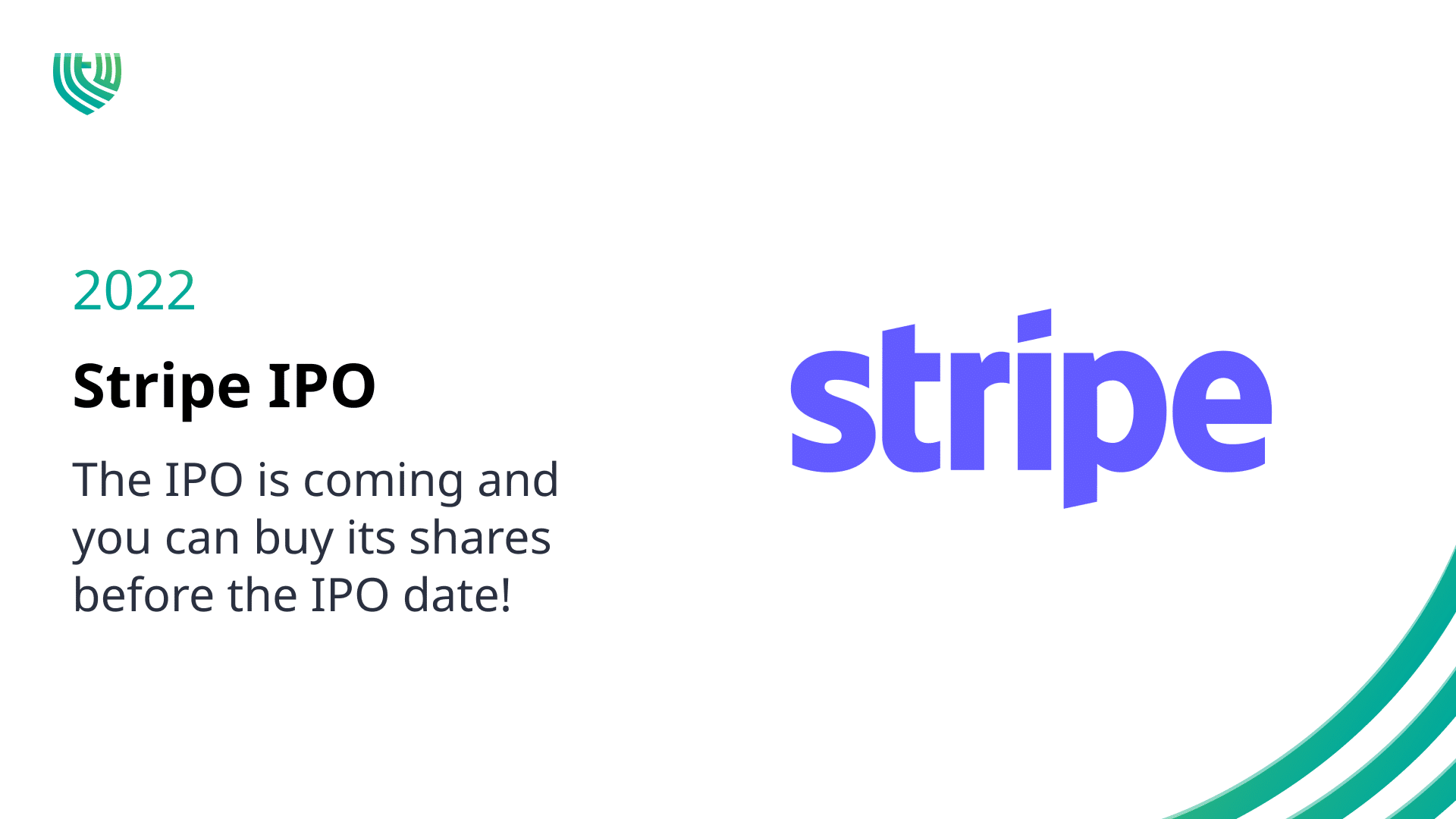 An official date for the Stripe IPO remains to be announced, yet it did take the first step toward a public listing in 2021 by hiring the law firm Cleary Gottlieb Steen & Hamilton LLP to help with initial preparations.
However, in July 2022, Stripe received a 28% cut in its internal valuation through a new 409A valuation, slashing the internal price to 29 USD from 40. This move lowered its shares' implied market capitalization (valuation) by approximately 22% to 74 billion USD from a previous high of 95 billion.
However, a 409A valuation reflects an independent estimate of a company's fair market value, often done to value new employee stock options. It does not suggest a change in the opinions or valuations of Stripe by its private investors.
Likely, its IPO will list on the New York Stock Exchange (NYSE) or Nasdaq exchange. The latter exchange in particular, caters to technology-focused investors who may want to invest in Stripe's IPO.
In this article, we will help clarify all the information about the Stripe IPO: its date, how to buy Stripe's IPO, and the stock itself.
Founded in 2010 and headquartered in San Francisco, Stripe has already raised 1 billion USD since the start of the COVID-19 pandemic with top Silicon Valley investors, such as Sequoia Capital and Andreessen Horowitz. The startup is a software as a service company and application programmer enabling companies to accept or send payments.
The company earned its fame on Wall Street by cashing over 12 billion USD in revenue for 2021.
It serves well-known names such as Glossier, Twilio, and ride-hailing staple Lyft. In Europe, its customers include Jaguar Land Rover, Waitrose, Deliveroo, Klarna, N26, and more. In 2022, Stripe put customers and investors on notice that its expanding its payment processing service to include what it calls "Financial Connections," or the ability for Stripe clients to connect directly to their customers' bank accounts for expediting certain transactions. This shifts Stripe from a plain vanilla processing company to an information handler and premier service provider.
When Is Stripe's IPO Date?
Likely due to the recent cuts in fintech company valuations by virtue of 2022's bear market (Despite 2023 rebound), the company has not yet provided an IPO date. However, a reasonable market estimation is by 2024 as it has already initiated the IPO process.
Prior to July 2022's 409A independent valuation, Stripe's valuation stood at an impressive 95 billion USD by March 2021, making it a once-hotly anticipated IPO for 2022. A funding round in April 2021 gave it a valuation of 36 billion USD. In other words, a 164% jump in less than a year.
Yet S&P 500's bear market of 2022 brought with it bad news for growth-oriented tech stocks. In July of the same year, the Swedish buy-now-pay-later company had its investor-given valuation cut by 85% to 6.7 billion USD. Earlier in March, Fidelity cut its Stripe valuation by 9%, suggesting an overall cooling in the fintech market.
All this points to a post-2022 IPO date for Stripe. The record-breaking interest rate hikes and double-digit inflation numbers continue to dampen "risk-on" tech investing. We expect better news when the bear market returns to its proverbial hibernation.
Is Stripe's IPO a Good Investment?
Generally, investing in an IPO is riskier than investing in a stock already known to the public market, either through an American exchange like the NYSE or a European exchange like the LSE.
However, there remain a few essential items to have on your analytical checklist, no matter the stock or sector.
Gross revenue ("top line")

The revenue drivers, such as active user or member growth

Profit margins, often EBITDA as a percentage of top line; EBITDA means "earnings before interest, tax, depreciation, and amortization"

Its private valuation growth, earned whenever a private capital raising with major investors, hedge funds, or banks occurs

Cumulative funding and current (pre-IPO) investors

The management team

Its competitors
If an "IPO Filing" has already occurred, a great place to start is taking the time to read through any stock's original prospectus available on SEC. This helps cut through the noise and hype typically surrounding an IPO.
Finding such information before an IPO filing remains difficult, yet reputable trade journals such as Forbes, WSJ, Crunchbase, or TechCrunch provide meaningful estimates.
With respect to Stripe's IPO, the below estimates are currently available, noting it is in USD:
Revenue (2021): over 12

billion USD, a 60% increase year-on-year

Customer count: over 3.2 million with 32 acceptable payment methods available

Private valuation: 74 billion, a -22% year-over-year decrease

Total cumulative funding: 2.2 billion

Investors include: Allianz X, AXA, Baillie Gifford, Elon Musk, Fidelity, Sequoia Capital, and Ireland's National Treasury Management Agency, among others

Management: Patrick and John Collison (brothers) jointly founded Stripe and are both Irish tech billionaires

Stripe has several competitors, the most notable of which being Square, PayPal, Adyen, and Plaid
And there you have a quick snapshot of Stripe. It's important to remember that you want to see consistent growth over several years (at least three) without any breaks in momentum.
In this scenario where a company reveals limited information, particularly concerning their income statement and balance sheet, it's also vital to track their customer growth and investor base. If multiple independent trade journals or conferences also rate their products highly, the company could be a winner.
However, a clear hesitation to reveal financials suggests an inordinate amount of spending, which almost always draws intense scrutiny. This data becomes available in an IPO filing.
We're excited about Stripe's IPO. It has garnered an incredible valuation at 74 billion USD, doubling over 2020's 36 billion, and leads in the payment processing space.
It's clear the company tapped into an expanding market. While the "smart money" follows Stripe, investors should never turn complacent. Any growth story needs consistency and solid financials.
What is an IPO, and how does it work?
An "IPO" is an initial public offering. As it sounds, it marks a stock's first trading day on a relevant and public exchange.
Is Stripe a public company?
No, Stripe is currently a private company.
How Does Stripe make money?
Please see our more detailed review of Stripe's IPO above. Stripe earns revenue by generally charging 2.9% of a transaction plus 25 US cents.
How can I find Stripe's IPO prospectus?
After an IPO filing occurs, the prospectus is available to the public through the US SEC for stocks trading on an American exchange.
When will the Stripe IPO happen?
While this remains the decision of Stripe, we expect to receive further clarity on its IPO date by 2024. The current S&P 500 and Nasdaq bear markets are also discouraging new IPOs.
What other IPOs are coming soon?
Some upcoming IPOs include the Reddit IPO, Discord IPO, Netskope IPO, Databricks IPO, Porsche IPO, and Instacart IPO.