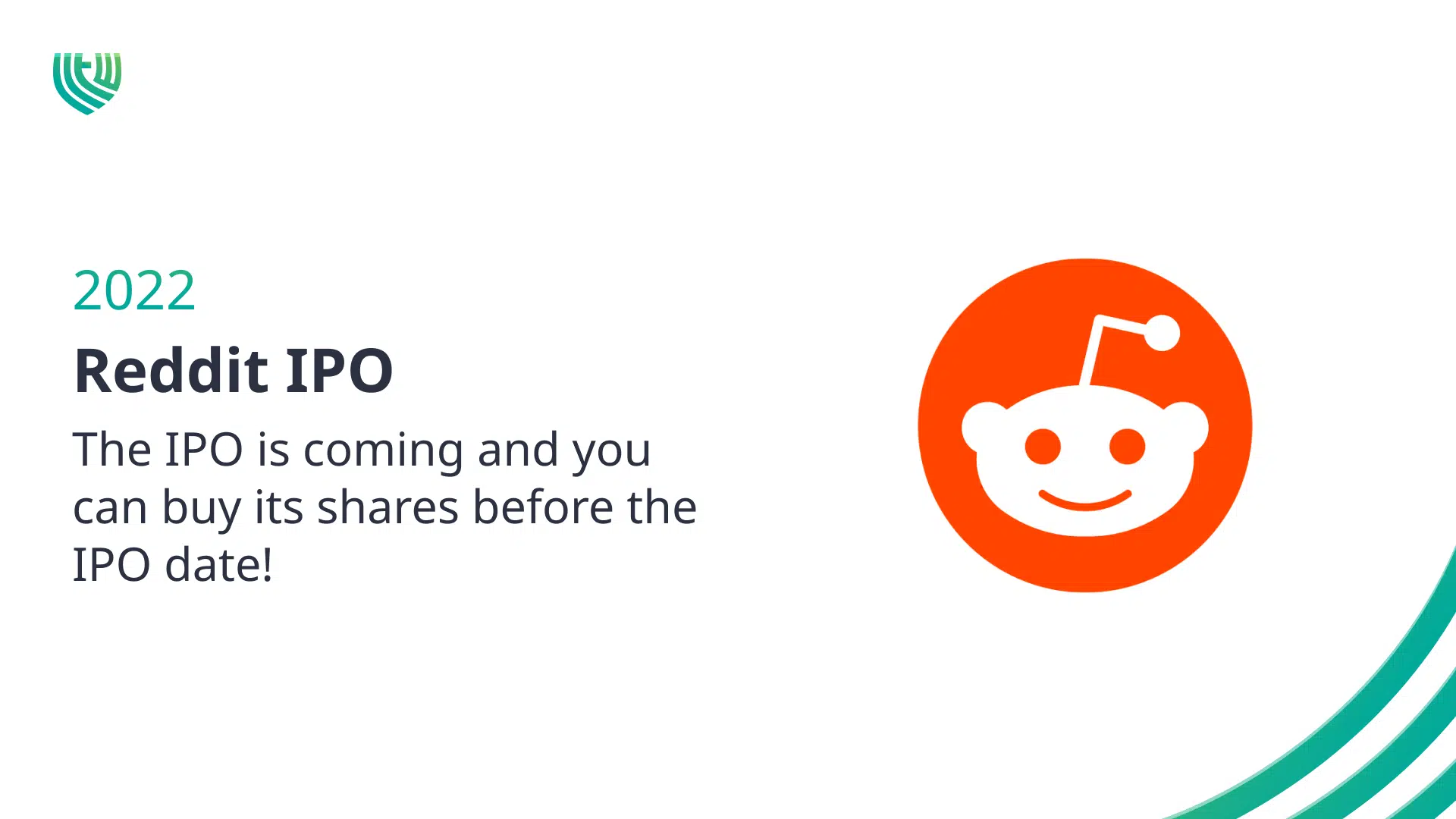 Reddit is looking to enter in the "big boys" game. According to Reuters, there have been ongoing conversations between some investment banks like Goldman Sachs and Morgan Stanley for its Initial Public Offering (IPO).
Reddit is currently a private company, but we already have access to its figures: more than 50 million people visit Reddit daily, and the site has more than 100,000 active subreddits. For the second quarter of 2021, the corporation had revenues of $100 million, representing a 192% increase compared to the same period last year.
Reddit is an online discussion platform that allows its users to post (images, videos, links, …), comment and vote (up/down votes) according to the community's interest. Within the forum, you have "subreddits", specific groups for certain areas. A few examples include r/wallstreetbets, r/eupersonalfinance or, more generic, like r/music.
From our experience, Reddit is filled with thousands of "high-quality" people meaning that you can create deep discussions about any topic with a very vibrant and fast-paced culture and community. Besides, it is easy to always be up-to-date on a particular case of your interest without searching different sources since most users upload new updates every time.
How Does Reddit Make Money?
For the most part, Reddit makes money through advertising. Besides, it generates revenue with an ad-free premium membership plan (Reddit Premium). Also, it earns some money by selling virtual coins that you can use to reward your favourite contributors (Reddit Coins).
When will be the Reddit IPO?
There is no official date yet. However, since Reddit has filed for an IPO with the Securities and Exchange Commission (SEC) in December 2021, we may expect it to be on the stock exchange in the next six months.
On its last round of financing (August 2021), Reddit managed to be valued at $10 billion after a $410 million investment from Fidelity Investments.
For the IPO, it is aiming for a valuation of over $15 billion. The company is expected to use the new funds to improve product features, making it easier for newcomers to explore and quickly understand the site and build a self-service advertising system, which could help appeal to small and medium-sized businesses.
How to Order Reddit Stock Before the IPO
Yes, you can order Reddit shares before the IPO. This is known as a "pre-placement." In theory, several brokers may allow you to do just that. However, the only one which has already announced it will make an effort to give access to Reddit IPO is Freedom24.
Among other brokers, TradeStation has not announced if and when it will become available but seems open to it since they offer access to US IPOs. Please take a look at both:
Visit Freedom24
Investing involves risk of loss.
Freedom24 at a glance
Minimum amount for IPO participation
$2,000
Other Products
Stocks, ETFs, Bonds, Futures and Options
Regulators
CySEC, BaFin, SEC
Countries Supported
European Union (no US, UK or Canadian Investors)
Founded in 2008, Freedom Finance, the official company name of Freedom24, has already offered to its 400,000+ worldwide clients participation in 280+ IPOs, including 40,000+ trade stocks, 1,500+ ETFs, 1,000+ US Stock Options, and 147,000+ bonds on the largest exchanges in Europe, Asia, and the US.
With Freedom24, the process to participate before the IPOs feels incredibly straightforward:
Open an account with a minimum of 2,000 USD (the minimum for an IPO request);

Submit a request for the available IPO stocks before their respective IPO dates;

Freedom24 automatically credits your account with those shares purchased by them on your behalf ("oversubscribed" IPOs may make it difficult for your orders to be filled completely);

Sell your stocks after the 93-day lock-up period or purchase a forward sale contract through Freedom24 to lock your gains before the 93 days period.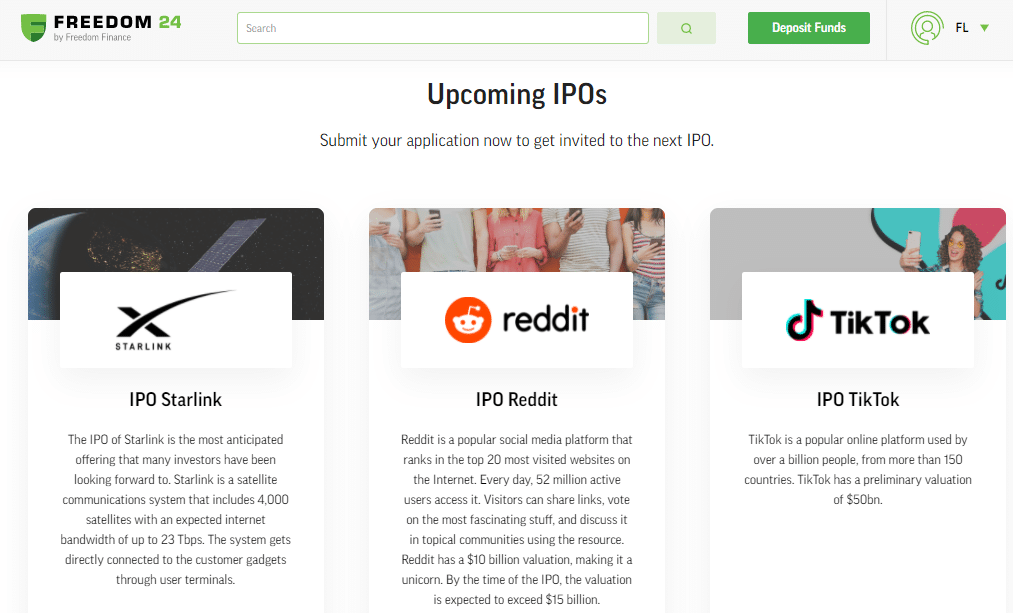 To invest in Reddit' IPO, you will technically become a Freedom Finance client. Nothing to worry about here, that's simply the name of the broker running the platform Freedom24.
Want to know more about Freedom24? Check our Freedom24 review.
TradeStation at a glance
Minimum amount for IPO participation
$500
Other Products
Stocks, ETFs, Bonds, Futures, Options, Mutual Funds and Crypto
Supported Countries
Worldwide - including the US and UK (Canadians not allowed)
Founded in 1982, TradeStation is a US broker committed to offering you the best trading experience within their rewarded platforms and brokerage services. You can trade stocks, ETFs, options, futures, and crypto with competitive pricing models.
With TradeStation, you must follow these steps:
Open an account with a minimum of 500 USD;

Download the ClickIPO app (Available both on iOS and Android);

Register on ClickIPO's trading platform and select TradeStation as your broker;
Link your TradeStation account in the "My Account" section of the ClickIPO app
For US residents, you have zero commission trades (including the IPO stocks). For international investors, please consult their pricing here.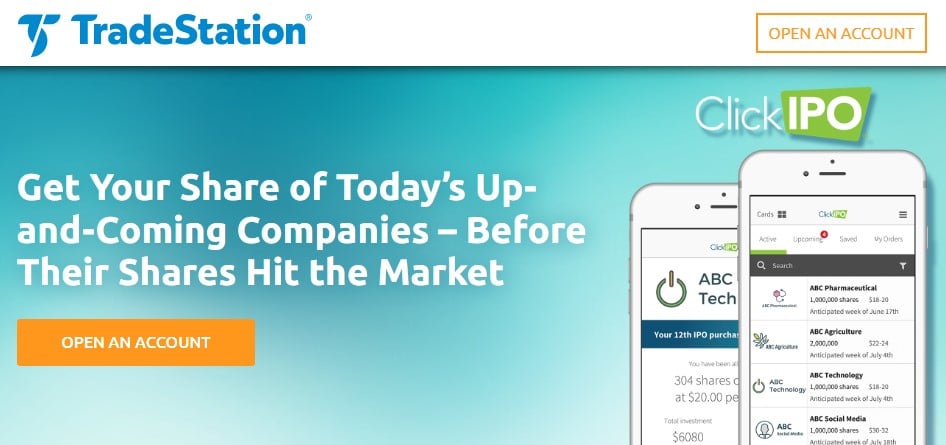 There is no guarantee that TradeStation will offer Reddit' IPO, still, the optionality is there. We encourage you to follow the company and wait for their official announcement. After that, ask TradeStation if they will offer it.
One thing is to enjoy the platform, another is how it might play as an investment. A good service is not necessarily a synonym of a good investment. The idea is not to discourage you from investing in the IPO Reddit but to help you make a good assessment of the investment opportunity.
If you anticipate an increase in daily active users in line or better than the company forecasts, an investment at this stage might be a good idea since Reddit still lags behind its competitors.
At the time of this writing, the information is still vague, and investors are in a wait-and-see mode. In the meantime, more stocks analysts will give their opinion, the prospectus will be fully released, and the decision to enter this IPO will be much easier to make!
If you have any questions, feel free to leave a comment below.
Happy investing!
What is an IPO?
The acronym means Initial Public Offering, and it is a process used by large private companies to raise additional capital for investments or even pay off debt, create public awareness since it goes to the spotlight and more people start to know the platform and, ultimately, to increase the company´s valuation due to investors appetite for new growth investments.
Is Reddit a public stock?
No. As of February 2022, Reddit is a private company. So, it is not available on any stock exchange.
When will be the Reddit IPO?
No date has been defined yet. Still, we are aware that the IPO files were submitted to the Securities and Exchange Commission (SEC) in December 2021, so it is expected to be listed on the stock exchange in the next six months.
Can you invest in Reddit IPO?
Yes, you can! Freedom24 and TradeStation give you that possibility!