Did you think Donald Trump was "finished"? Think again!
On the 21st of October 2021, the Digital World Acquisition Corporation, traded under the ticker DWAC, announced a deal to unite with a newly formed media company backed by Mr Trump – Trump Media & Technology Group (TMTG) – to create a social network called Truth Social.
If the merger is approved by its shareholders, TMTG will replace Digital World in the stock market and begin trading under that name.
Do you think it may be a good investment? We share with you some platforms where you can buy the stock!
Why is DWAC stock going crazy?
As you know, Donald Trump has been banned from platforms like Twitter and Facebook. Since then, he promised that he would fight back to create his own social media company. Very few take him seriously back then, but now it seems that his actions are meeting his words!
DWAC is the ticker and acronym for Digital World Acquisition Corporation, a SPAC, also known as a blank-check firm, where the intent is to raise money and list publicly to merge with a private company like TMTG.
The plan is to increase competition in a segment fully controlled by the big tech. Besides the social network space, the company also wants to compete with other major players like Disney, Netflix and even Amazon: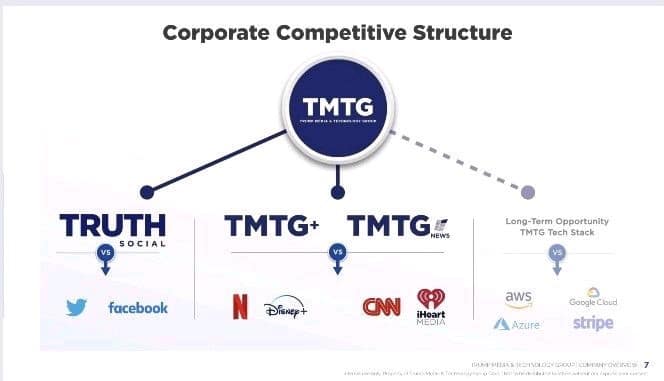 In which brokers can I buy DWAC stock?
The process to find DWAC is straightforward! Just go to the search bar of each platform below and type "DWAC" (it will automatically appear).
The number of online brokers offering DWAC stock is still limited, so we will show the ones we know of that let you currently trade DWAC stock.
Commission-free stock and ETF trading. You can also copy other traders/investors. Slick, modern, and easy for anyone to use. It is trusted by more than 30 million clients worldwide.
Disclaimer: 77% of retail CFD accounts lose money.

A low-cost broker from Europe that offers commission-free ETF trading and lets you trade in a wide variety of investment products – stocks, options, warrants, futures, bonds and leveraged products.
Disclaimer: Investing involves risk of loss.

Dedicated to more experienced investors, Interactive Brokers offers a wide range of products from many exchanges worldwide.

Commission-free stock and ETF trading (+10,000 global stocks and ETFs), 0.15% of foreign exchange fees, and presents fractional shares. New users get one free share of up to €100 with the code IITW.
Disclaimer: 76% of retail CFD accounts lose money when trading with this provider.

Besides these platforms, we expect others to join the group sooner than later!
What to consider before investing in DWAC stock
The SPACs are popular among investors, mainly when there are personalities involved. However, please keep in mind that the wild price swings are expected (prompting some trading halts), and the momentum on the stock may vanish at any moment.
In addition, regulators and lawmakers are continuously scrutinising the SPACs structure and whether it disproportionately benefits insiders and professional investors, so it might be a risk on that front.
We can say that DWAC is still the new hot meme stock. Still, there are plenty of uncertainties: There is no clear indication of when Truth Social is expected to go live and no concrete financial details.
The SPAC is expected to publicly release an S-4 regulatory filing with the Securities and Exchange Commission (SEC) detailing the merger in the following months. The file will reveal all the necessary information for the current shareholders to vote in the next meeting.
The firm sees a significant market opportunity by presenting an alternative to what it views as the liberal-minded media establishment. Nonetheless, make sure you do your own due diligence!